Read time: 2 minutes
As a creative director, it pains me to say: Sometimes, the best creative for your ads program isn't something I can create for you. Seriously. I'm sorry.
COVID-19 accelerated a trend we've all been tracking for awhile now: User-generated videos in ads generating excellent results. You know the kind—simple, selfie-style videos with a person speaking directly to the camera. Pre-COVID, we chalked this up to authenticity. People trust the recommendations of folks like them more than they trust a brand (even a wonderful, do-gooder brand like your nonprofit's). 
That's still true, but there's an additional resonance to this content now, with social distancing separating us from friends, family, and coworkers. I suspect a big part of selfie contents' allure is that it provides an opportunity for human connection to your brand or cause.
I've watched my fair share of selfie videos, and tested or optimized dozens of different types of "selfie" content. These videos don't need to be perfect or polished. In fact, it's often better that they're not—again, that authenticity matters. But giving staff and volunteers a few pointers before they film their video can help produce consistent, usable content.
Click here to download our guide to taking selfie videos and photos and feel free to share with volunteers, field staff, donors and activists. Even though some of these tips ought to be obvious, I guarantee that they will help them feel comfortable and confident in front of the camera (and you'll get way better, usable videos and photos as well). The guide includes tips like: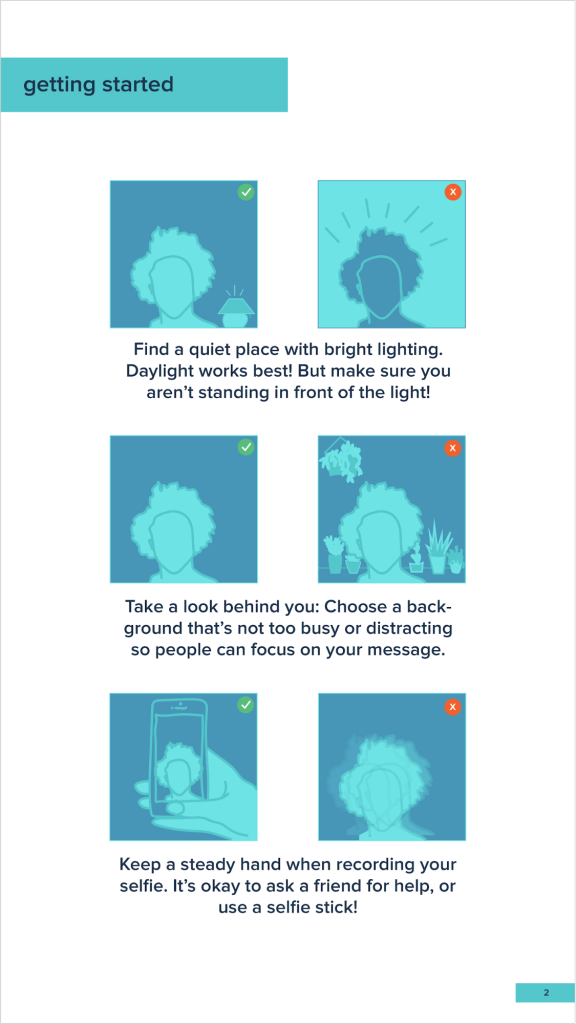 Don't forget—Zoom can also be a great way to capture selfie content (check out this NARAL ad I am still thinking about). And if YOU have a tip for taking stellar selfie vids that you want to see added to this guide, let me know!
————
Gwen is the Creative Director here at M+R. When she's not scheming up new campaigns or writing dazzling copy, she's kicking it with her pug Frankie. You can reach her at gemmons@mrss.com.
Related Links: