It's not easy, taking the measure of a year. Yes, we can call it twelve months, or 365 days, or 525,600 miiiiinutes. But what matters is the progress made, goals reached, and lives changed.
For non-profits, weighing the impact of a year often starts at the end, by taking the measure of the magical moneymaking moment known as End-of-Year. December performance can determine what is possible in the coming year, and every dollar raised is a dollar's worth of potential impact.
So how did December 2015 measure up? Here's our annual data-filled tour of the most wonderful (fundraising) time of the year, aggregated from 22 of our clients' online end-of-year results.
1 – Online revenue was up, up, up
Organizations in our sample saw their December online revenue rise nearly across the board. Of the 21 organizations that provided data for both 2014 and 2015, all but 2 raised more online revenue this December than last.
These 21 organizations raised a combined $51.7 million in 2015, up from $42.7 million for the same groups in 2014. The largest increases were driven by a few larger groups, but the median organization in our sample still saw a solid 10% year-over-year lift this December.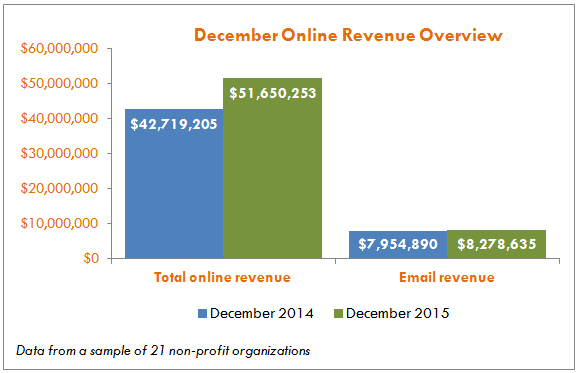 2 – More email, more money (also, fewer problems)
Everyone knows that the kids don't use email anymore, they just ride around Snapchatting on their hoverboards. So email fundraising is dying. Right? Nope! Email results were reassuring on the whole. Of the 22 groups we tracked, 17 brought in more email-sourced revenue this December than in 2014.
What accounted for this email bump? Response rates and average gift were a mixed bag – roughly half of the groups we tracked saw increases and half saw decreases from 2014, netting out to a small decline in median response rate (from 0.06% down to 0.05%) and a small lift in email average gift (from $115 up to $118).
Email revenue was up, for the most part, due to increased email volume (as well as increased list size). Of the 22 participating groups, twelve sent more email fundraising appeals this December and eight held steady with last year. Only two organizations in our sample sent fewer December appeals than last year.
More and more groups are finding that sending more and more messages is the surest bet to boost their year-end email fundraising totals. For these organizations, that translated to a median of 8 fundraising appeals this December, up from 7 last year.
3 – Donors take MANY paths to donation pages
Generating revenue from email subscribers isn't just about sending email (it's not even just about sending more email). It's also about everything else your email subscriber sees from you during this season — on social media, paid ads, direct mail, and more. You can't measure the health of your email audience without tracking all the ways an email listmember might make their way to your donation page.
In fact, the average group in our sample found that only about a third of the online revenue donated by email subscribers was made in direct response to email appeals. The other two-thirds came in through other online channels like passive web and search.
More than half of our participating organizations invested in paid media this year-end, with direct revenue (last-click attribution) accounting for around 6% of their total December online take. But that's just a fraction of the revenue brought in from folks who see ads and then give by other channels. This "view-through" revenue is harder to track, but a big part of the reason we expect to see more investment in paid media going forward.
So by all means, continue to keep an obsessive eye on those email metrics, but bear in mind that your email readers, especially those using their mobile devices, are often likely to follow through with a gift in another online channel.
4 – Giving Giving Tuesday its due
Giving Tuesday is increasingly seen by non-profits and donors alike as the official kickoff to year-end giving season. With good reason! The bottom line this year was impressive: The median group in our study saw a 79% lift in Giving Tuesday revenue in 2015 compared with 2014.
Roughly a quarter of the groups in our sample offered a matching gift this Giving Tuesday – look out for more matches, premiums, and other special offers next year as non-profits look to build on this year's growth.
Although this year-over-year growth is promising, this most special of Tuesdays still only accounted for 3% of all online revenue raised in December for our sample groups. That's not bad, but it pales in comparison to the astonishing 25% of all December revenue raised on that once and future ruler of all fundraising days: December 31 (all 1,440 last-chance-revenue-driving minutes of it).
And  that's what fundraising is all about: making the most of each minute, each moment, each month. Hopefully, in the end, it adds up to a stronger, more effective organization.
See you next year!
Top EOY online #fundraising trends from 22 nonprofits, with results from Giving Tuesday to Dec. 31. https://t.co/Orhecyy2rh

— M+R (@MRCampaigns) January 25, 2016