The verdict is still out on whether Instagram will ever become a useful tool for improving your advocacy and fundraising metrics. But what we do know right now is that Instagram is a powerful platform for highly visual storytelling. It can make you fall in love with cottontop tamarins (@bronxzoo), see firsthand how your support is changing children's lives (@unicefusa), and think twice about what you're ordering off that seafood menu (@oceana).
So here are 5 ways for your organization to use Instagram right now, today, to tell stories that will bring your issues to life for your supporters:
1. Put the self in #selfie. Followers are seeing daily life through your lens: Let them get to know you. This means having a real person (or persons) at the helm. This person may not sit on your communications or online team – they could have a totally different job in programs or policy. But if they use Instagram, your organization's feed will be better off for it. Someone who loves Instagram will know how people use it, and thus, how your organization should use it.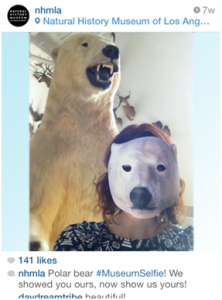 The Natural History Museum of Los Angeles reveals the bear behind its feed, @nhmla. (Note to @nhmla: Please send us dino gummies).
2. Be eye-catching. Seek out the most highly visual subject matter you have to work with (I'm going to guess it isn't your stats). Instagram is a place to engage in storytelling by sharing images that pop. You want to make people feel something – inspired, outraged, motivated, delighted – and then associate that feeling with your group. Every picture should tell a story about your work and contribute to the overall feel of your feed. Is your visual identity bright, colorful, quirky, and energetic? Is it sensitive and introspective? Is it funny and off-the-wall?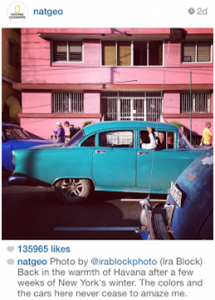 @natgeo's feed is a visual adventure through glossy, high-color shots from the field. They bring followers behind the scenes with posts from editors and photographers around the globe.
3. Hashtags are NOT dead. Make your feed more discoverable by using relevant hashtags. You can start by tying your content to bigger Instagram trends by using popular hashtags like these:
#regram – It's like retweeting! Regram inspiring content from your supporters and staff around the country – just be sure to tag them in the post.
#tbt – Throwback Thursday's (or Flashback Fridays, #fbf) give you a chance to tell the history of your issue and organization with photos from the past.
#selfie – Even if you're too shy for a cameo, you can get creative with this hashtag: Take a picture of your executive director being interviewed on TV or a shot of your organization's name in the press, or just show off your logo.
#fromwhereistand – What does your work look like from where you stand? What's the view of your boots on the ground? Give followers an inspiring behind the scenes look at your organization: the science that goes into your research; the work you're doing in the field; the meeting with your policymaker.
Post what people like. See what gets you the highest levels of engagement (likes and followers). If people aren't responding well to #selfies of your staff, change course and try something new.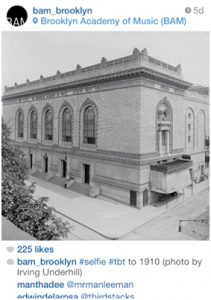 @bam_brooklyn delivers a #selfie #tbt combo.
4. Instigate. Instagram isn't for voyeurs – the best feeds are run by people who ask followers to engage, and then engage back. Experiment to see what leads to the highest levels of engagement from your followers. Here are some quick ideas:
Run simple contests and quizzes using the comment stream.
Ask for input and reactions to your posts.
Try deeper coordinated blitzes of activity, where you invite people to engage with you using a shared hashtag.
Feature fill-in-the-blanks tied to other parts of your work and report back – for example, post a blank "thank you" card to your policymaker and ask people how they'd sign it, then report back by sharing an image of the card with all of their messages written in.
Post advocacy or "spread the word" asks that people can complete on Instagram – See example below!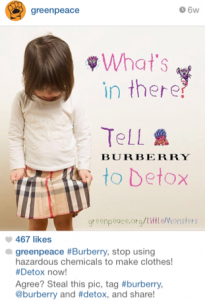 @greenpeace asks their followers to engage directly with third party targets
5. Look & Listen. If you're going to spend time on Instagram, you don't necessarily need to focus on following back everyone that follows you. A better use of your dexterity is searching common hashtags associated with your work, checking out what people are posting about, liking and commenting when you're so inclined and – most of all – using the ideas you come across to drive your own content and deeper engagements. Instagram can give you a highly personal look into the ways your supporters and others already visualize and talk about your issue. Use those insights to guide your own content creation.
All that being said, the question still remains: What do you do with all of your followers and their engagement?
Things will continue to change for Instagram users with Facebook lurking about behind the scenes. But already there are some tactics worth testing to draw people off Instagram and onto a website or another more actionable platform. If you have a highly visual engagement; a seriously motivating fundraising request (think emergencies, or matching gifts); or an event or activity that your Instagram followers can engage in elsewhere, online or offline, put a link on your image or in your profile, and track the results.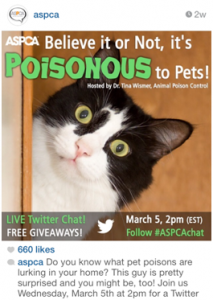 @aspca promotes a Twitter chat to Instagram followers
Happy gramming! (Oh, and come gram with us @mrcampaigns!)