Read time: 5 minutes
Ah, New Years' Eve. For normal people, it's a night of dressing up in finery, watching the ball drop, and pretending you know the words to "Auld Lang Syne." But for nonprofit fundraisers like me, it's a day for the time-honored traditions of repeatedly refreshing Google Analytics, double-checking that all of the 12/31 emails launched, and applying final optimizations to make sure our fundraising ads shine.
And with the big day just a few weeks away, we're busy doing all that we can to make sure nonprofits have the best opportunity to make their fundraising messages heard. Whether you're still putting the finishing touches on your plans or have had everything locked down for weeks, here are 5 things you can do now to make sure your fundraising ads go out with a bang this year-end.
Tune up your tracking in advance of key moments
If you're just getting up and running with ads, check on your Meta Ads Manager Account, a tool to run and report on ads for Facebook and Instagram. Pro tip: You'll need to set up your page as a business before you can set up an account!
For ads tracking and more, we highly recommend Google Analytics. Adding eCommerce tracking means you can track your conversions back to specific promotions. It also offers audience insights and traffic information that can be helpful for targeting your ads!
And if you're expanding your ads program and adding more platforms? Set up Google Tag Manager to centralize tracking codes across platforms to enable faster and easier updates.
Optimize donation pages for paid traffic
Donors that come in through ads are generally less familiar with your program than existing supporters or even people who found your website on their own — so it's extra important to introduce your organization from the moment they sign up!

This might look like: 
Updating your landing page content to introduce you to new constituents. Groups like the

Union of Concerned Scientists

and

USA for UNHCR

actually improved donation form conversion rates by showing more content to their paid traffic! 
Testing changes to your donation form to improve conversion rates. Small changes in the look and functionality of your donation page can have a big difference in the number of visitors who ultimately complete a gift. Some tests we've loved recently are improving page load speed, adding additional payment options, and adding a "nudge" toward a monthly donation. 
Optimizing for mobile (even more than you already do). About 80% of Facebook traffic comes from mobile, so it's important to make sure those donation forms look and work great on screens of all sizes. In early 2022, we tested rolling out Apple Pay on Humane Society of the United States' forms to try and convert more mobile visitors from their high proportion of mobile traffic — and found, among Safari users, that forms with Apple Pay saw a 13% increase in overall conversion rate. 
Set up thoughtful onboarding and automation series
Once you get those new donors on board, you want to make sure they stick around. We recommend you have an email or SMS welcome series in place as a baseline, and a bonus if it is specialized for new donors who may be less familiar with your organization. Communicate the impact of a donor's gift — and give them the opportunity to learn more about your organization — with this content. 
Once you have that up and running, try adding additional automations to keep these donors for years to come. Maybe you want to ask them to make a monthly gift after they've made their first one-time donation. Or send them a reminder text when their membership is about to lapse. Or a postcard congratulating them on the 1-year anniversary of their support!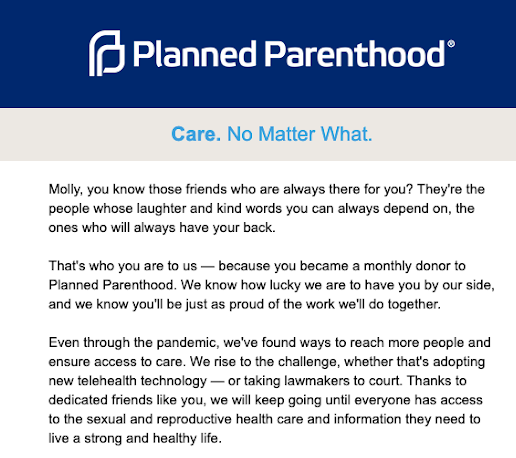 Review your creative. Is it ethical and effective?
If you haven't already read the M+R Guide to Effective and Ethical Direct Response Creative, there's no time like the present! We like to run our creative by a final quality assurance check before it's set to launch, ensuring that creative does not:
Perpetuate racist, misogynist, ableist, and otherwise inequitable structures
Reinforce stereotypes and prejudice
Exploit suffering
Undermine the power of communities to advocate for themselves and create change
Consolidate power among the already powerful
Create distance between causes, the people who support them, and the people they serve.
Set KPIs to inform last-minute adjustments
The amazing thing about digital advertising is that you can make seemingly infinite real-time adjustments to your campaigns to optimize performance…and the challenging thing about digital advertising is that you can make seemingly infinite real-time adjustments to your campaigns to optimize performance. 😭
How do you know when it's time to bump up budgets to take advantage of gangbusters fundraising or pause a campaign that's underperforming — and do it all on one of the most high-stakes days of the year? By setting clear Key Performance Indicators in advance! 
Using M+R's digital ads Benchmarks, you can set your own KPIs for cost per donor, return on ad spend, and more—and even game out in advance what happens when you hit (or don't hit!) those KPIs. That way, on the final day of the year, you can execute the plans you've set in motion rather than making strategy decisions on the fly.
KPIs

🟢 Imp share +90%🛑 ROAS < $1.00

🟢 Frequency < 10/mo🛑 ROAS < $1.50

🟢 Frequency < 30/mo🛑 ROAS < $0.95
And there you have it. Now, let's go raise all the money for the most important causes — before the ball drops! 
__________________________
Rachael Wolber, Vice President, M+R, has been designing effective online advocacy, fundraising and recruitment strategies for non-profits for a decade. She's helped groups including Feeding America, Sierra Club, Oxfam America, March of Dimes, and the Fight for $15 run and grow sophisticated online fundraising and advocacy programs. Offline, you can find her biking in the Berkeley hills and baking her top-secret chocolate chip cookie recipe.