For years now, the online team here at M+R has been secretly admiring the hypercreative fundraising and advocacy work of Watershed. At the same time, the Watershedders have been wowed by the cracker jack team at M+R. We've been friends, colleagues, conference buddies, and we've inspired each other to do some of our best work.
Today, we're becoming one. Watershed and M+R Strategic Services are merging.
Joining forces means great things for our clients. It means we'll be able to devote more resources to expanding the boundaries of what online campaigns can be — creating new best practices in social media, mobile, events, multichannel fundraising, viral content, and more. We'll have more brilliant people coming up with ideas for every one of our clients, which means we'll raise more money and win more campaigns. And if that pushes our movement forward faster, that'd be nice, too.
It means we have a strong presence from coast to coast — including San Francisco, Chicago, DC, New York, and Boston — so we'll be closer to more of our clients.
Bottom line, it means two top firms in our industry are now one.
In the short term, not much will change from an outside perspective. We'll be integrating our work over the course of the coming months, involving our clients at every step of the way, but our names and our day-to-day operations won't be changing immediately.
And the whole thing where we love our clients, bend over backwards for them, and focus our energies completely on making them successful? That's not changing, ever.
Oh, and we even made a little video: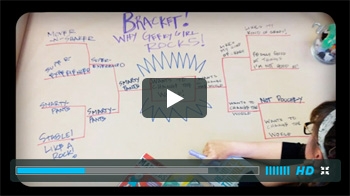 You can also find an FAQ with a lot more detail at: www.AMergeMadeInHeaven.com/FAQ.html