Note: This post refers to an archived publication! Visit www.e-benchmarksstudy.com for the most recent versions of all our Benchmarks Studies.
Editor's Note: Folks who joined our Benchmarks Extra: Facebook webinar in late June had a lot of questions for Lindsey Twombly of the Human Rights Campaign (HRC). In her role as Associate Director of Social Media & Online Mobilization, Lindsey oversees HRC's Facebook page of over a gazillion 1.1 million users. In the guest post below, Lindsey answers some of your most burning questions about administering a Facebook page and relying on Benchmarks to guide decision-making.
Also, Lindsey will join M+R Senior Consultant Ezra Billinkoff for an encore performance of the Benchmarks Extra: Facebook presentation this Wednesday at the 2012 Bridge Conference. No need to bring roses, though – your presence alone will be reward enough!
Without further ado, here are the answers you've been waiting for from master Facebook manager, Lindsey Twombly:
Q: What is the best time of day for posting? Number of posts per day?
There's no hard and fast formula for when to post on social media and how many times per day to post. Each organization's audience is unique – what may work for a large organization with over 200,000 followers may not be enough for a smaller organization with a more engaged follower base. The best thing to do is experiment with times and topics, then track the interactions (also known as feedback) that you get from each post. You may find that certain parts of your organization's mission resonate louder with your followers than others.
Q: Can you tell us about a good engagement activity on Facebook that can be done on a budget?
I love good engagement done on a budget! There are so many simple ways to engage your organization's followers simply by asking them to like or share a post or by giving them simple ways to connect with your organization off of Facebook. Check out this one example: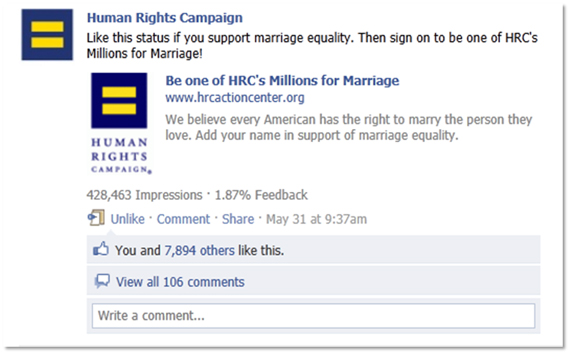 One simple request directed at a specific portion of our followers generated almost 8,000 likes (not to mention 428,000+ impressions!) It also helped demonstrate the presence of a growing demographic of the equality movement while directing folks to the simple Millions for Marriage microsite we built a few years back with M+R.
Followers also love to show their support visually. In honor of Spirit Day – an annual anti-bullying awareness day where people wear purple to show solidarity – we ask our followers to "Show us your purple" by tagging HRC in their photos. We then re-post our favorite purple pics. Here's a shot of the kind of magic we end up with: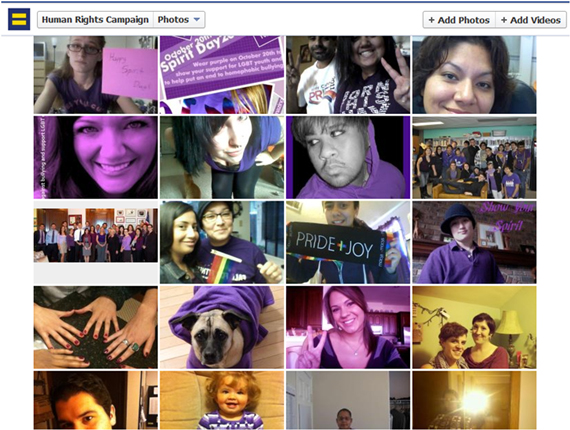 Sharing images on your page is also a growing engagement method that can be done on a budget. Simply layer an compelling quote or call to action over a creative image, post on your Facebook page and ask your followers to share. Another example from our shop: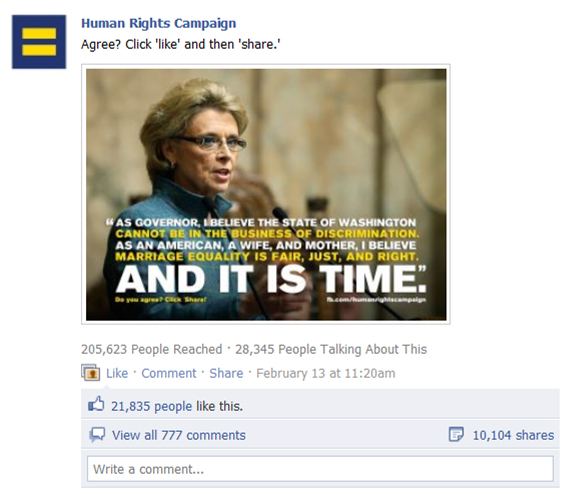 No matter how you engage your Facebook followers, on a big or small budget, the most important thing to do is to ask them to engage. Ask them to like, click, or share – and trust me – they will.
Q: How has the Timeline format for pages changed your strategy?
Change is always a bit intimidating, but Timeline has been a good change for HRC for three big reasons.
First, by adding milestones to our Timeline that show up in the News Feeds of our followers, we've been able to share the history of the equality movement and the triumphs and stumbling blocks we've had along the way.
Second, we're able to "pin" posts. That means our more engaging, timely posts and images can remain at the top of our Facebook page for a week, instead of being buried in the day-to-day news cycle.
Third, Timeline is definitely more graphics-rich than its "Wall" predecessor, allowing a variety of options for displaying graphics associated with posts. So we post a lot of images that then show up in our followers' News Feeds. And we all know that images are what grab people's attention the most in their News Feeds.
Q: What do you do when you get negative feedback?
Negative feedback is inevitable. Not everyone who is following your page may be a "fan." But you can't ignore it. Facebook is meant to be interactive.
The first thing to remember is to not feed the trolls. You should respond to valid, negative comments, but do not let yourself get drawn into a tit-for-tat debate on Facebook with someone who is just there to argue. Remember – other followers will see your exchange, so you want to make sure your comment thread is encouraging, not disparaging.
Second, your Facebook followers are your greatest allies – the majority of your followers like your page because they believe in what you do. For HRC, it's our followers who respond to the majority of the negative comments we receive. When we see several negative comments on the same topic, we'll often post the misconception or myth along with the factual reality in order to educate the audience with an official response.
Finally, don't forget about all the positive feedback you receive! Cultivate those commenters and be sure to respond to them, even if it's just a simple "thank you!". If you take care of them, they'll take care of you.
Q: How do you measure "real world" impact from Facebook?
Real world impact from Facebook will be different for every organization, so the first thing you need to do is identify what your goals are for your organization's Facebook page. For HRC, we measure many different metrics, but there are two key data points that we report on frequently:
The first is viral impact. Looking at Facebook Insights, we track the reach of all of our posts and the number of impressions we're able to generate as a result of followers sharing our content.
The second key measure is how well we turn our Facebook followers into HRC action takers and email list subscribers. When we post an online action (such as a petition) or a donation ask, we use unique pages for social media so that we can carefully track the number of people who joined through Facebook. As a slightly more advanced step, we then note that social media interaction on the person's constituent profile in our membership database so we can track how our social media followers respond to certain multi-channel fundraising techniques over time.
Here's an example of one of our recent advocacy actions that we posted on Facebook: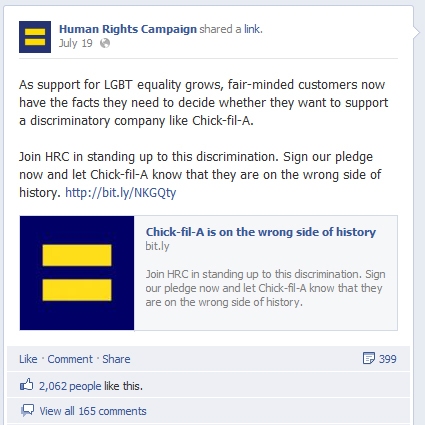 Q: How much time does your organization spend on Facebook? Who decides what content to publish?
On average, I and two other HRC staffers spend 1-2 hours each day between all three of our key social media presences (Twitter, Facebook, Google+). Facebook definitely takes up the majority of that time each day, as there are more comments to read and respond to. The content that we post comes from a variety of departments within HRC and I have the good fortune (or bad luck?) of making most of the decisions about what gets posted – but not in a silo. I carefully consider a variety of factors – the Communications Department's media efforts, what national emails are launching, hot topics that Facebook followers respond best to, and recommendations based on internal and external relationships. But remember that's our model, and it might not fit your organization!
Q: But my page isn't as big as HRC's. What advice do you have for a small page without a recognizable brand?
It's all about engagement – HRC's Facebook page started at zero just like everybody else's. We grew because we focused on our followers. We provide them with relevant news and tangible actions through posts. We make things simple and shareable, so followers will help increase our viral reach.
Making sure your Facebook page is integrated with your organization's other communication channels (website, emails, press releases) is really important. Anywhere you're connecting with members and supporters is an opportunity to let people know you're on Facebook and they can connect with you to stay informed for the latest and greatest about your mission.
Here's how we promote our social media presence in our monthly e-newsletter, HRCnews:

Overall, the most important thing any group can do on Facebook is try, try, and try some more. Testing the waters with content, with timing, with tone – all of it helps. Reading through M+R's Benchmarks Extra: Facebook report each year has been a huge help for getting ideas and identifying the key metrics I need to be keeping in mind. I highly recommend it.
If you've got more questions, drop 'em in the comments boxes below or come see me and Ezra present at the Bridge Conference on Wednesday at 2:15 p.m.!