Read time: 3 minutes
Our Senior Vice President of Anti-Racism, Equity, and Inclusion, Adiyah Ali recently wrote this amazing piece for M+R's internal communications. Our staff loved it. We think you might too!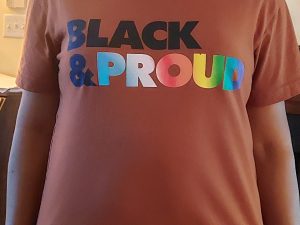 I've been in many rooms—both virtual and physical—and watched the myriad of ways (i.e., mental gymnastics) in which folks would try to not say "Black" as in Black people. They would say "people of color," "BIPOC," or my favorite (insert side-eye emoji) "diverse" when it was very clear that they were referring to Black people. There is nothing shameful or harmful about simply saying "Black." Say Black. 
Today, I'm wearing a "Black & Proud" t-shirt. It's a spin on James Brown's 1968 hit, "Say It Loud (I'm Black and I'm Proud)," which became an unofficial anthem of the Civil Rights movement; but, in its current context, is focused on the pride associated with also identifying as a member of the LGBTQIA community.
While "Say it Loud (I'm Black and I'm Proud)" addresses Black love, joy, and empowerment, the proud (on my t-shirt) is focused on self-affirmation, dignity, and equality. Taken together "Black & Proud" is a recognition that we live intersectional lives.
That is, there are folks who both identify as Black and queer. While there is love, joy, and dignity in this existence, there is also exhaustion from having to navigate multiple oppressions.
In accepting the president's award at the 54th NAACP Image Awards, Dwyane Wade and Gabrielle Union-Wade spoke about these oppressions and used their platform to advocate for the Black LGBTQIA community.
While thanking his daughter, Zaya, for living in her truth, Dwyane stated, "I'm intentional when I use my platform. I recognize what I've been given, and it is my job to uplift the voices of others and share my access and resources."
In speaking about the intersection of the rights of Black people and LGBTQIA rights, Gabrielle asked, "Will we fight for some or will we fight for all of our people?" And that is the question that we each have to ask ourselves:
Will we fight for some or will we fight for all of our people?
When Black trans women are being "targeted, terrorized, and hunted," but you're not Black and/or you're not a trans woman, will you advocate for justice anyway?
When the governor of Florida signs a homophobic and transphobic law, banning public school teachers from giving age appropriate instruction on sexual orientation and gender identity, but your children do not attend public schools or you do not have children or you're not a Florida resident, will you Say Gay anyway?
When that same governor persuades/bullies the College Board to dilute its African American Studies curriculum, but you're not Black and/or you're not a Florida resident, will you raise hell anyway?
When advocacy groups are successfully leading campaigns to censor and ban books that address race and racism; involve sexual content (e.g., stories about teen pregnancy); and feature major characters of color and/or LGBTQIA storylines, but those aren't books that a child you know would read, will you speak up anyway?
Though we may not have the Wades' platform, reach, resources, or access, we can fight back anyway.
Say, "Black."
Say, "Gay."
Say it loudly.
Say it proudly.
_______
Adiyah Ali is M+R's Senior Vice President for Anti-racism, Equity, and Inclusion. Chances are good that you've felt her influence in our work with clients and causes already (she's more and more a part of client teams these days). Aside from providing strategy, guidance, and expertise on enhancing our workplace culture, policies, and practices, she's likely chauffeuring her kids around while pondering on the intersection of motherhood and leadership.