Read time: 4 minutes
ICYMI: We recently released a guide to help nonprofits develop creative that reaches your goals while advancing your values. It's a comprehensive resource that can fundamentally transform how you approach effective and ethical creative. And it's free—download it here.  
We began to unpack the challenges and obligations of developing ethical creative in a Roundtable discussion with our friends Amirio Freeman of Feeding America and Rosa Del Angel of Oxfam America. 
We know that you may not have time to read the full guide or watch the webinar recording. So over the next few weeks, we'll be discussing the core elements of effective creative in bite-size chunks.  
+++
There is no single best tone, color, or approach to creative. "Good" direct response creative—that is, creative that helps you accomplish your list growth, revenue, advocacy, or other goals—will depend on the moment, the cause, the audience, and a dozen more variables.
We know: "it depends" is a deeply unsatisfying answer! And not what you came here for. 
While there's no one best creative style or ideal creative content, there are consistent features that distinguish creative that excels… and creative that flops. 
In order to seize attention and motivate action, creative will express five elements:
Need 

Impact

Urgency

Relevance

Authenticity
This simple framework is what lies beneath the shiny surface of effective creative for nonprofits. It is what generates clicks, captures names, drives donations, and leaves a memorable impression. Understanding what these elements are, why they matter, and how to apply them is necessary to produce creative that consistently advances our goals.
Conversely, the lack of one or more of these elements is the root of failure for so much nonprofit creative. Evaluating creative under the light of these elements will help identify weak spots and opportunities for transformative edits.
Let's look more closely at Need. 
There is a distance—a gap—between the world we want to live in, and the world we see around us. That space is the province of need. Identifying need is where effective creative begins.
Very often, need is about addressing a current problem—for example, making sure that people displaced by conflict or natural disaster have food and shelter. Need can also be about preventing imminent or future harm, such as blocking a proposed oil pipeline before it can damage local ecosystems, harm indigenous communities, and exacerbate climate change. And sometimes, need is an aspirational goal—a more just world, an equitable society, a brighter future.
Successfully demonstrating need requires us to communicate the answers to three questions:
Who is affected by the problem, threat, or situation?

What are the stakes of inaction (generally, persistent or expanded harm), or the benefits of action (generally, an improved circumstance)?

Why is this important? Or to put it more bluntly,

why should the audience even care?
Need is often expressed as a threat: a cholera outbreak imperils the lives of thousands of infants and children. A Supreme Court decision could dismantle our reproductive rights. A nominee for EPA Administrator could fast-track the destruction of the air we breathe, the water we drink, the lands we play in.
This is no coincidence. Our brain's negativity bias makes us more likely to pay attention to threats. We're more motivated to avoid loss than we are to try and gain something. Do that too often in your creative, though, and you risk sounding like Chicken Little.
Clearly establishing the need leads directly to the next two elements of effective creative. From need, we derive impact—the ability of our audience to help close the gap between the world as it is, and as it should be. And urgency is how we elevate the need we are focused on above the infinite range of problems and hopes that might otherwise claim our audience's attention. 
We'll unpack those—along with relevance and authenticity—in upcoming posts. But you don't have to wait! Download the complete M+R guide to effective and ethical creative for free right now.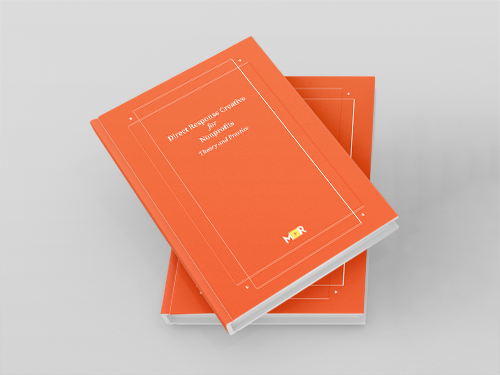 ————
Gwen is the Creative Director here at M+R. When she's not scheming up new campaigns or writing dazzling copy, she's kicking it with her pug Frankie. You can reach her at gemmons@mrss.com.
Will is the Senior Creative Director and sole member of M+R's remote Rhode Island outpost. He is currently in between pugs (not literally, unfortunately). Send him a note at wvalverde@mrss.com with questions about copy, creative, or comics. 
Related Links