Picture the jungle scene, raucous birds squawking in the distance. Into the foreground a massive paw pads noiselessly on brittle leaves. The narrator chimes in with his impeccably precise British accent:
"Watch closely as the Bengal tiger closes in on her prey. She is a masterful huntress, creeping slowly, daring only the briefest of breaths through massive teeth. Her green eyes narrow, her nostrils flare ever so slightly as she confirms her prey's exhilarating scent. It has been a long hunt, but through skill and patience and cunning, the tiger is mere moments from striking. Tonight she will feast."
That's the moment that we live for — when the pursuit of coverage becomes an earned media feast. We call it the crouching tiger strategy, and this is our field guide to polite and persistent media stalking with the goal of securing a dream article for your client.
Warning: This approach is not for the impatient PR practitioner. It can take weeks, even months, of carefully tracking and connecting with your selected media target.
Second warning: The tiger thing is only a metaphor! Do not actually use tigers or any other large predatory mammals in your media outreach.
1. Identify your prey. Select a writer who is considered a thought leader in the field in which you're looking to elevate your client's profile. Usually, these kinds of targets will write for household name publications like the New York Times or Rolling Stone. Long term relationship building isn't for the faint of heart — so before you jump in, make sure they are worth the time. Their work should have clout and the ability to reach and influence a wide and diverse audience.
2. Learn their habits. Become intimately familiar with your writer's work. Know what she writes about, how she approaches her coverage, and how frequently she files. Set up alerts so that you're updated when she publishes or when she writes about your issue. Take notes and observe trends to learn what catches her eye so that you know how to make your client stand out.
3. Sharpen your tools. For many thought leaders, the best way to get their attention is through peer-to-peer outreach. Rather than reaching out as an intermediary, consider having your client be the one to make that first contact. Identify who will be the one to communicate directly with the reporter (often the CEO or President), then, to get things started, work on a draft introductory note to send when the time is right.
4. Introduce yourself. After carefully monitoring coverage, find a time to introduce yourself and your client to your prey target reporter. Most often, this will come within 24 hours of her publishing an article on a topic very closely related to your client's work. The note should begin by praising her thought-provoking and elegantly written article, then offer to lend a valuable new perspective on the issue via your client.
5. Earn her trust. The first outreach should include an offer of coffee or a phone conversation with your client to offer expertise that might be useful. Earn the reporter's trust and demonstrate value by staying in touch to provide periodic, relevant updates. This is about more than just continually pitching your client — you should be able to provide insight on a recently published article from the writer, add useful context, and, yes, share when your client has something new and interesting.
6. Go in for the kill. After months of monitoring and relationship building, you should be presented with the perfect opportunity to pounce. This is the moment when you have something big to pitch something for your client or there's a big event on the horizon. Using a recent news item or upcoming activity, offer the writer the opportunity to speak with your client on the topic of choice. When the time is right, the writer will either reach out for a fact check or you'll be pleasantly surprised to see an article on the topic — ideally with your client quoted.
7. Bask in the after-dinner glow. You've landed the dream placement on behalf of your client and the months of meticulous tracking, pleasant conversation, and, at times, frustration has finally paid off. Take a moment to share all that hard work with your client, showing that a slow and steady approach can yield some pretty satisfying results.
When it all comes together — the skill, the patience, the tiger-like cunning — the payoff can be huge. For the past year we have been working with Giving Comfort, a program of the McKesson Foundation that distributes care packages to low-income cancer patients undergoing treatment. One top goal was to feature their Comfort Kits in the media, including women's health and lifestyle magazines.
After a year of laying the bait, the dinner bell finally rang with coverage in the October issue of O, The Oprah Magazine! That's right…OPRAH.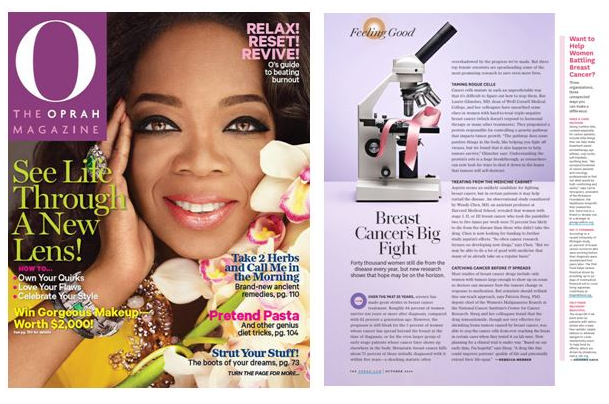 Now close your eyes. Listen to the sound of those jungle birds and the soft breeze whispering through the leaves. Feel the hunger within. You're a tiger. Go get 'em.
No real kitties were harmed during the production of this blog post.