Short, animated Flash cartoons have become the latest rage in the political world. In recent cycles, political campaigns have released humorous online bits about their opponents and issue advocacy organizations have produced creative, informative movies about pending legislation. But the clear tipping point came last year with JibJab's parody on Woody Guthrie's "This Land," featuring animated presidential candidates Senator John Kerry and President George Bush trading musical insults and battling for votes. Just as Michael Moore's "Bowling for Columbine" and "Fahrenheit 911" broke box office records and brought documentary filmmaking to a mainstream audience, JibJab's film broke out of the niche market of Internet advocacy and into the hallowed pop culture halls of late-night TV and Trivial Pursuit.
But what can animated cartoons really do for a campaign and how should you use them? Check out our tips for setting expectations, developing a work plan, and evaluating the success of your next Flash video cartoon campaign.
Tip #1: Set Goals
Setting goals will help you to evaluate the success of your animated cartoon campaign as well as develop a work plan designed to meet those goals. When deciding whether or not to produce a Flash video for your campaign, the most important question to answer is: What will the campaign achieve? Many organizations produce these animations to:
Educate voters or constituents
Recruit new activists
Raise awareness of a campaign
Leverage visibility on a particular initiative, or
Raise money
Most videos aim to accomplish any one (or a combination) of the above goals. What is important in planning your video is to determine which of the above goals is most realistic. Generally speaking, animated cartoon videos are not a silver bullet for recruiting millions of new members, raising gobs of money, or persuading online activists and donors that are unfamiliar with or ambivalent about your campaign. They can, however, effectively communicate a specific message – especially to those who have a propensity to support your campaign but are not currently on your constituent list – and attract those who might be impervious to other types of campaign communication. FLASH videos also have the potential to create that mysterious yet sought after thing known as "buzz." Additionally, they are a great resource for engaging existing online list members in recruiting new activists and donors.
Tip #2: Make it FUNNY!
When brainstorming concepts for your video, the single most important factor to keep in mind is: Will it make people laugh?
Remember, you are not your target audience. Will your supporters and activists find it funny? Will they be eager to forward it on to everyone they know? If not, head back to the drawing board. Anything less than laugh out loud, slap your leg, fall down on the ground, pee in your pants funny is probably not going to work well enough to truly "go viral" and get forwarded around the Internet by tens of thousands of appreciative viewers.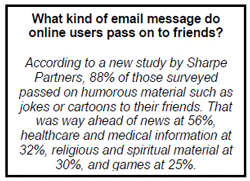 The idea is to "entertain." In addition to offering viewers an opportunity to take action (see below), what three recently-released animated cartoon videos, Toast the Earth, Friends with Low Wages, and Arnold's Neighborhood, all have in common is lighthearted humor. Global warming, union-busting, and conservative ballot initiatives are clearly not in and of themselves comical ideas. But if your goal is to recruit new members, tapping a viewer's funny bone is the best way for you to get your video in front of as many people as possible.
According to a new study by New York's Sharpe Partners, a digital marketing agency, humor is the key to making an online campaign a viral marketing success. The study found that 88 percent of those surveyed passed on humorous material such as jokes or cartoons to their friends. That was way ahead of news at 56 percent, healthcare and medical information at 32 percent, religious and spiritual material at 30 percent, and games at 25 percent.
In order to "keep it funny," you need to "keep it familiar." When selecting a theme for your video, make sure it is well-known and prevalent enough to be understood by as large an audience as possible. Arnold's Neighborhood was a spoof of PBS's "Sesame Street," a television program on which millions of Americans were reared. And Friends with Low Wages not only poked fun at the world's number one retailer, but did so by spoofing a popular song by one of America's most well-known country-crossover artists. In short, if you're going to "culture jam," make sure it's something either current or immediately recognizable – or both.
Tip #3: Offer Viewers an Opportunity to Take Action
So, let's say that the goal of your animated cartoon video is to recruit new online members and build your online list – what can you expect? We've found that between one and two percent of people who watch a video (one million unique views = 10,000 new members) will sign up for your list IF you offer them a constructive online "action" immediately following the video.
Consider the following examples of recent campaigns:
Toast the Earth With ExxonMobil!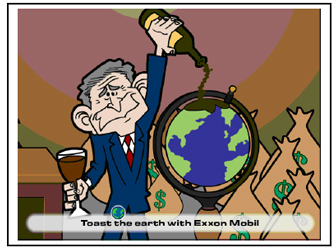 When ExxonMobil announced their $36.13 billion profit for 2005 – the biggest profit ever recorded in US history – the Exxpose Exxon Coalition released a Flash cartoon lampooning ExxonMobil's cavalier attitude on global warming and reluctance to invest more of their record-breaking profits in cleaner energy solutions. Viewers were asked to join Exxpose Exxon and send a message to Exxon's new CEO, Rex Tillerson, telling him that they would not invest in Exxon's products or stock until the company adopted safer environmental standards.
https://www.ExxposeExxon.com/Movie
Friends with Low Wages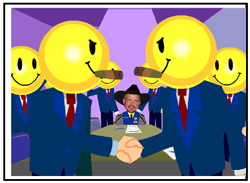 Using Garth Brooks' exclusive deal with Wal-Mart, American Rights at Work produced a parody of his hit song "Friends in Low Places" to raise public awareness of Wal-Mart's union-busting tactics. In the cartoon, "Garth Brooks" is made aware of the poor working conditions that have led Wal-Mart employees to call for union protection. The cartoon is followed by a call to action that asks activists to sign a petition denouncing Wal-Mart's union-busting activities.
https://www.WalMartWorkersRights.org
Arnold's Neighborhood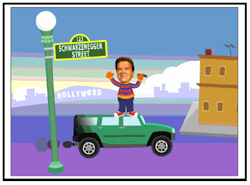 Weeks before California's Special Election in 2005, Democratic Gubernatorial candidate Phil Angelides released a Flash cartoon spotlighting Governor Arnold Schwarzenegger's relationships with right-wing politicians and advocates. The cartoon, set to the tune of Sesame Street's "The People in Your Neighborhood," showed Governor Schwarzenegger cavorting with "Ken von Lay the Miscount," "Karl Rover," "O'Reilly the Grouch," "Cheney Monster," and "Bush Bird." When the cartoon was originally launched, viewers were asked to send a message to Governor Schwarzenegger telling him that they planned to vote against his Special Election initiatives. Today, the video asks viewers to sign up to join the Angelides campaign.
https://www.ArnoldsNeighborhood.com
All of the above animated cartoon campaigns incorporated two opportunities for viewers to take action:
An online petition/message to targets relating to the content of the video that the viewer just watched. (In addition to clogging a target's inbox with messages from concerned citizens, these online actions are the best mechanism for capturing contact information for potential new online activists and donors); and
Keeping in mind the one percent viewer-to-activist conversion rate, each campaign included a "tell-a-friend" link and message for viewers to pass the video on to others.
Tip #4: Develop a Work Plan
Unlike the advancements that have made television commercial production lightning-quick, producing an animated cartoon video takes a considerable amount of time. Most vendors require at least one month (and even that is usually pushing it) to develop a script and complete the animation process. On your side, you should factor in time for internal approvals for your animation: who will need to approve the concept, script, and final product? Additionally, consider how you will market your Flash cartoon to achieve optimal results.
When developing your work plan and timeline, be sure to include:
Creative development (animated cartoon video, webpage wrapper for the video, advertisements, etc);
Hosting setup – ensuring there is plenty of bandwidth if the animation proves popular;
Purchasing a unique hostname or setting up a simple URL redirect that allows you to promote a short, straightforward web address for your FLASH;
Drafting content for the webpage where the animation will reside("take action" message and petition, tell-a-friend page and viral message, and additional information on the campaign);
Drafting communication to your existing email list;
Drafting marketing materials (paid marketing messages, press releases, messages to blogs and online discussion forums, content for your organization's homepage, etc);
Paid marketing plan;
Earned marketing outreach (online and offline press, blogs and online discussion forums, etc); and
Follow-up action (media response, online and offline activities, etc).
The internal team that you put together for your animated video campaign should include your online staff as well as members of your policy and communications staff. All of these parties will be essential for developing the content of the video as well as its marketing.