Read time: 6 minutes
I was SO JEALOUS that I couldn't have a Facebook account. This was the summer after I graduated high school, back in the early days when you needed a college email address to sign up. Sure, I had a MySpace, but my older friends had moved on to this exclusive new social network. So cool. As soon as I was able to sign up, I started searching my school register for people to be friends with who liked the same bands as me: Rancid, The Distillers, The Bouncing Souls, or any ska band (yes, really. That's actually still a requirement if you want to be my friend).
If you thought finding someone with your same musical taste is good, just wait until you find people who are as passionate about social media and fundraising data as you are. Actually, you don't have to wait! We're right here. Apply to come work with us today.
My, how far we've come. Facebook isn't just for college students anymore—or really at all. According to the Pew Research Center, 69% of U.S. adults use Facebook, and adoption is highest among people 25-49 years old. In recent years, Facebook has created tools for their users to show their charitable side through the platform—first by donating directly to nonprofits, and now by raising money from friends and family for the causes they care about.
And Facebook Fundraisers are already making a major impact for some nonprofits, as detailed in our 2019 Benchmarks Study. For the first time ever, and thanks to an upgrade in Facebook's reporting tools, we reported on how organizations are raising money through Facebook and Facebook Fundraisers.
Quick note: the Facebook revenue we measured includes all donations made through the Facebook platform. In our study, the vast majority of Facebook revenue (99%) came via the peer-to-peer tool known as Facebook Fundraisers. The other 1% came through donation buttons that could be on a nonprofit's page or added to page/user posts.
So what did we find?
On average, nonprofits raised $1.77 through Facebook for every $100 raised through other online channels. For some sectors, the impact is even more dramatic. Rights groups, which saw a sharp decline in traditional one-time giving, received $13.02 in Facebook donations for every $100 in other revenue.
And for Health nonprofits, Facebook appears to be nothing short of transformative. For every $100 in direct online revenue, Health nonprofits received $29.88 through Facebook. In other words, for Health groups, Facebook donations accounted for about 30% as much revenue as every other source of online revenue, including email, web giving, monthly donors, digital ads, and search.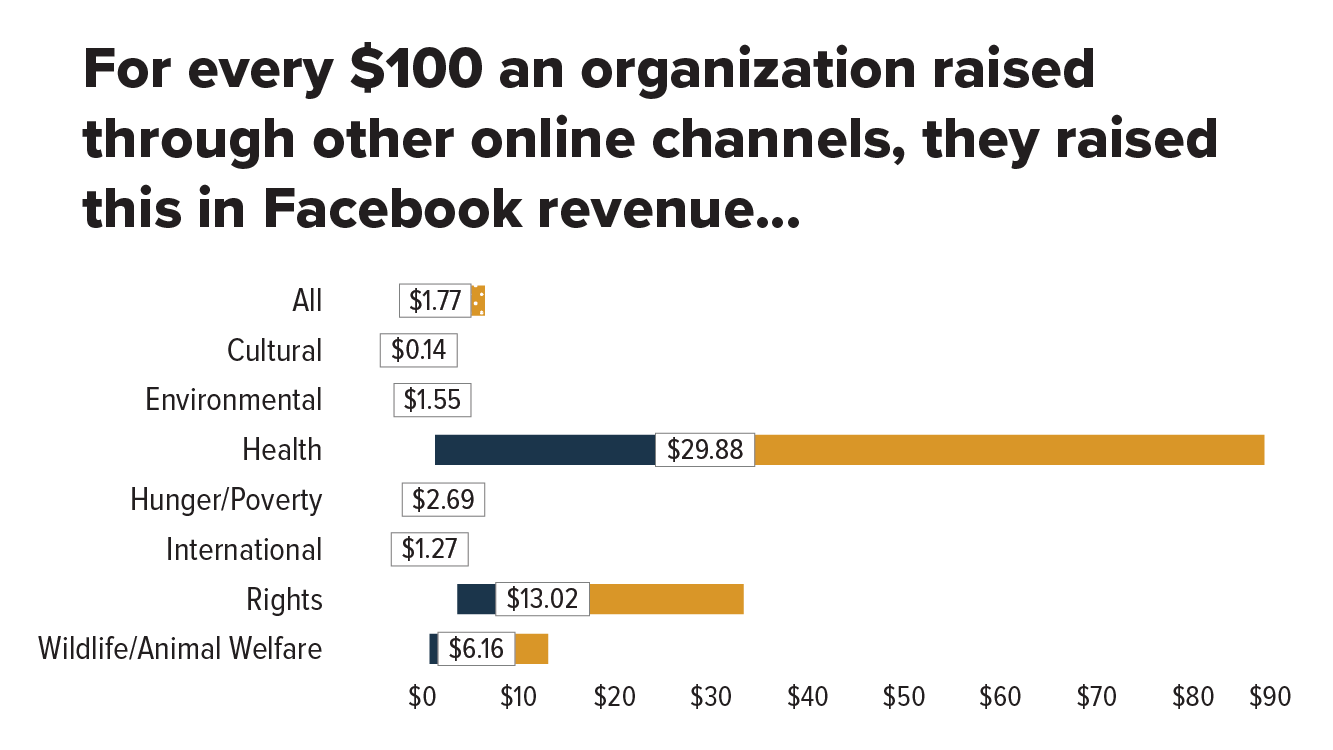 And take a close look at that chart. The white box is the median figure. The blue and yellow bars to either side go down to the 25th percentile, and up to the 75th—anything in that range is what we generally consider "normal."
Now, notice that the 75th percentile for Health nonprofits is just shy of $90 in Facebook donation revenue per $100 in other online giving. That is, some nonprofits received nearly as much revenue from Facebook as all other online giving!
We also wanted to take a look at what to expect from a typical fundraiser. We found that the average Facebook Fundraiser generates 7.4 gifts from friends and family. The average gift size is $31.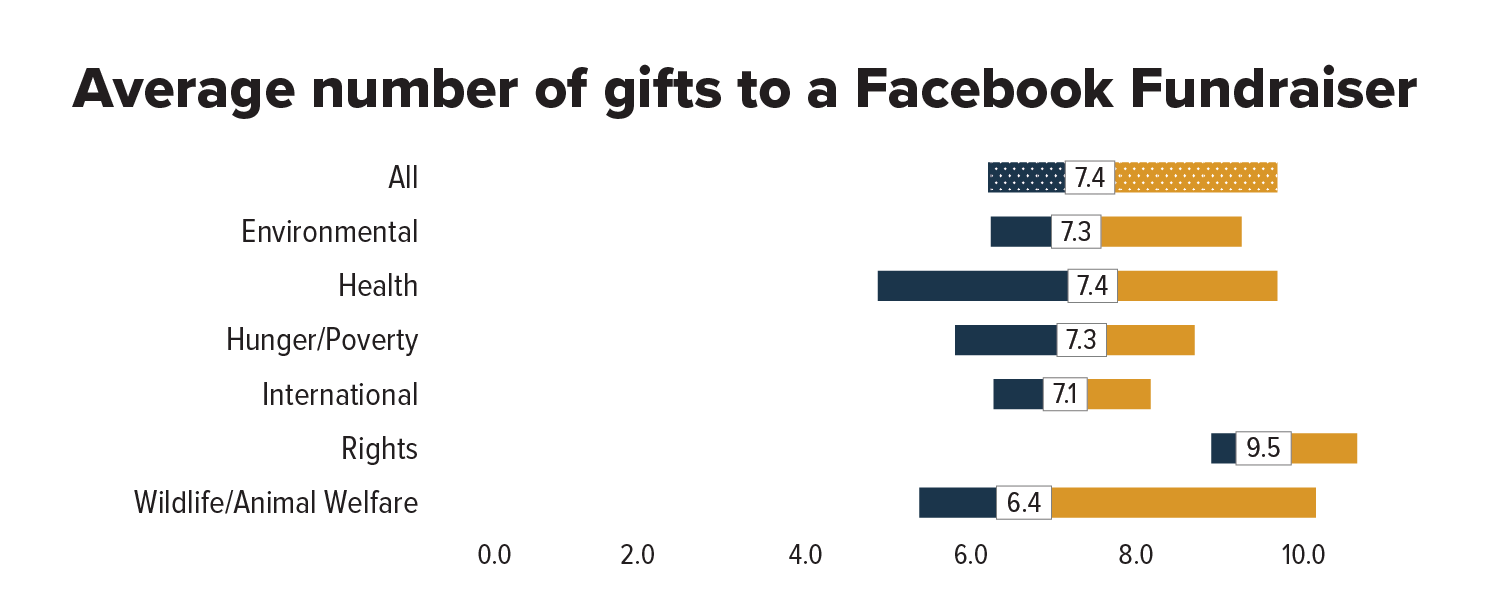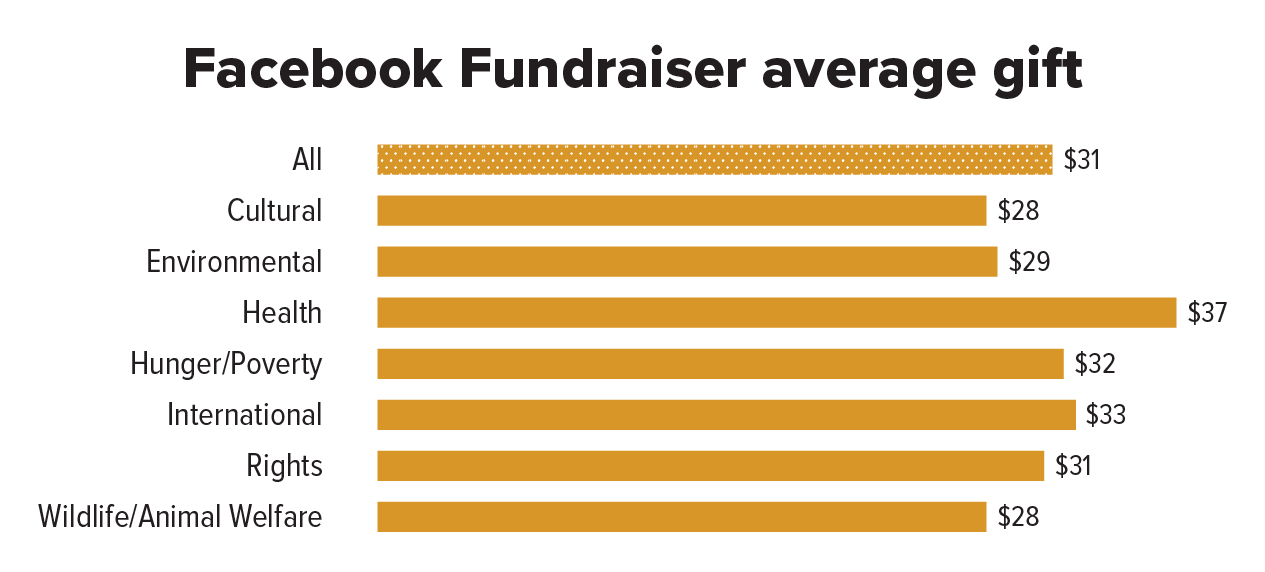 The number of gifts per Fundraiser, and the average size of those gifts, is relatively consistent across sectors. Yes, Fundraisers for Rights nonprofits tend to generate a couple more donations on average, and the average gift for Health groups is a few bucks higher. But the really big difference stems from the number of Fundraisers started to support a nonprofit in the first place.
While the average organization had 56 fundraisers started on their behalf in 2018, there is huge variation from nonprofit to nonprofit and from sector to sector. Just take a look at Health groups (which, as a reminder, are raising much more than other sectors, on average). The average group in the Health sector had 690 people start fundraisers on their behalf!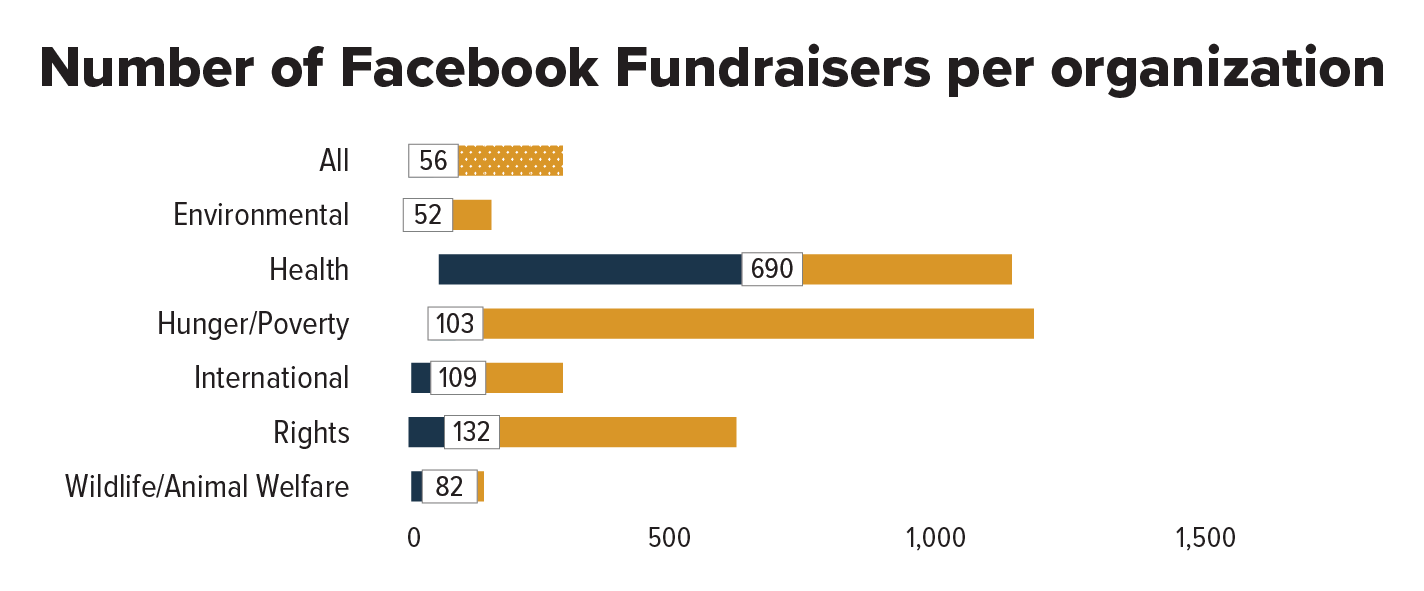 That means that if you want to reap the rewards of this emerging revenue source, your most effective path forward is to find ways to motivate supporters to start their own Fundraisers.
If you haven't seen these kinds of results from Fundraisers, you might be feeling as jealous as pre-college, ska-loving, Facebook-less me. Maybe it's time to get your supporters involved.
Now, we're not saying it's easy to motivate people. Setting up a fundraiser is a big, public ask—it's not something people do lightly. Here are a few pieces of advice as you're crafting your strategy.
Don't cannibalize your own fundraising.

Imagine this: you do such an awesome job getting people to start fundraisers for you, but it doesn't make up for the fact that those people didn't make a direct donation this year. It would be tragic. You can manage this risk in a few ways. You might start by, deciding who among your supporters is more valuable as a fundraiser rather than a donor. Segment your list and make a fundraiser ask only to that audience. You might also make setting up a fundraiser a secondary ask, made only once you're reasonably sure a donor has reached their giving limit. Or, separate your asks out over time so your fundraising asks don't prevent people from responding to donation asks.

Find the right moment to ask.

Timing is everything. People are going to be most responsive to setting up a fundraiser when your cause is top of mind for them. That might be because of something terrible happening in the news, like a natural disaster or major media attention on your issue. Or it could be something more personal, like the anniversary of losing a loved one or getting a diagnosis.

Give people something compelling to raise money for.

When people can see directly how their actions make a difference, they're much more compelled to act. If you can, ask people to help you raise the necessary funds for a new project. They'll be able to tell the specifics to their friends, and it will feel more urgent and tangible. Or, you know, you could just ask them to raise money in Mike Pence's name.

Remind them of the impact they'll have.

Always bring it back to your mission. Fundraisers are just one way for your supporters to make a difference. It's your job to tell them why it's

the one

they should do right now. Feel free to use our Benchmarks findings: "Research shows that the average person will get 7 friends to chip in. That could be 7 more people that are [doing some great good in the world]—all thanks to you."

Make the outreach feel personal—because their fundraiser is.

You are asking people to go above and beyond asking their friends and family for money on your behalf. Maybe you should go above and beyond to reach out to them. Send a text or pick up the phone to people who showed interest in your first email. Give them a real person's email at the org to reach out to if they have questions. A small investment in these relationships could pay off big.
What success are you seeing with Facebook Fundraisers? Tell us in the comments below or reach out on Twitter @MRCampaigns.