Say you have 100,000 email subscribers and 60,000 Facebook fans. You know there's a big overlap there. But just how big is that overlap? And what's the total number of unique supporters between your email list and your Facebook fan base?
Thanks to a clever little hack using Facebook's Power Editor, we now know how to estimate that. (Note: For now, we're not worrying about people who are on Twitter or Google+ or Pinterest — just your email list and Facebook.)
The way to find this total-unique-supporter number is through "custom audiences." As we wrote about last year, Facebook's new targeting tool enables you to send ads to Facebook users based on their email address. By setting up a custom audience, you're taking your full file of deliverable email addresses and matching them to Facebook accounts set up with those same email addresses.
Facebook won't tell you which addresses are a match, but you can find out how many are a match — and how many of your email subscribers aren't already Facebook fans, which is really what we're looking for.
Here's how to find it:
1. Export your entire email file and save it as a single plain text column of email addresses in a .txt file.
2. Go to Facebook's Power Editor, which you can find on the left side menu of your Facebook account's Ad Manager. The Power Editor is an advanced toolkit for creating bulk ads and managing promotions across accounts. You can learn more about Power Editor here.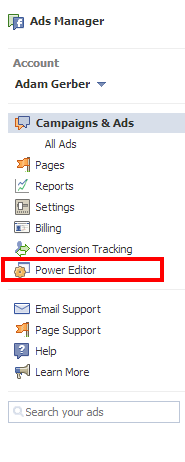 Access Power Editor via your Facebook account's Ad Manager
3. Create a custom audience by selecting the 'Audiences' option in the Power Editor's left side menu. Select 'Create Audience' and follow the instructions to upload that .txt file to Facebook. This can take a while to process for large lists. Also, be sure give the audience a unique name you'll remember.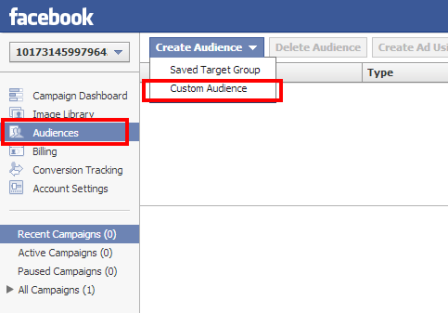 Create a new custom audience, following the on-screen instructions.
4. After the file has been processed (and the status reads 'ready'), return to Facebook's main Ad Manager to create a new "page like" ad. At the bottom of the ad setup tool, choose your uniquely-named custom audience that you just created as your targeting group.

Your new custom audience will appear below the broad categories menu and, when selected, the audience number will reflect the size of subscribers who are not current fans.
5. When you select the audience as your targeting group, you are in essence telling Facebook to send ads to people who are on your list, but are not yet fans of your page. That estimated audience size is basically your number of
email-subscribers-who-are-not-Facebook-fans
.
To go from that number to your total supporter number, it's simple math:
# of Email-Subscribers-Who-Are-Not-Facebook-Fans
 + # of Facebook Fans
 = Total Unique Supporters
Note: Facebook matches email addresses, so it'll only match to email subscribers who use the exact same email address for their FB profile. Really what you're getting here is the total number of unique email addresses between your email house file and your Facebook page. But most organizations count unique email addresses as unique supporters anyway, so this should be a useful tool in your arsenal.
Go call your Comms Director — you have a new number of supporters!