Like most people, public speaking makes me a little nervous. And I would be terrified at the idea of putting on a blindfold before stepping out in front of a crowd to speak, with no idea who's in the audience. And yet, think of how easy it is to blithely post on social media with no clue who's listening, or how they're reacting.
We have to break that habit — and luckily, the tools we need are just a few clicks away. The cornucopia of audience info hidden in the depths of our social media channels is awesome and powerful once you know where to look.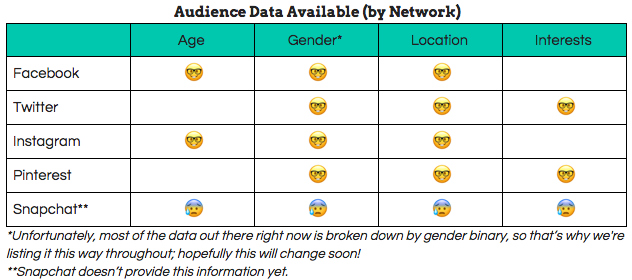 This isn't just about feeling comfortable with our content — knowing more about who our audiences are can make our posts sharper, smarter, and more targeted. (For more info on demographics by platform, check out this post from our friends at Sprout Social.)
By narrowing in on our audiences in social media, we can get more specific with our goals (let's grow a target audience of young professionals in Georgia, or break through with elderly hiking enthusiasts on the West Coast!)
And as a special bonus, sometimes we'll discover a secret hidden nugget buried in the data that can help further refine our social goals and content (e.g., turns out you had a ton of grandpas following your Facebook feed, but you thought you were talking to moms this whole time.) That's a lot of untapped potential!
Now let's take off our blindfolds and explore the most important social media platforms to find out which key audience data points to look for, where to find them, and why they matter.
Facebook
Key data points to look for: Fans, followers, people reached and engaged (broken down by age and gender, location and language).
Where to find that sweet, sweet data: Navigate to the Insights tab on the top navigation and then click on People on the left navigation. Facebook provides not only the audience makeup of fans (or followers) but also the people being reached or engaged.
Why they matter: The Reach vs Engagement info can be particularly telling because they are often different groups of folks. This level of detail is helpful when setting audience-related awareness and engagement goals. If we were using the snapshot below as a guide, we'd say that our fans are mostly women and skew older. If that's what we want our base to be, then we're doing great! If we want a younger audience or a bigger share of our audience to be older, then we'd want to see those percentages rise over time (and adjust our content strategy to get there). Knowing where fans and followers are around the country (or the world) also allows us to match them to local programs, tailor content to their backyard, build up our base in swing states, and more.
Sample data snapshot: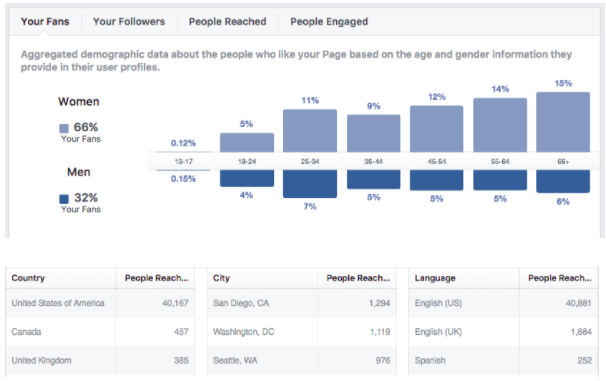 Twitter
Key data points to look for: All Twitter users, followers, organic audience (broken down by gender and interests).
Where to find that sweet, sweet data: Navigate to https://analytics.twitter.com and click on the Audiences tab on the top navigation. Twitter allows us to see audience data for ALL Twitter users, followers, and organic audience (anyone who sees your tweets):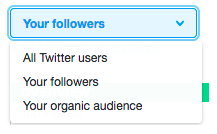 Why they matter: We rarely track social media goals back to Interest data, but it can be helpful for audience context and content creation. For example, if we know our audience likes politics and current events, we can consider tailoring our posts accordingly.   


Bonus! Other fancy stuff: Twitter also provides things like "Lifestyle" and "Consumer" behavior which may be less useful for nonprofits. Other categories include household income levels, net worth, marital status, and even cell carrier. If we want to learn more about the online behaviors of our audience, those categories can still be useful for context…we just typically don't live and die by these categories because they're not user-reported data.
Instagram
Key data points to look for: Gender, age, and location
Where to find that sweet, sweet data: Before Insta lets you see audience insights, you have to convert your account to a Business Profile (more on that here!) Once you have access, you can view insights on mobile and see basic audience data for followers (broken down by gender, age and location).   
Why they matter: Similar to analyzing audience data on places like Facebook and Twitter, we've found that knowing where folks are can help us engage followers on the ground, tailor content to certain regions (or in different languages) and beyond. If we notice that the audience demographics we're seeing on Instagram doesn't match who we want to be talking to, that tells us it's time to focus on crafting a content strategy to engage and grow our following with that target audience.  
Sample data snapshots: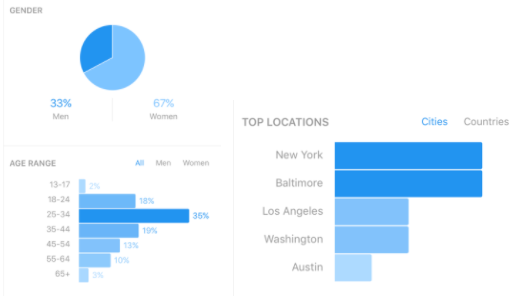 Pinterest
Key data points to look for: People you reach, both followers and organic viewers (broken down by metro area, gender and interests)
Where to find that sweet, sweet data: Navigate to the Analytics tab on the left of the Pinterest screen and choose People you Reach: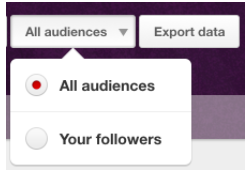 Why they matter: We use these data points when we want to know where our audience is (or when we want more people in X place to know who we are) and when we're trying to break through with a particular gender. Similar to other networks, you may not want to build goals around which interests your audience has, but they can be very helpful for creating content that will resonate better with them. For example, your organization may not want to share healthy snack recipes, but you could create content featuring inspirational quotes.
Sample data snapshot: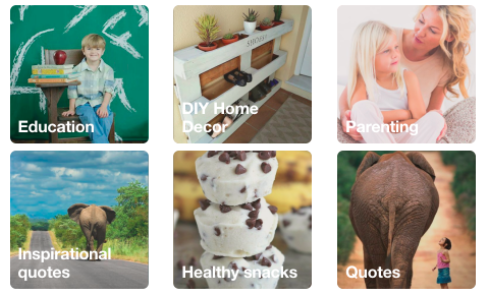 Snapchat
While we can see some analytics on Snapchat (views, screenshots, and more), they haven't made audience insights available yet. As with all things social, things change quickly, so stay tuned for more updates from Snap.  
Have you noticed anything interesting/weird/surprising about your audience data, or just want an excuse to test out the new 280 character limit? Tweet us @mrcampaigns