November 9, 2016 was a bad and busy day for GLAD – the legal and advocacy organization that has led the way for LGBTQ equality and protection since the 1970s. The organization that argued and won the case for marriage equality at the Supreme Court under Obama suddenly had to make a plan to defend their gains and keep making progress under President Trump.
We ❤️💛💚💙💜 GLAD. So when they asked for help with their messaging and digital strategy going into 2017, we may have literally screamed YES.
At the beginning, we worked with the GLAD communications and fundraising teams to outline three themes that would guide GLAD's plans for the resistance:
Prepare for the worst

.
GLAD rightly anticipated a few key moments for LGBTQ issues early in 2017:
Trump executive orders rescinding protections for LGBTQ workers in the government and military

Trump executive orders about "religious liberty"

Trump executive orders about protections for LGBTQ youth in America's schools

Neil Gorsuch's Supreme Court confirmation hearings

Gavin Grimm's SCOTUS case
With these major moments (many of which did come to be) on the horizon, M+R worked with GLAD to create a bank of messages, social media content and public engagement strategies so GLAD was ready to fire back when it was time.
Many of the messages were designed to reach and engage members of the LGBTQ community in advance of a White House decision who may be discriminated by it. That way GLAD would have cases ready to file and fight back. Like this…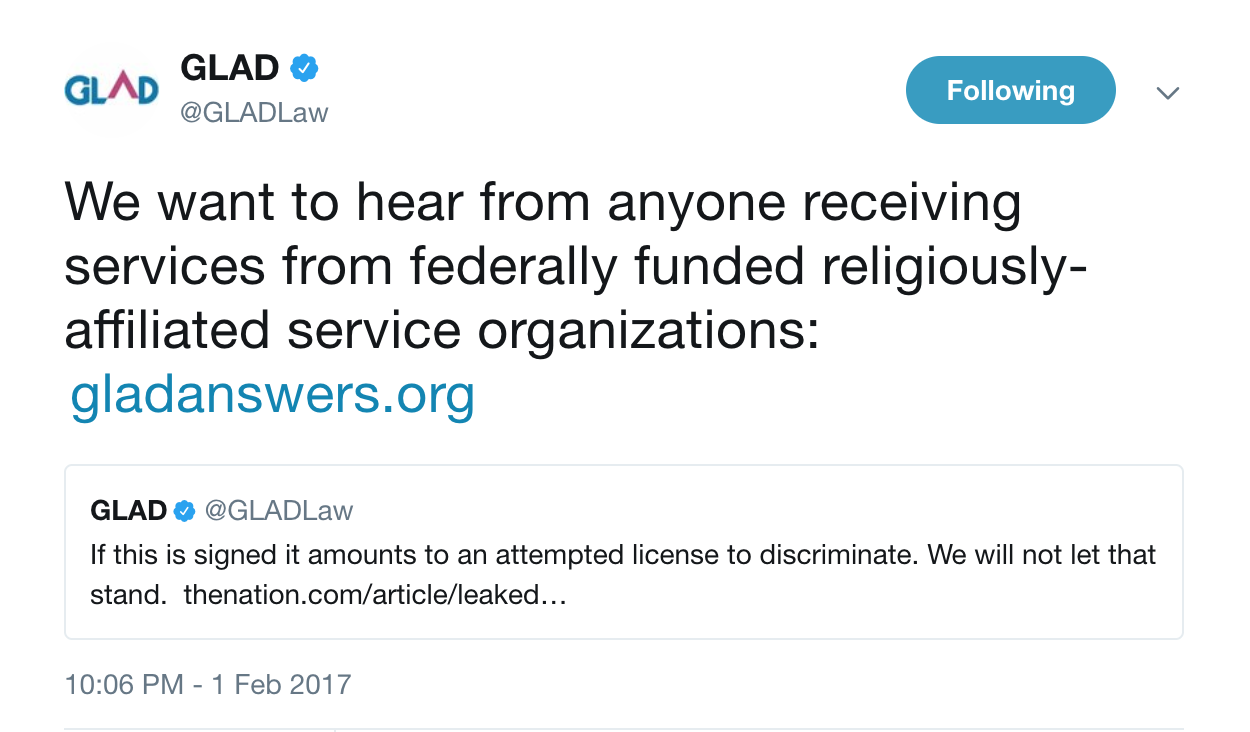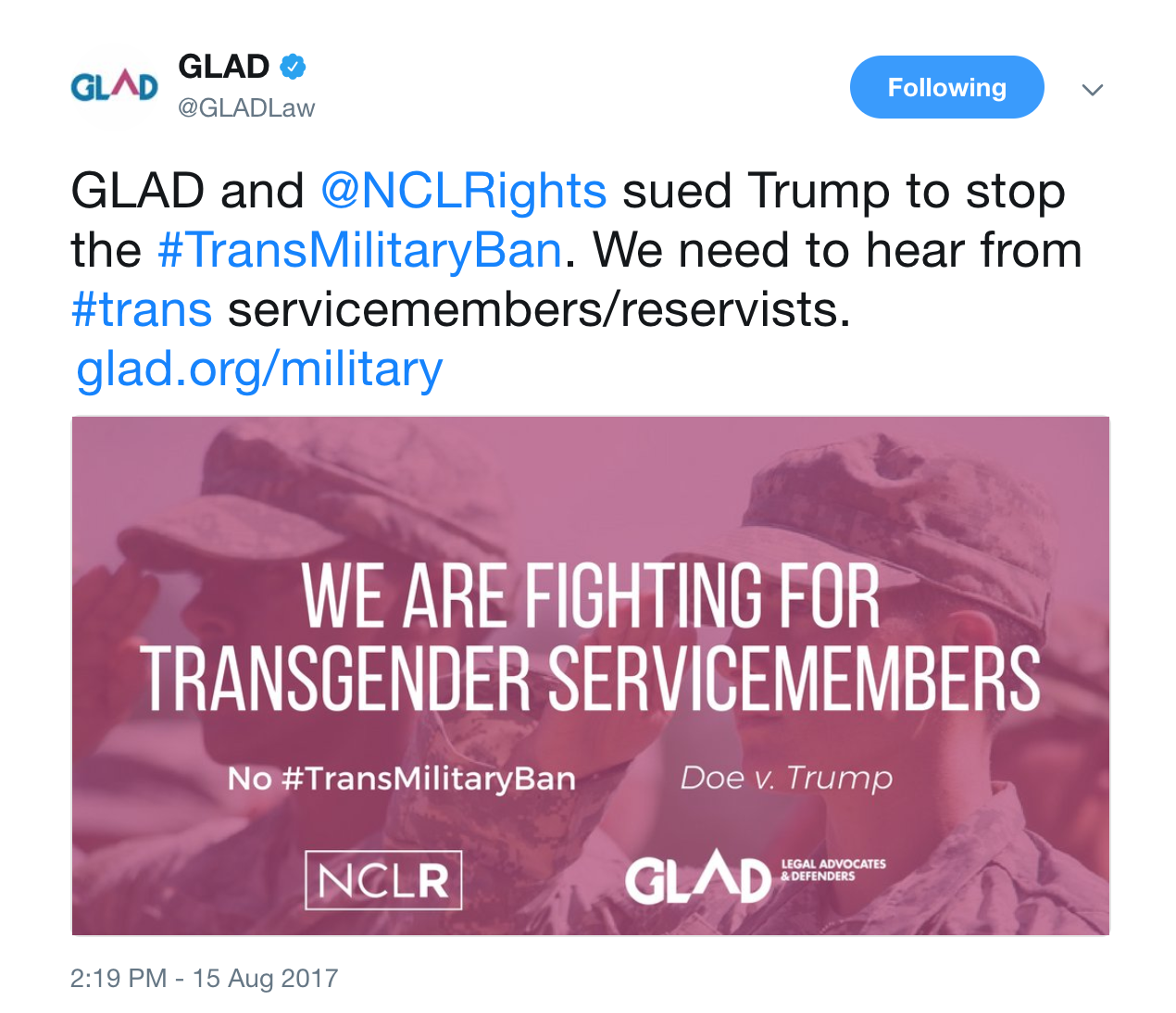 Pounce first.
We know that GLAD is amazing and we want more people to know too so they can support GLAD's advocacy and fundraising the way the American public was pouring in support for the ACLU.
One way to reach a wide and new audience is to say something that matters. Another is to be first – or in the words of Emmy Bengtson who served on M+R's GLAD team after running Hillary for America's Twitter account: "In social media, you gotta prepare to be spontaneous."
Being among the first out of the gate on breaking news not only increases a message's exposure, drives donations, and draws people into your email list, but also can often have the greater-than-the-sum-of-its-parts effect of being the brand people remember and turn to in the future.
For example, when the administration rescinded Obama's order that trans students be able to use the bathroom according to their self-identified gender, GLAD sprung into action with immediate responses on social, graphics, and a petition in support of trans youth. This rapid response is one of GLAD's most-RTed tweets ever: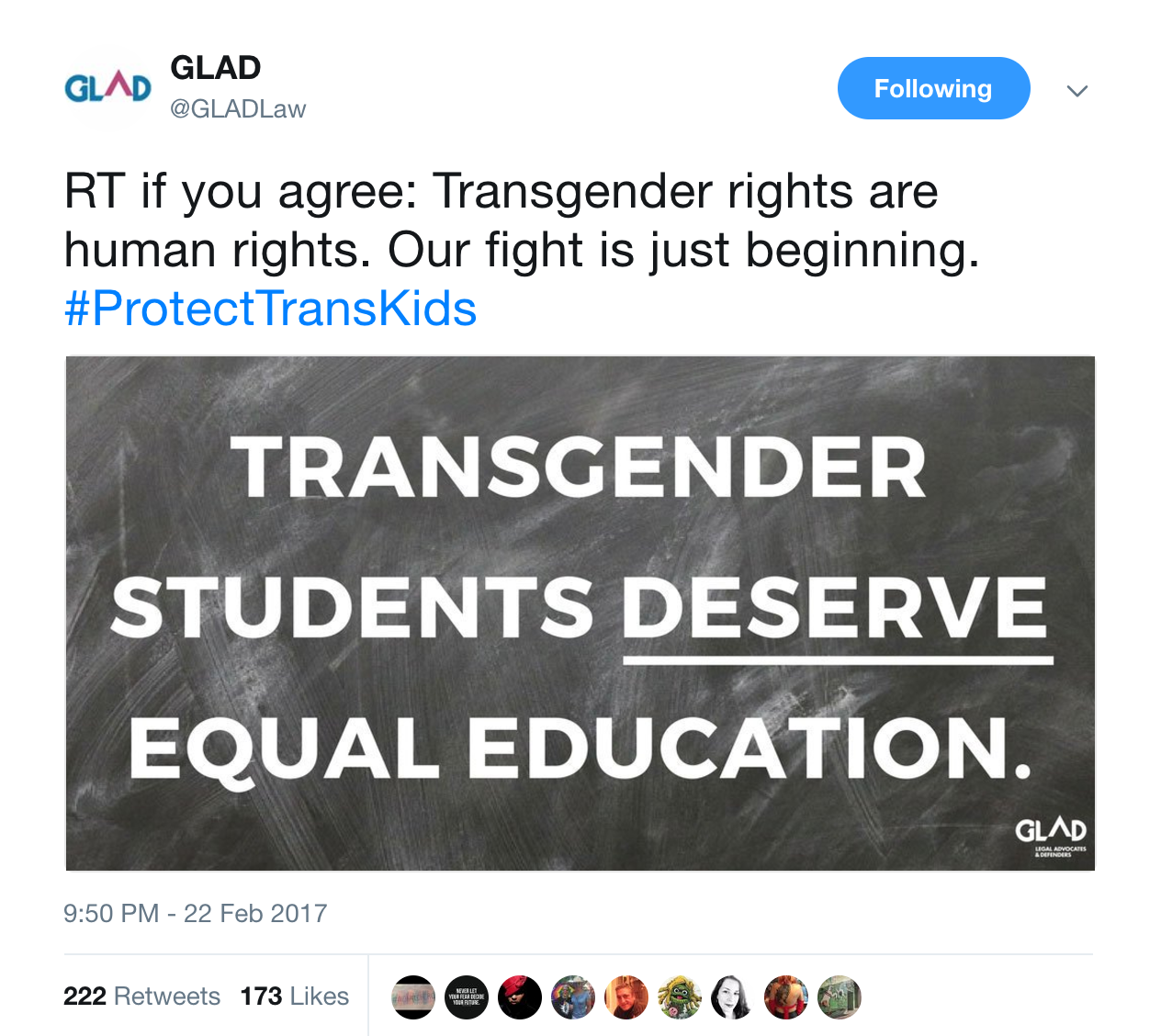 Remember to rejoice when you can
Against the dark 2017 backdrop, we knew that there was a high risk of GLAD's supporters burning out on bad news. (Same.)
So the final theme of GLAD's digital content is to share the feel-good stuff too. We looked for opportunities for positive, uplifting stories that would recharge GLAD's supporters.
Yes, there have been some rays of light.
When the Supreme Court decided to pass on Gavin Grimm's transgender rights case in response to the Administration's new trash guidance on school bathrooms, GLAD wrote and posted an open letter thanking Gavin for his courage. Thousands of GLAD supporters (new and old) joined the thank you letter.