I wanted to share some interesting information from a successful online fundraising campaign we launched on June 7th  for our client, the Save Darfur Coalition (www.SaveDarfur.org). The campaign focused on the coalition's Divest for Darfur advocacy campaign although the funds raised were not restricted to any one program or campaign goal. We set a public goal of raising $400,000 online by Friday, June 15th.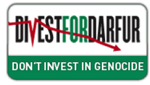 We'd planned a series of three stand-alone email appeals to the email list as part of the campaign.  We managed to meet and surpass the $400,000 goal, raising a total of $415,711 online in a week and a half's time.  However, we would not have gotten there had we stuck with our original plan of sending out just three email appeals.
In order to reach our goal, we used a number of other successful tactics:
A "deadline extended" appeal was sent to everyone who had not yet donated on Monday, June 18th. We extended the deadline to midnight on Wednesday, June 20th.
Two divestment advocacy alert emails were sent to the full list (one on Wednesday, June 13th  and one on Wednesday June 20th) during the fundraising campaign. These two alerts were a departure from our previous strategy.  Although we've always had great success tying fundraising campaigns to advocacy efforts, we'd preferred to limit email communications to the list to just the appeals during the fundraising campaign in order to avoid distracting the listmembers from donating. But we decided to test sending out an action alert in the hopes that it would increase returns (and because it was useful from an advocacy perspective, of course!)  The first action alert was so successful that we sent out a second one a week later.  Both email action alerts included the following key elements:

P.S. The footer of both alerts included a sentence or two of text updating the activists on our progress towards the goal and asking them to donate to help us get there with a link to a custom divestment campaign donation page.
Finish page. Anyone who took the action featured in the alert landed on a custom donation finish page that thanked them for taking action and asked them to help us reach the fundraising goal.  The content of the page was specific to the divestment campaign and featured our standard one click to donate functionality.

Non-divestment petition finish pages. For the duration of the divestment fundraising campaign we set the finish page for all the Coalition's other live advocacy petitions on different topics to a special version of the divestment donation page that thanked the activists for their involvement and asked them to help us reach our goal. This allowed us to capture gifts from supporters who were active on other aspects of the Coalition's advocacy work. Once the divestment fundraising campaign ended, we switched these petitions back to their usual user flow — take action action -> tell a friend -> donate.
Homepage graphic. We created a new homepage graphic for the fundraising campaign that linked to a divestment donation page and was featured in the rotating section in the prime real estate on the SaveDarfur.org homepage.
Below is a breakdown of the funds raised via these various mechanisms. As you can see, the non-fundraising appeal methods (excluding the deadline extended appeal) raised $101,393, roughly one quarter of the campaign total.
Although it is impossible to draw any solid conclusions from just this one experiment, it does seem like it would be worthwhile to try including some closely integrated email action alerts in your next online fundraising campaign to see if they help boost returns, as well as using the other methods listed here to increase donations.