The Wildlife Conservation Society's (WCS) 3rd Annual 5K Run for the Wild has come and gone – but the lessons from this amazing peer-to-peer fundraising event live on!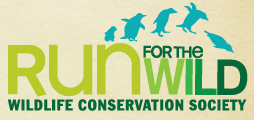 While participants aren't required to fundraise, the goal of the annual, noncompetitive event at the Bronx Zoo is to raise money for WCS's work to save wildlife and wild places around the world. Each year the identity of the race is built around a specific animal – this year, it was the penguin. Since its inception, fundraising and participation rates have improved steadily. But this year we saw some pretty staggering differences:
An 85% increase in the total amount donated (that's just shy of DOUBLE!)
A 91% increase in the number of donations made.
The number of participants also increased by 40% from 2010 — a sizeable jump to be sure, but not nearly enough to fully explain the boost in fundraising returns. So what else changed?

It all started when we noticed that only a few race participants were fundraising for the 2010 race – just 21%. For the next race, we decided to focus on bringing those numbers up by rolling out the following strategies:
Focus on early registration – Last year's data showed us that those who registered a month or more before the event were far better fundraisers, so we revised the registration strategy to focus on early registration.
Restructure the prizes – In 2010, there were a just a handful of really big prizes (think "breakfast with the giraffes!") for the top fundraisers, which only a few participants were ever really in the running to win. This year, WCS retooled the prizes to focus more on prizes registrants would earn as they raised more, starting with a t-shirt at $30 (which they'd previously given away with registration). Other prizes included a metal water bottle at $100 and a limited edition penguin pin at $250.
Push the prizes with conditional content – We then reinforced the new prizes by inserting conditional content into as many messages as possible, particularly in the final month before the event. Participants would see the prize one step up from their current fundraising total in these messages.
Optimize every autoresponder – We left no stone unturned! Every message in the process (registration confirmation, news that you'd received a gift, update on a new member joining your team, etc) was edited to make sure we were regularly reminding the participants of fundraising prizes and providing copy they could easily forward to friends and family.
Call out the low performers – We set up an email to automatically launch to registered participants who hadn't raised anything within 14 days of signing up with some additional encouragement to get them started and pushed them specifically to consider donating the first $30 to themselves as a way to kick start their fundraising and earn the t shirt.
Remember that 85% jump in donations? The reason for it is clear: the number of participants raising funds increased by 65%! In 2010 just 21% of participants raised funds, in 2011 that jumped to 35%!
But there's little time to rest on our laurels – we're already brainstorming ways to build on this success when WCS launches its first Run for the Wild at the New York Aquarium on October 9, 2011!