Nonprofit fundraisers are hard at work until December 31. Is your media relations staff just as busy? They ought to be — read on!
Everyone knows about the summer doldrums — the slow August news days when Congress is in recess and your most reliable reporters are hanging out with iguanas and mezcal on a beach in Tulum. But there's a similar quiet time just around the corner — and if you act now, you can take advantage of it.
When our media team looked at the monthly media impact of 40 leading organizations in the 2016 Mediamarks Study, we noticed a worrying trend. Overall, nonprofits aren't making much media impact in January and February.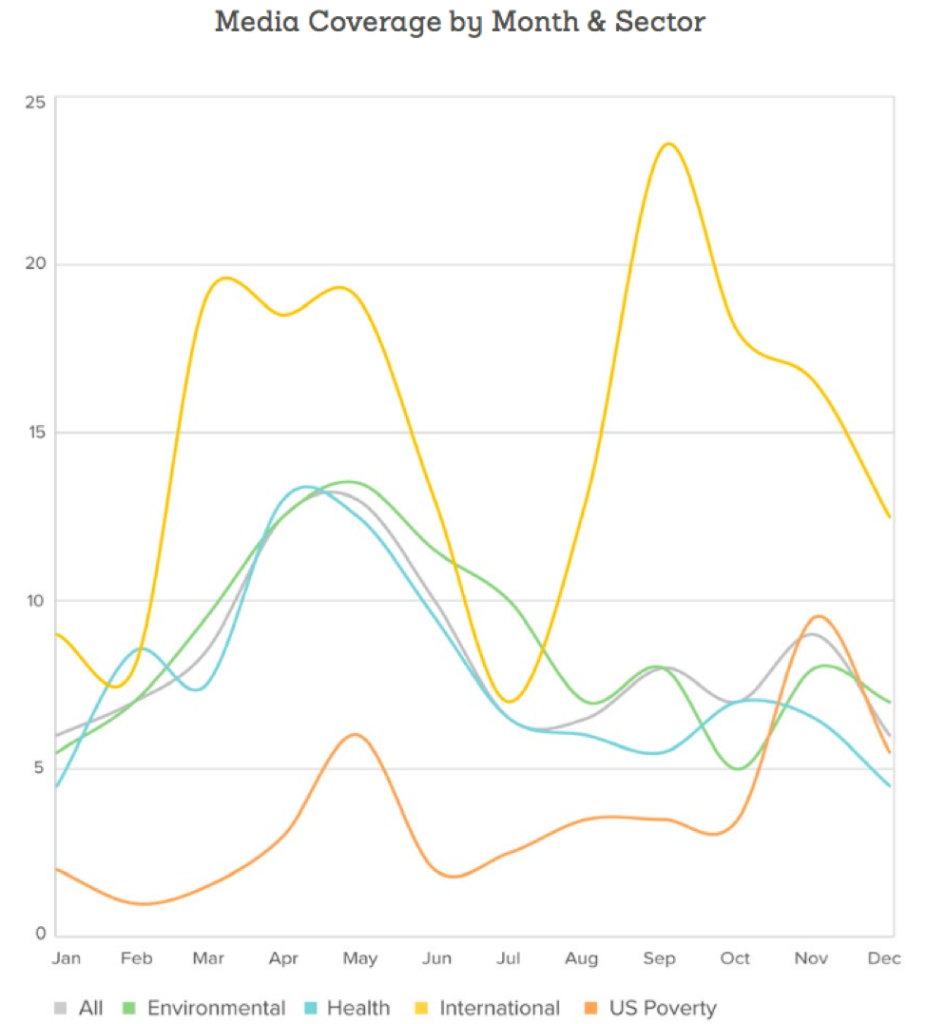 What's happening at the lower left side of that chart? Environmental, Health, International and US Poverty nonprofits all seem to be struggling to start the year with the level of press they reach in later months.
We see that most nonprofits seem to reach peak media stride by May. As temps outside rise that month, so does the median number of major media hits nonprofits get in the 50 influential news outlets we track. That number of results in May (13) is about twice the size of that number in January (6).
Was it a holiday hangover? Did the press shops forget to make a media plan for the new year before setting their out-of-office? Did comms officers reach their annual media goals and take a well-deserved break? Or are reporters just hibernating?
I don't know for sure what's up with the down stats. Mediamarks doesn't tell us everything we wish we knew. But its charts are a trusty guide to what nonprofit press shops aren't doing and could be.
Having strong content and something worth saying is always a must-have to make news. Good timing helps. But don't equate good timing with good luck. That's rare. Most times, good timing is a result of good planning.
So what can you do now to make more media impact this winter? Here are three media planning questions to have with your team soon:
1 – Checking it twice. Do you have a robust media plan yet for January and February 2017? Are you like, really ready?
2 – Holiday parties briefings. Which reporters do you want to meet for peppermint lattes with your leaders in December to outline your priorities for the new year? Do this and they'll be more likely to think of them for comment in January.
3 – Gaze into your crystal snow globe. What trends, threats, and media moments are around the corner that you can connect to your work?
4 – Drop the ball. What do you have planned for later in the year that you could do earlier to take advantage of the quieter nonprofit news months? Reports? Photo series? A big day of service? This may be a better question for 2018 planning at this point. But it's a good one to start asking.
The media you get for your nonprofit year-round can make a real difference for your organization's advocacy, awareness, and fundraising goals. Don't forfeit your chance to make your impact from the start.
PS – By the time you're done media planning for the new year, it'll be about time for your nonprofit to look back at the year that was. (Too soon, too soon. I know.) Do yourself and the cause you care about a favor and measure your annual media impact a new way. Use the Mediamarks model and focus on the metrics that actually matter. You'll save time and more clearly see the ways you can improve your media strategy to make news and make a difference.
#Nonprofit media folks: don't let the fundraisers have all the fun this December. 4 quick tips to warm your winter: https://t.co/TLR5UkTOjA

— M+R (@MRCampaigns) November 29, 2016