If you're new to running a Facebook Page, you may not yet know that links are great content to post on your organization's page. Providing quality content as links is great for engaging your audience, and really great for driving traffic to your pages (think: your blogs, your action pages, and your donation pages).
Below is a step-by-step guide (with screenshots!) to posting links on your Facebook page that look totally awesome. Pick the right creative to put in your link preview and people won't be able to help but click on every link you share!
1. Copy and paste your link. On your Facebook page, copy and paste a link into the status box. Press [Space] but not [Enter]. See your link preview pop up: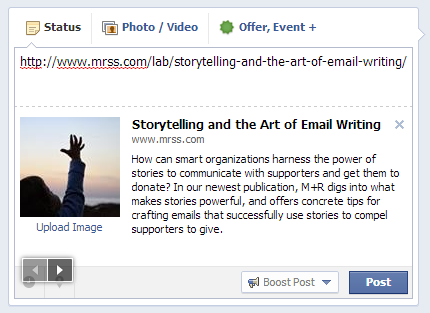 That's okay, but I think we can do better.
2. Change the preview image. Use the arrows to scroll through other options that Facebook picks up from the page. Are any of them really awesome? Probably not, so you should upload your own image. Click on "Upload Image" under the current image.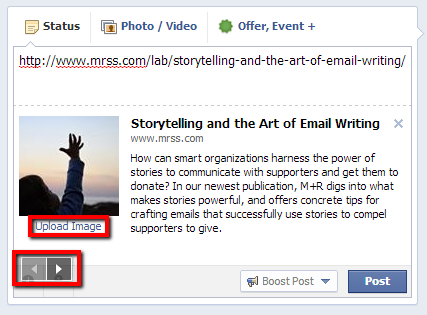 What image should you upload? Cute animals and people are great for catching attention, but try to make sure it has something to do with the link. Most importantly, crop your image to be 560px wide and 292px tall before you upload it. 
Now it will show up nice and big in your preview: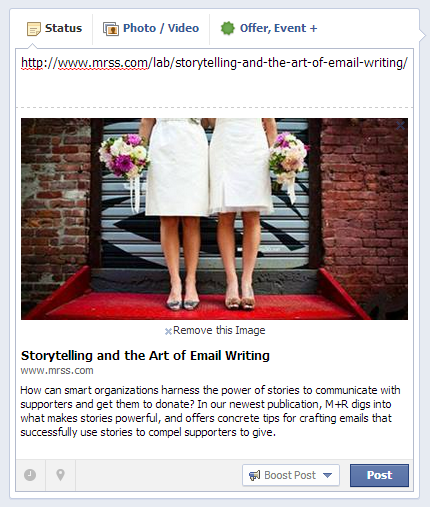 3. Edit the title and description. When you hover over the text portions of the link preview, they turn yellow. When you click one of them, you can edit it.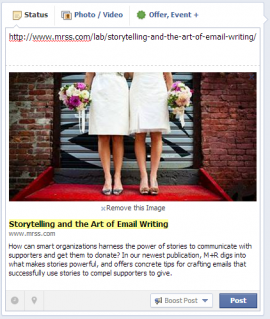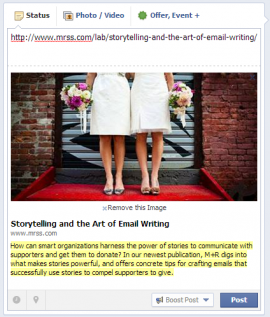 What should you change it to? That's up to you! Some ideas: Ask a question or give a teaser, tell people just how urgent it is, call attention to the most interesting part of the landing page – like a video or pictures.
4. Craft your post. When you have the image, title, and description the way you want them, erase the link from the "Status" portion of your link. You don't need it any more because once you post, people will be able to click on the picture, title, or description to get to the landing page. Then write whatever your organization wants to say about the link!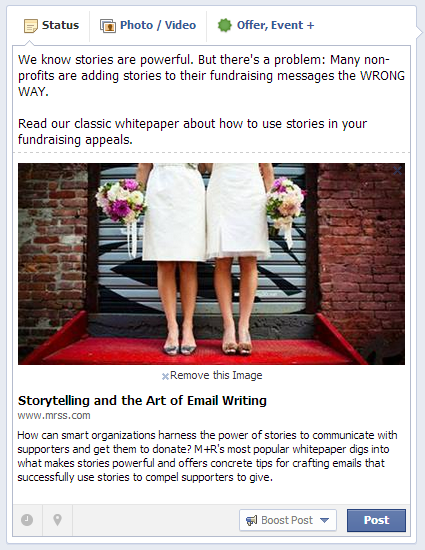 Pro Tip: Ask a question about the link and invite people to respond in the comments.
5. Press "Post" – Voila! Congrats on making a really clickable post! Go straight to your news feed to take a look at the content you posted, just like everyone who likes your Facebook page will see it.