Here's a fact about the news: journalists are kinda busy right now. (Seriously, someone send Hallie Jackson a coupon for a spa day…she has been putting in WORK). When news is flying at a breakneck pace and TV bookers tell you daily since July that "if it's not about Trump then we don't have time for it," it might seem impossible to break into the news cycle.
But it is possible to make the news. And, it's important. Your cause matters. Please don't give up!
Here are a few practical press tips we've seen work this month (YES IT HAS ONLY BEEN A MONTH) for causes we care about. None of them are revolutionary. But during the resistance, a reminder of basic press do's, doesn't hurt.
#1 – Run Rapid(er) Response
The window of time you have to make an impact is smaller than I can ever remember. Time for rapid response drills! On your marks…get set…
Before:
Clean up your media lists now.

Set and watch your Google Alerts and Twitter to capture new reporters.

Don't bother with a press release. Just do a statement (unless you're rolling out a big report or something with a lot of data to digest).

Write and approve your statements in advance so you can crank them out as soon as news breaks.

Don't worry if you missed a comma.

Pre-pitch real voices to reporters so they call when the time strikes.
During: Monitor coverage as it's rolling in and follow-up with reporters in real-time. Often, wires and online outlets will put out a bare-bones story with just the facts and update it throughout the day with quotes from stakeholders.
After: Did a reporter write a particularly great piece? Shoot them a good job note. Trump may take away our human rights — but he can't take away our human decency.
#2 – Stretch the Moment
Don't think that a story is over just because our national attention span is short. Get more mileage out of a breaking news moment and the hits you get.
Send clips mentioning your ED or organization to TV or podcasts for more interviews.

Send great feature stories about your org or cause to relevant morning/end-of-day round-up newsletters like

Daily Pnut

,

Next Draft

,

The Skimm

, Politico Playbook, etc.

Share your media hit with everyone you know on your social feeds and tag the reporter and outlet. They notice.

Send that ever-popular letter-to-the-editor if you see a story that's just wrong or lacking perspective.
#3 – Do Not Bite Your Tongue
With lots of voices jockeying for space, the bolder, braver, weirder and more creative you're willing to be, the better your chance of breaking through.
Greenpeace got their message across (and received tons of reporter play on Twitter) when they delivered a spine to Senator Marco Rubio after he voted to confirm Rex Tillerson as Secretary of State.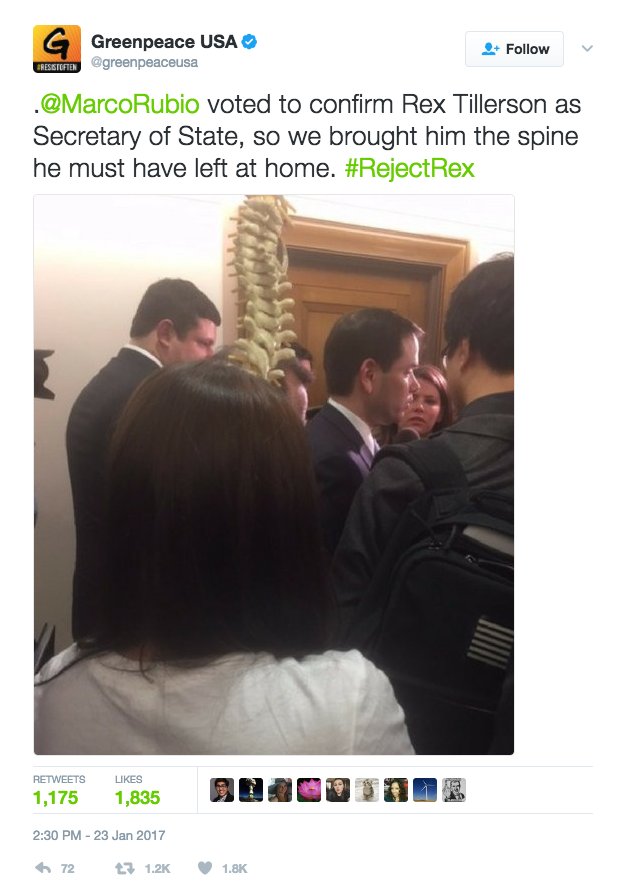 #4 – Be Flexible
Do what it takes to take advantage of the spotlight when it's shining on your issue — even if that means throwing your plans out the window.
Open MIC was preparing to release a report in mid-February focused on the lack of diversity in the tech industry. Then Trump's executive order happened, and relevant tech stories like this started popping up way ahead of our schedule.

To catch the wave, we helped them move the report's drop date up by nearly a week. The change in plans paid off with an op-ed in Wired and hits in Fast Company, Fortune and NBC News.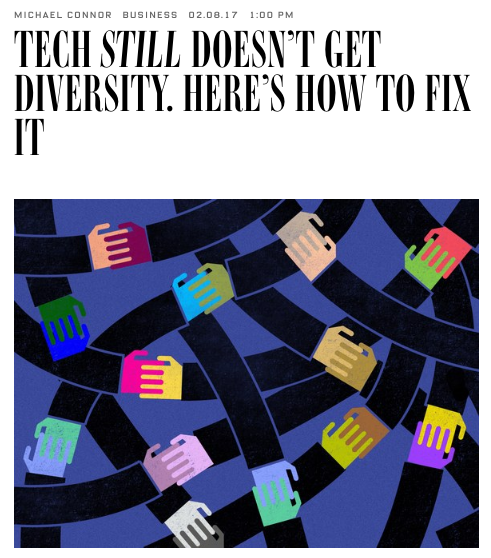 4 tips to help your nonprofit break through the noise and get the media to take notice. https://t.co/hDDUSOgOGf #nonprofitpr

— M+R (@MRCampaigns) March 3, 2017