Finally, I live in the future I always dreamed of: my life is run by robots. A robot cleans my floor, patrols the streets of my city, and has even delivered me pizza. My favorite show is about robots, and a robot (okay, computer algorithm) even tells me when I need to leave for my next meeting. So it is no surprise that robots are changing the world of digital fundraising, advocacy, and stewardship as well. 
The driving force is marketing automation: any communication delivered automatically when a person does a thing. Like, say, when you browse cute boots you saw on Zappo's that are suddenly following you  everywhere on the internet—that's marketing automation.  
For nonprofits looking to build stronger relationships with supporters, this is an incredibly powerful set of tools. Engaging with supporters in timely, relevant ways increases giving and loyalty to your organization. Setting up automated marketing touchpoints throughout your organization's engagement pathway guarantees that you're reaching supporters promptly, while giving you space to focus on other important aspects of your program.
Old New Reliable
But how to get started with using robots for good? Let's start with a few things that are like the R2-D2 of marketing automation—a flexible toolset that is there when you need it with proven performance.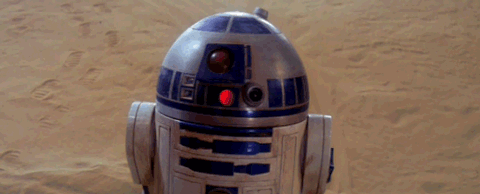 Make giving behavior automatic on donation pages
For many nonprofits, converting a one-time donor to a monthly sustainer is the most effective way to increase their retention and long-term value. Make this easier on yourself and your donors by customizing your monthly giving pitch when a donor is actively making a gift. Present them with an option to switch to monthly at an amount based on what they were already intending to give. 
One successful treatment we've used is a lightbox that appears automatically after a donor makes a one-time gift, asking them to switch to monthly. The most successful versions sweeten the ask with a special incentive as well.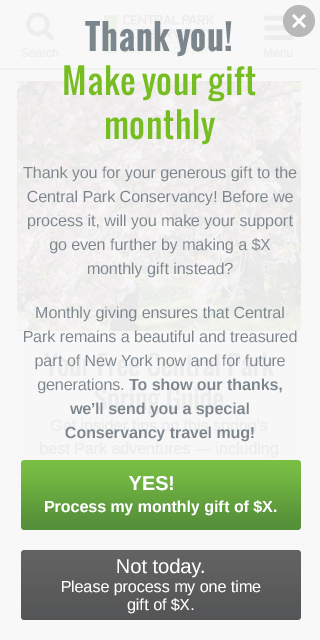 Another reliable robot for your donation page? Asking donors to automatically renew their gift a year from today's donation. You can also set up automated emails to remind donors that their yearly donation is about to process, give them the chance to update their payment information, and ask if they want to change their gift amount. 

Send emails at the right moment
Automation allows you to send something at the perfect time—like right after a supporter discontinues their support (or even better, right before). As soon as someone's sustaining gift fails to process, you can automatically send them an email letting them know their payment has failed and asking them to update. Bonus points if you can make the case for re-starting a gift, in case their support for you has waned. 
One organization we work with was able to win back 20% of canceled sustainers in one year, with the addition of just one automated message! 
You can also do this right before a supporter's email address goes inactive (you are suppressing inactive emails, right?). Targeting folks with an action that's easy to complete when they haven't interacted with your messages for a few months keeps your messages at the top of their inbox. And if it's been a while since you've heard from them, you can automatically send them a message confirming they want to continue getting emails—keeping the engaged supporters and releasing the ones who want off your list.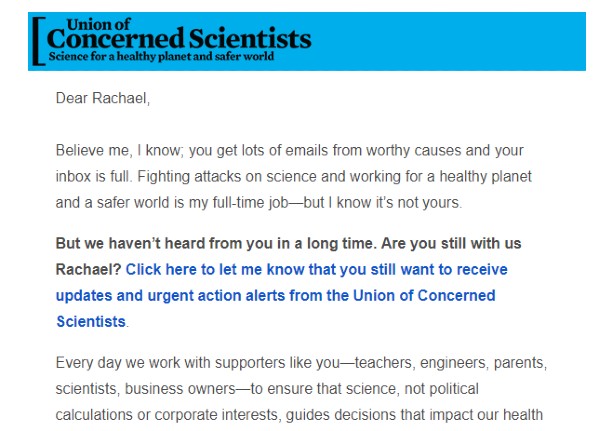 Supercharging ads
We've also seen great results by using automation with digital ads. Most people have seen a retargeting ad—an ad that appears after you've visited a certain page. But you can also test using different creative for those ads, reminding folks that they haven't completed their donation or taken action and what that means for your issue or cause.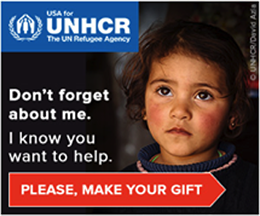 Dynamic ad creative let non-profits match content to the exact experience, moment, or item that a supporter viewed on your website. This has worked especially well for groups with symbolic giving programs like World Wildlife Fund.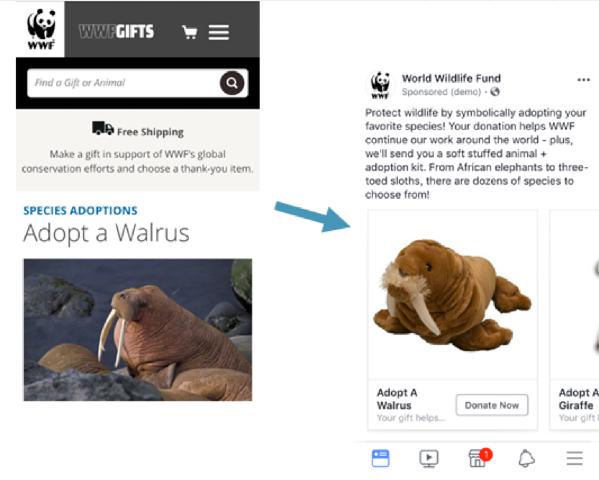 Version 2.0
Okay, so you've got all those robots up and you still want more? Check out these next-step automation ideas—the BB-8 to our R2-D2, if you will. [Editor's Note: Referring to BB-8 as a next-step Artoo is extremely controversial. This is Rachael's analogy, and does not necessarily reflect the views of M+R as a whole.]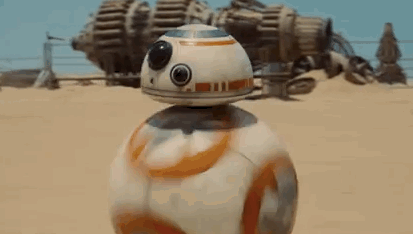 Set the tone
When designing a welcome email series, we tend to look first at what's performing best across the program and pick the creme de la creme, customizing it to make it work in the context of a welcome. We're looking for things that garner great opens, clicks, positive feedback, and yes, gifts. But engagement with email is typically the foremost goal of a welcome series.
Of course, welcome messaging isn't limited to just email. Showing new supporters ads, mailing a postcard, or sending a text message with content that will help them to get to know your organization can deliver strong results later.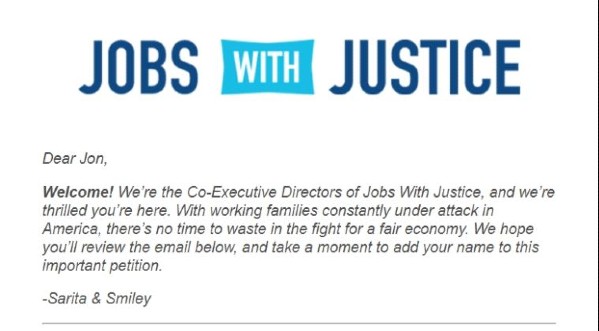 Deepen the commitment
Who are the best people to ask to become monthly donors? Usually, your one-time donors. When should you ask them? Usually, pretty soon after they make a one-time gift.  Automating this process with asks that are sent a certain period of time after a donor's one-time gift date ensures you're making the case for monthly giving at exactly the right time.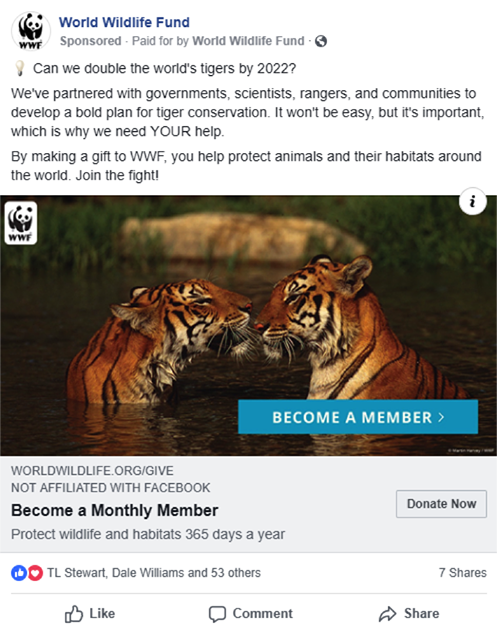 Say thanks
Digital engagement isn't always about asking supporters for money or action. Most groups know that thanking and celebrating supporters is smart—and can be automated too! Tactics include sending messages on anniversaries (e.g. first gift), or adding a dash of something special—a recipe or discount in your online store—to your already-automated communications (like a sustainer transaction receipt).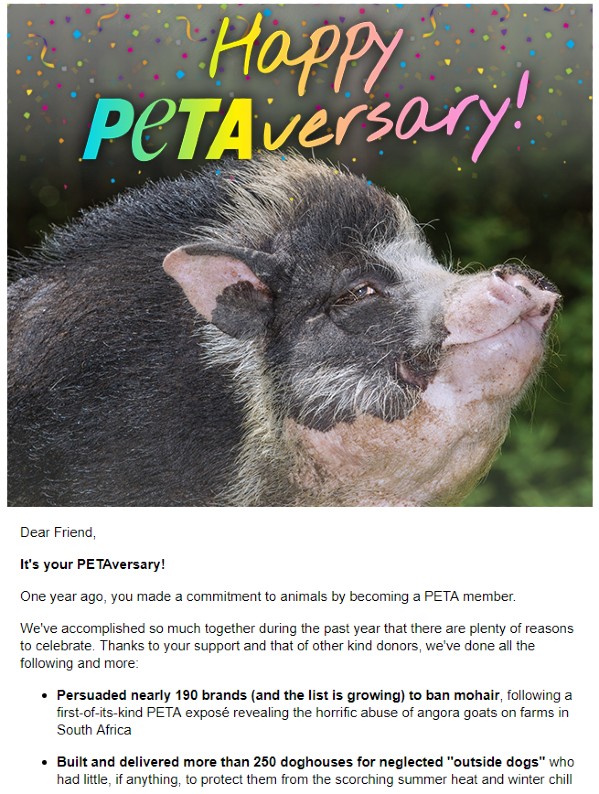 Ask for feedback
Another common and easily-automated element is the simple automated survey asking how you're doing. You can create an automated survey to go out to a random sample of your supporters—monthly, weekly, or even daily. Then you can track how you're doing through metrics like net supporter score.
Robots from the future 
Some of the most exciting opportunities are still just in the baby robot stage. We're looking towards a world where digital engagement looks less like a linear campaign and more like a choose-your-own-adventure book.
For example, what if a supporter opened your first welcome series message, but didn't click on it—and then they got an automatic text the next day asking if they'd rather engage with you over SMS? 
What if a follower clicked on a fundraising ad, then automatically received an email a few days later asking if they wanted to complete their donation? Then they donated, and that triggered a thank-you and a report-back on the results of their donation in three months? 
This kind of customized approach becomes more feasible every day, especially as marketing automation tools get more sophisticated. How have you started using robots? Let us know how your own automation adventures are going by leaving a comment or finding us on social @mrcampaigns.
Related Posts