You can learn a lot from a media scan and analysis. How does your organization compare to your peers? Which messages are (or aren't) sticking in the press? And which types of media and reporters should you be paying more attention to as you wage an issue campaign or grow recognition for your nonprofit?
M+R specializes in larger strategic media assessments for campaigns and organizations to answer questions like the ones above. Here's a glimpse at what we learned from two different media assessments we've done recently for Oxfam America and the Sierra Club Beyond Coal campaign.
Oxfam America
Whether tracking fundraising, on-the-ground impact or earned media results, metrics matter to many organizations like Oxfam America. At the start of 2015, M+R began working with Oxfam's communications director to create a media metrics system the organization could use year after year to measure success and shape strategy. We also looked at the 2014 media hits of Oxfam and eight of its peers to determine how the organization's press stacked up.
For organizations of Oxfam's size, the amount of annual media hits is often overwhelming. (Yes, when it comes to media assessments, there can be too much of a good thing.) To help us make sense of the results in a meaningful way, we first narrowed down the search to the 50 print, magazine and broadcast outlets that were most influential for their audiences.
Once we finished compiling the thousands of media hits for all the organizations in a monster spreadsheet, the fun began. We sifted through the data to find golden nuggets we could evaluate and learn from. We looked for how Oxfam's broadcast and newswire presence compared to its peers and whether Oxfam was featured more or less prominently in articles than other global development organizations.
We didn't stop at charts. As media pros, we couldn't resist the chance to go one step further and share our ideas for how Oxfam could use the 2014 findings to steer its 2015 strategy. So we shared five concrete media approaches, ranging from which type of media they should focus on this year to which assets they need to add to their media pitches in order to stand out. We even used the database to run a list of the 25 reporters who were most likely to write in-depth feature articles on the work of an organization like Oxfam, instead of just mention them in passing.
The new media metrics system and the findings of the 2014 assessment were so well received that a month after we shared them with Oxfam's communications team, we were asked back to present to the organization's executive committee.
Check out some of the charts like this one and deeper findings of our assessment in this recent blog post: At last, a new + better way to count your media hits.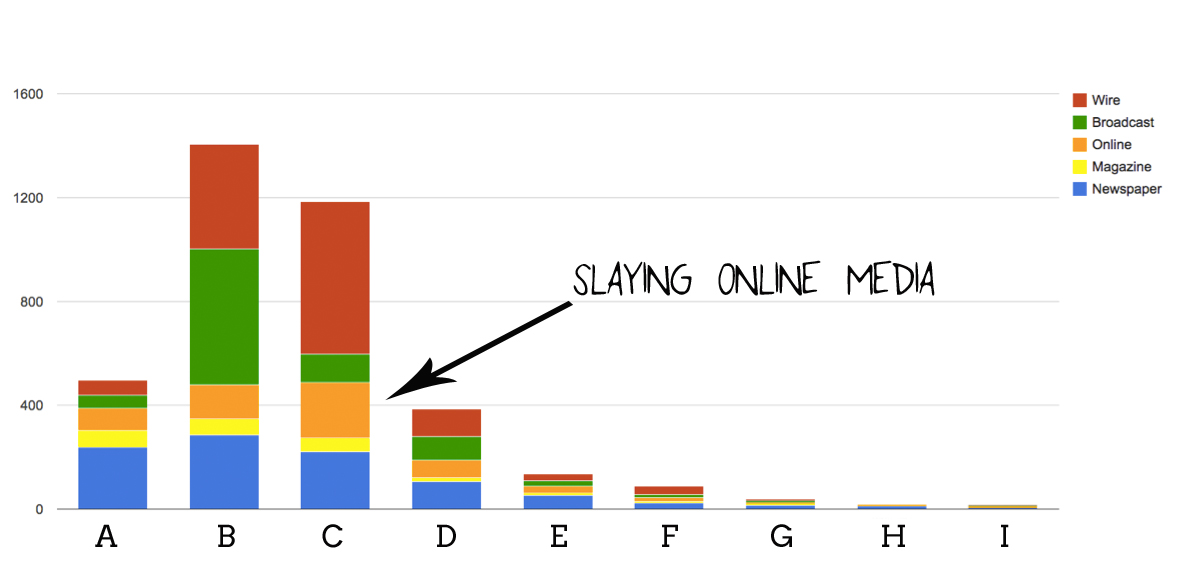 The Sierra Club's Beyond Coal Campaign
In 2013, M+R worked with the Sierra Club on an extensive review of national and regional media attention around a coal-fired power plant that neighbors the Grand Canyon. The plant  is one of the most important yet most challenging targets of the organization's Beyond Coal campaign. The goal of the media audit was to provide the campaign with a clear picture of the media challenges that have prevented their messengers and messages from sticking and find opportunities to insert spokespeople and shape coverage in the future.
We began by closely reviewing nearly 700 media hits and hundreds more social media messages that had mentioned the coal-fired power plant in the past two years. We kept an eye out for central messages, regular spokespeople, the tone of a reporter's coverage, and the balance between Sierra Club's position and the opposition's. In addition to monitoring the media hits and tweets, we also spoke with people familiar to the issue to help give context to the coverage.
Our findings revealed three big holes in the organization's communications strategy: 1) not using a pro-health message; 2) not using local spokespeople; and 3) not being as aggressive with outreach as the opposition.
We composed the results of our research in a compact 25-page audit, full of examples of the winning/failing media outlets, spokesperson quotes, and winning/failing messages that were hampering Sierra Club's efforts. But more than point out the problems, we also used our own experience running awareness and advocacy campaigns for nonprofits to provide several strategic recommendations, which are currently shaping Beyond Coal's media efforts in the region.