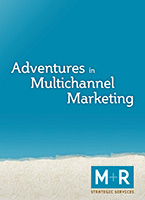 Multichannel is the hot new thing — consultants and conference speakers have been talking it up as a panacea, a silver bullet, a magic incantation that will take your marketing and fundraising to the next level. But what is it, exactly? And can it really live up to the hype?
Working with the Human Rights Campaign (HRC), Mercy Corps, Oceana, the Smithsonian and the U.S. Fund for UNICEF, we went in search of low-investment, high-impact multichannel strategies. What we learned is that just because something is multichannel, doesn't mean that you should do it. A multichannel strategy works great in some cases, but in others, the time and money it takes is worth more than the lift it provides — and that's not what we're shooting for.
Our newest publication, Adventures in Multichannel Marketing, presents five case studies that each take a different approach to applying smart multichannel strategy to solve a particular challenge. We'll walk you through how each one worked, how it performed, how tricky it was to pull off, and — the $64,000 question — whether we'd recommend trying it.
Download our free whitepaper to learn more about using multichannel marketing to:
Supplement a traditional welcome series to convert online prospects to monthly donors;
Follow-up with recent donors to make them monthly donors;
Boost direct mail results with a "leader" or "chaser" email;
Give telemarketing efforts a boost by following up with "hedgers", "pledgers" and "refusers" via email; and
Model telemarketing-responsive online prospects.
EXTRA CREDIT: Are you heading to Bridge Conference this year? Don't miss my colleagues Sarah DiJulio and Steve Daigneault presenting on what's worked and what hasn't in-person at the Multichannel Mythbusters session on Thursday, August 1st at 2:15pm.
If you have multichannel marketing adventure stories of your own, we'd love to hear them! Share them in comments or tweet your #multichannel success/horror/somewhere in-between stories to us @MRCampaigns.