So far this year, the #ExxonKnew campaign generated upwards of 500 major media hits. Last week, the Securities Exchange Commission opened an investigation into what Exxon does, in fact, know about how climate change affects its business.
In early 2016, Population Connection Action Fund got a handful of press hits in progressive online outlets (Refinery29, Jezebel, VICE, Vox, Huffington Post) about how the U.S. Helms Amendment is killing women overseas. Then the New York Times editorialized on the issue and the DNC added repealing Helms to its platform for the first time in history.
Coincidences? Hardly. Those are results. And as results go, these are biggies. I gotta say, both feel good.
Why? Because I'm a do-gooder with an eye for ROI. Thankfully I'm not alone! Everyone — nonprofits, funders, strategists — is constantly looking at ways to connect our hard work to meaningful results whenever we can. Last year the John D. and Catherine T. MacArthur Foundation made a move toward big bets. Other foundations are embracing an emergent strategy model in their quest to create social change that will work in an always shifting reality.
Finding a better way to measure impact is where we're headed with our new Mediamarks Study. We looked through the annual media results of 40 leading nonprofits to a) give them a sense of how their press hits compared to their peers and b) shine a light on areas where they can grow their results next year: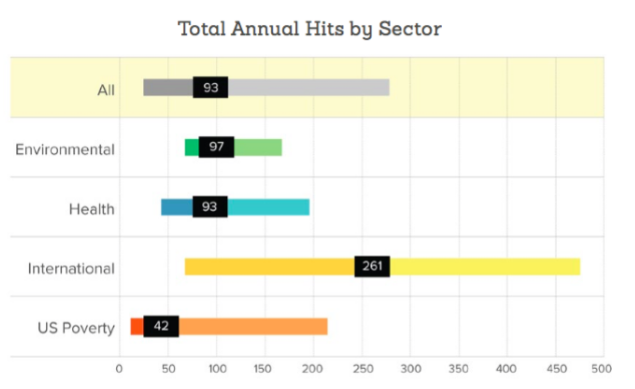 The findings from Mediamarks also reveal some important questions for communications staff and other leaders at foundations. In the mutual spirit of exploration and success, I offer our friends and peers in philanthropy a five-part internal discussion guide to call on the next time you invest in earned media campaigns and want to make sure you're setting grantees up to achieve impact:
Question #1 – Do we really need to shift the narrative or change the conversation in a year's time?
Don't get me wrong, I love a powerful campaign focused on shifting the narrative or influencing a certain conversation taking place in the press. It can take years though to successfully reframe an issue or reshape a storyline in the news depending on the media landscape at the time of your campaign launch as well as the strength of the messages your opposition is pushing.
So then why invest in one-year media campaigns? Foundations that start off with a flexible long-term communications timeline that matches this lofty goal – for example, 2-3 years – and then asks grantees to map back the annual benchmarks from there are being both more realistic and strategic.
This investment approach will take patience and flexibility. It is also the most likely way for your investment to result in sustainable impact if that's what you are after.
#2 – Are the metrics we're using helping grantees focus on big picture goals, or are we unintentionally leading them astray?
We've all been there: impressions? impressions? Bueller…I mean, impressions? These silly big numbers that count the eyeballs a media hit gets are still the most common way to quantify reach of an earned media campaign. But they also only reveal a slice of the overall impact an organization has made with an earned media campaign. Ideally, the media metrics nonprofits are asked to meet reflect the entire pie.
What does the rest of that pie taste like? If you'll indulge the metaphor, it can come in a couple of flavors based on the purpose of the media coverage you want grantees to get. For example:
a – If narrative change is the aim, the only way to really know whether you're making progress is to read or listen to the news stories on your topic and track what language is being used to find out if it is starting to echo your campaign's messaging architecture. Searching for the press pick-up of keywords from that architecture is an okay start, but shifting a narrative takes more than word choice. It's also about the tone, supportive or negative context, and sympathetic structure of the piece.
So instead of stopping at a tally of mere media impressions and the use of a certain word or two, ask your grantees to go the extra mile and capture the narrative and conversation reflected in the press. Measure these deeper metrics at the outset of the group's media campaign and then again at one-year marks. That's  how you can more fully assess where your messaging has been and where you need it to go next.
b – If elevating an issue among certain audiences is the goal, then quality over quantity just might become your motto. In Mediamarks, we found that the 40 largest nonprofits in the U.S. get a lot more "mentions" in media stories than "features." It's surprising how thin the ratio of feature stories is for household NGOs: only 1-in-10 media hits from these big organizations were big features last year.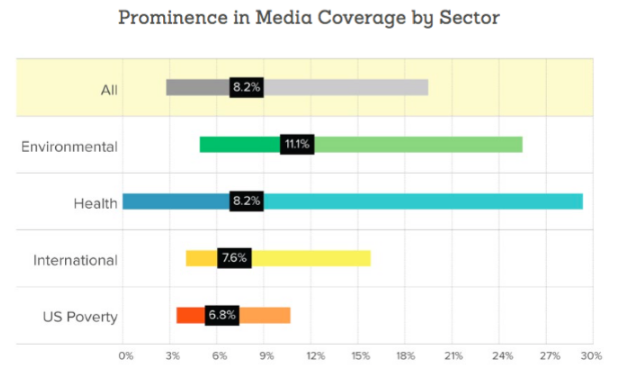 I'm making an assumption here, but if the 40 largest nonprofits are rarely the star of stories, then smaller or mid-size organizations must also be lacking more in-depth coverage. This isn't a knock on press mentions; particularly in the context of substantive expert positioning, mentions can be critical to elevating an issue. But a lack of feature stories also suggests a missed opportunity to get a nonprofit's audiences to see the organization and the issue it champions in a different or deeper way, and those opportunities are just as critical to issue awareness.
How can a foundation help ensure both mentions and features are being aggressively pursued? Features take time. Features also take compelling content, whether it's research, personal stories, a policy or some other hook to give the issue urgency, or some combination thereof. So in addition to pushing your grantees to produce quality results, also give them the space and resources necessary to break through.
#3 – Is the team at our foundation sometimes the victim of "shiny object syndrome"?
Big campaign launches, splashy events, and new report releases are exciting tactics, and the media results can be amazing. So amazing that it's easy to get addicted to these shiny approaches and find yourself pushing an organization to over-rely on them.
I know the urge firsthand because as consultants we have to constantly keep ourselves in check and ask: Are we recommending this approach because it moves the long game forward, or because it will make the short game look good?
For our peers at foundations the question might be: Are we pushing grantees for big yet ultimately one-off moments or are we supporting the infrastructure and momentum it will take for consistent coverage to take root and grow into real change?
In reviewing the yearlong results of some of the biggest nonprofits in the world, we found that the nonprofits that got the most media results were the nonprofits that made news month after month. Some months, some nonprofits dominated other environmental or health peers in total hits. But when it came to longstanding media impact, the nonprofits that were playing the long game were the winners.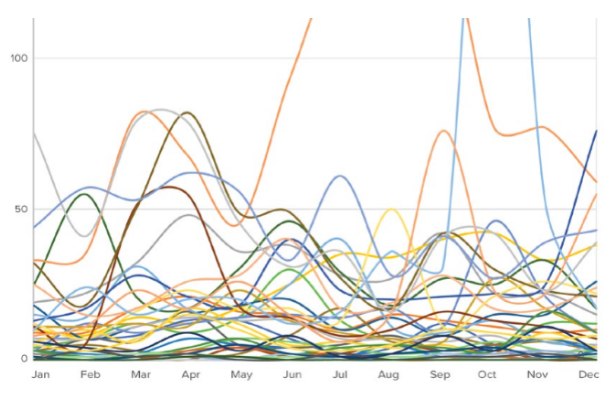 #4 – Do our grantees need a confidence boost — or maybe a firm nudge from us — when it comes to advocacy in their media efforts?
With the exception of environmental groups, most nonprofits that were a part of the 2016 Mediamarks study did not cross the bridge in the news from awareness to advocacy. This means that health groups that should be asking for more funding and international groups that should be asking for policy change were stopping short of the ask. They would be quoted saying, "Alzheimer's is a huge growing problem" and "Ethiopia's children are starving" but they wouldn't demand the solution.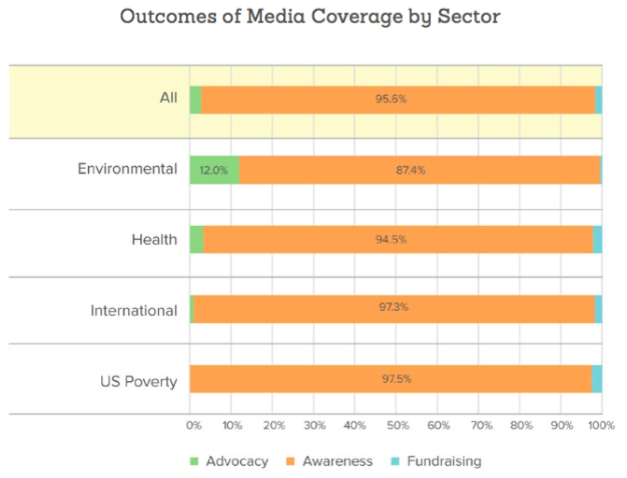 There might be many reasons to account for this poor advocacy showing. For example, very few things have moved in Congress over the last year. Also, the advocacy efforts of some of these organizations are more state policy-focused, in which case our research (which left out a lot of regional press) would have missed the advocacy-oriented, state-based media coverage that advocacy groups secured.
But in our work with nonprofits across many sectors, we often encounter a reluctance to make a clear policy goal or other specific change the driver of earned media work and we suspect this is also a thread running through the Mediamarks findings.
Generally speaking, foundations are not in the business of media advocacy campaigns; we get that. But many of the nonprofits foundations support should be more direct with their asks and media advocacy if social change is to occur. Putting media advocacy outcomes front and center in required metrics, or at least making your expectations clear, would help remind nonprofits of the role they should play and the impact they could have.
#5 – Are we being overly optimistic about the media-readiness of our grantees?
The above considerations only matter if the nonprofit you're supporting is ready, willing and able to do earned media. Many nonprofits are not – and maybe never will be – ready for media prime time. And that's okay.
Policymaker communications, stakeholder outreach, community engagement…all of these are valid and important elements to driving social change. Two of the 40 organizations we studied in Mediamarks this year had a grand total of zero major media hits in 2015. We were surprised too because they are groups that have a strong policy reputation. But as we saw, that doesn't mean they have or need to have a press reputation.
What does that reality mean for funders? Invest in a media campaign when you have the kinds of grantees who either are or have the potential to develop the kind of skill, readiness and tunnel vision that are necessary to be successful. Or better yet, for the initiative you know you want to build a media effort around, select grantees with this kind of media star quality in mind.
You can read the full 2016 Mediamarks Study at www.MRmediamarks.com.
If you have questions, or want to suggest an addition to this Mediamarks-inspired conversation guide, tweet @MRcampaigns or email us over at hello@mrss.com. Like the Mediamarks Study itself, we're always on the lookout for ways to improve ideas for nonprofits doing important work.