Read time: 3 minutes
Hey there! Did you miss our webinar about our different-kind-of-co-op, Scout Quest? No worries, we have the scoop for you right here:

Get the

full webinar recording here

— a fast-moving hour with the basics, what's new, a great case study, and a certain amount of -quest- puns (and quest-ions too). 

Sign up for Scout Quest and get more info on the

website

.

Have a question? Just not sure?

Email us here!
Best part of the webinar? Adam Williams of League of Conservation Voters (LCV) shared how they've used their co-op data to re-engage a huge swath of their supporters AND raise more than $200k! Here's how:
Over the years, LCV built a robust online program that relied heavily on email for fundraising success. They were seeing significant year-over-year growth in both the number of people they were reaching — and in fundraising results — for many years in a row. But an email system migration and a sea of related problems meant they were soon unable to reliably land in the email inboxes of their millions of supporters. Fixing their deliverability issues took time and drastic action, including filtering out emails for folks who weren't opening/clicking/taking action or donating out of their active emailable universe. And, consistently applying these good list hygiene practices meant that their active file kept shrinking while their inactive file kept growing. 
LCV was left with the question that many organizations have: "in the interest of deliverability, are we suppressing supporters who might still be reachable?" Are there people who might look inactive now but who aren't really dead weight?
Then came Scout Quest. LCV joined the co-op and was able to identify over 600k people on their list who weren't currently active for them but WERE active for other groups. They knew that those people weren't lifeless addresses, and they MIGHT not be total dead weight.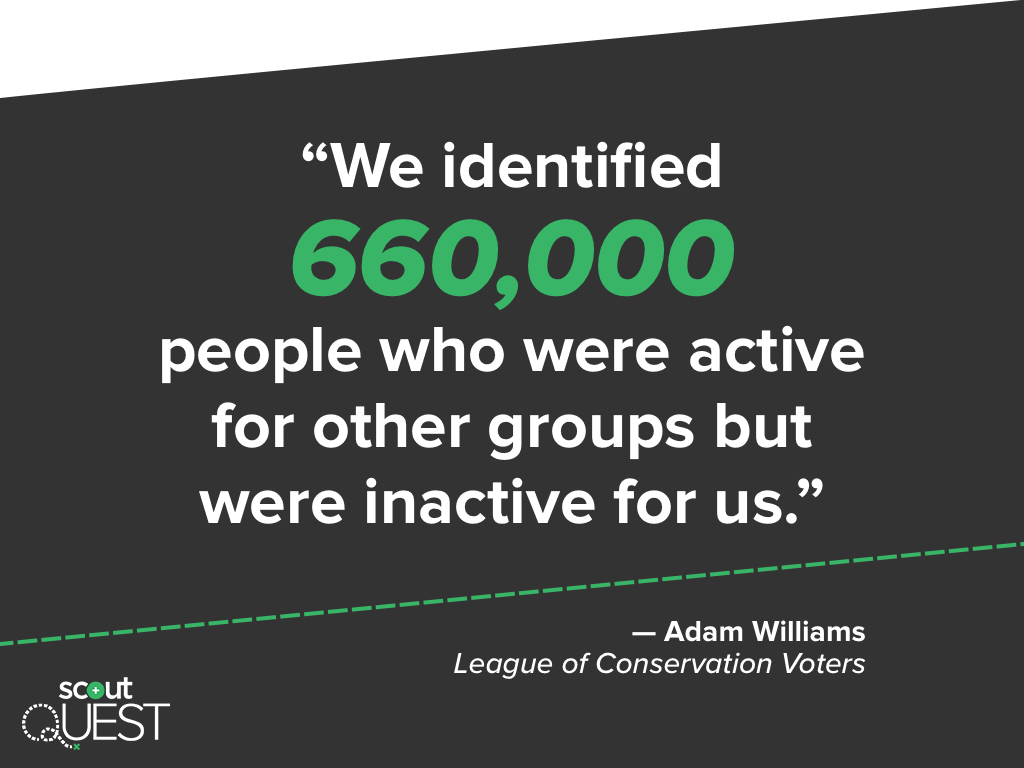 LCV started small — they didn't want to ruin their hard-won deliverability reputation by emailing 660k people at once. They sent ~1,000 co-op file names a high-performing message, and the results were encouraging. So they kept at it, sending small segments each day, never emailing a large inactive list all at once. Everyone on the file was eventually emailed, and those that re-engaged automatically fell back into their active universe and regular messaging.
This re-engagement alone was a great result, but LCV went further, taking an additional pass through some potentially higher-value subscribers. They isolated individuals in two groups: a) those who engaged on email for multiple other organizations because they looked the most active, and b) people who were donors for other organizations because they looked potentially the most high-value. They re-segmented those smaller groups into new chunks and sent them an extra round of messaging along with delivering Facebook ads.
The results: LCV was able to re-engage a large swath of their file in their advocacy and fundraising work without sacrificing their email reputation and… the people they identified who were active for other groups but were inactive for them went on to donate $211,429 (so far!).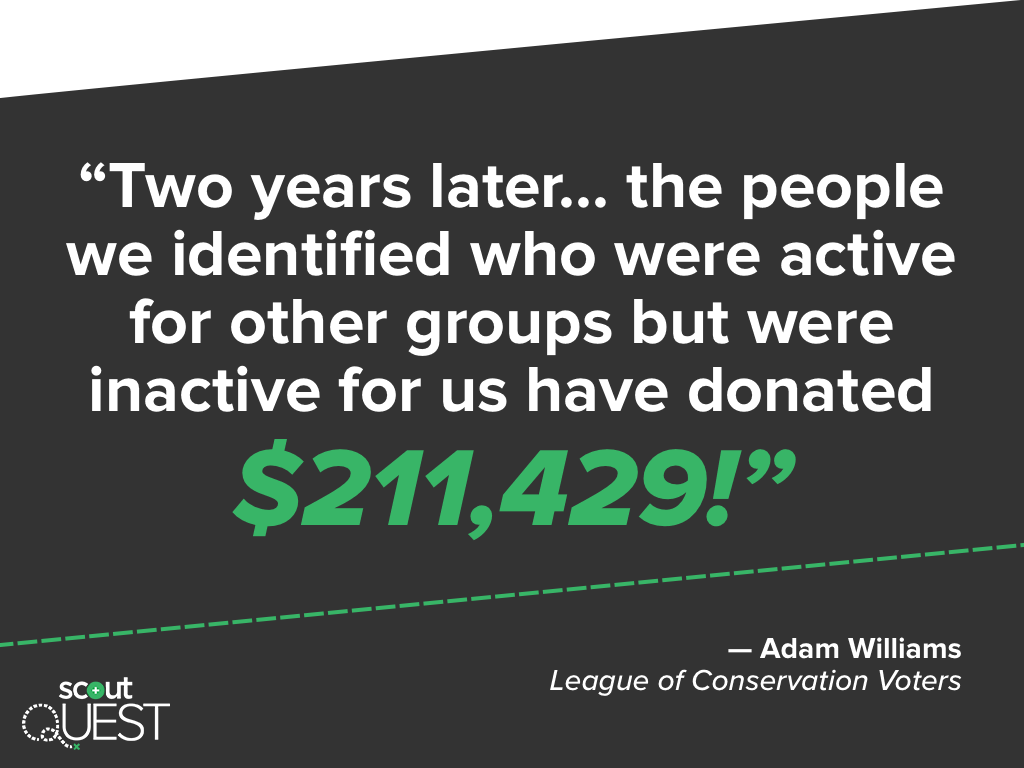 ***
LCV is one of many organizations that the Scout Quest co-op has been successful with. We're super excited about its potential to deliver important results for many organizations, including yours.  
If you'd like more information about what the process entails and what's needed from you in order to participate, check out the website or email us at ScoutQuest@mrss.com. We're happy to chat, explain, figure out the costs, help you consider your potential, or provide whatever help you might need. But don't wait. The deadline to sign up is soon — September 12!
Hope to talk with you soon! See you in the co-op!