Read time: 5 minutes
However you felt about video meetings prior to quarantine, there's a good chance that they are suddenly a lifeline for you—and critical to getting your organization's important work done. 
If you want to make video conferencing less awkward and more human, it's worth studying a master! Welcome to the sweaty, gesticulating world of Ryan Heffington and his 6,000+ person worldwide amateur dance troupe.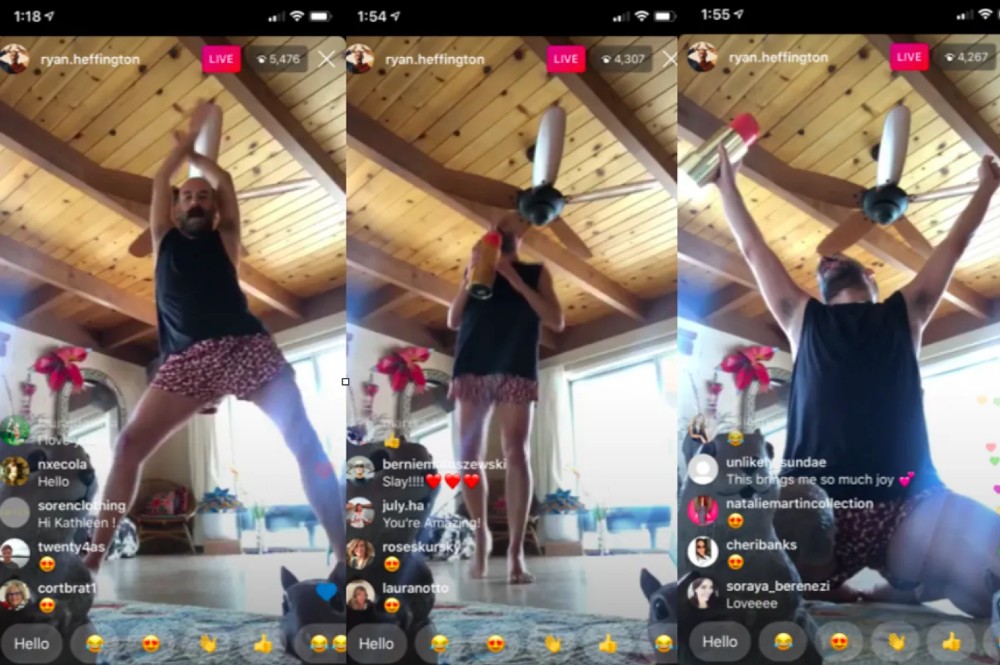 Heffington is the founder of a Los Angeles studio that offers dance classes for adults. His resume includes Grammy-nominated choreography for Sia's 'Chandelier' video, the musical finale of HBO's Euphoria, and new work on Lin-Manuel Miranda's Netflix musical tick, tick…BOOM!
But for a person whose passion is getting people dancing, quarantine is Heffington's moment. He is currently hitting peak guru status by bringing together an all-ages group of people to break a sweat together, broadcasting into their living rooms and kitchens five days a week. 
Here are 4 things you can learn from Heffington as you step more fully into your new role as the host of daily video gatherings:
1. Break a sweat
Heffington's energy is palpable. He's a charismatic presence who speaks with his body and colorful, iconic appearance as much as his words. From the moment you log onto one of Heffington's dance sessions, you know who is in charge. 
Good hosting like this takes work. If you scheduled the meeting, the floor is yours. Take the role seriously and keep the energy up, starting with yours. 
To host well:
Bring your authentic self to your role as host

, in how you present, how you talk, and how you use the time you have with people.

Set the tone.

Serious and fast moving? Thoughtful and introspective? A fun distraction or release from the day? Whatever the tone, it's on you to set it! You can do this in how you build your agenda, how you set expectations for your meeting, how you kick things off, and how you facilitate. At each step, check yourself for the signals you're sending—both with your words and with your presence in the meeting. 
2. Inspire self-expression 
People who join Heffington's dance classes are recording and posting their twirls and grunts on social media, joining a new wave of isolation workout selfies that has even drawn the ire of Dude With Sign, the Emily Post of memes and current-day barometer of acceptable social media behavior. 
You may not want your meeting participants posting selfies from your gathering, but you want them to be present and comfortable expressing themselves. Offer an engaging structure that draws people out from whatever multi-tasking they might otherwise be doing out of the camera's view. So:
Listen > Talk.

Don't make your meeting a lecture that could have been recorded and watched later. You've called people together to hear what they think, so make a lot of space to listen, and be comfortable with leaving stretches of silence to see who, besides you, steps up to fill the space.

Make room for the moment.

This is one of the strangest, saddest, most isolating and confusing times in our lives. You don't need to dwell on this, but making room for it at the beginning of the video call can allow people to express and move on to the matters at hand. Important: It's easy to assume that because *you* are feeling fine/not fine/optimistic/lonely, everyone else is. They may be. They may not be. A simple, "how's everyone doing today" with a non-mandatory opportunity to answer can suffice. 

Warm-up!

In the last week, our teams have asked people to bring their favorite drinking vessel to a meeting, wear a hat, stand up and stretch, and even (

we're coming for you, Ryan

) lead people through a dance move. Create multiple moments to check in with people and prompt them to share. These warm-ups can be visual, vocal, or something else entirely that elicit participation from extroverts and introverts alike.

Break it up.

The start of a meeting isn't the only place for warming people up. Think about the substance of your meeting and where it might lend itself to interludes when you can pause and get people to process what you're talking about through the lens of their own experience. Use open-ended questions that encourage people to reflect, like: How would that apply to your own experience? How would you see engaging in this? Name one challenge you could see with this approach. Etc.
3. Use the space you have
In Heffington's dance sessions, he knows every inch of physical space available to him, and he works the room. Virtually, you have some space to work with as well. Platforms like Google Hangout and Zoom have built-in features you can capitalize on, and tricks you should learn, like these:
Ask people to answer a warm-up question by changing their display name.

Play trivia by

posing a question and using

breakout room

functions to break people into teams to answer. 

Create custom backgrounds that you share ahead of time and ask people to download in order to introduce a theme or a mood to your meeting.

Create rules for joining different

break-out rooms, simple stuff like "hats required."
Also, inevitably someone is going to interrupt your meeting to tend to a toddler's request or to try to block the view of a half-naked roommate walking unaware through the background. Best to be prepared for these moments with a quick response so they don't totally derail your gathering. Try: "Nice save," and then pivot back.
4. Follow up with people
Heffington's sweatfest sessions keep people coming back for more in part because after every session Heffington threads the videos and images that participants tag him in on social channels, stacking his Instagram Stories with a collage of people demonstrating sometimes skilled, mostly embarrassing dance moves from around the globe. 
Right now people want to feel seen and heard more than ever, so as a host, it's best practice to follow up with your meeting participants to thank them for being there and acknowledge their contributions. This can be a quick Slack, a mention the next time you talk, or some other kind of visible hat tip, depending on what tools your teams are relying on right now to stay connected. Make sure people know you were glad they came, their presence mattered, and here's how you're moving the work forward.
These tricks might not turn you into a breakout star with a cult following, but they will help you own your new role as the regular host of online gatherings. Your participants will thank you for it. And more importantly…you'll be able to get work done that matters in our world right now.
————
When Marjory isn't busy designing and winning campaigns, she moonlights as a sign painter and heads up M+R's Los Angeles office. You can reach her at mgarrison@mrss.com.
Related Links