Photos rule Facebook. They're the lifeblood of any engaging Facebook ad campaign. But as you might have heard, Facebook now enforces a so-called "20% rule" that changes how you need to think about your ads and promoted posts on Facebook.
Here are the details straight from Facebook:
All images in ads (including sponsored stories and promoted posts) must be comprised of no more than 20% text
To judge that percentage, Facebook will divide your image into a grid of 25 squares and make sure no more than 5 have text in them.
Text in product shots — like a delicious, frosty can of Red Bull — doesn't count towards the 20% limit for an image, as long as the photo isn't zoomed way in.
What happens if you don't comply? At the very least, your ad will probably be rejected (multiple M+R clients have already felt the sting of the 20% rule…). And if you're a repeat offender, Facebook says your page could be permanently suspended.
There are a bunch more subtleties to the rules, so if you're considering any sort of paid activity on Facebook, do yourself a favor and check out their handy new .pdf guide or visit the Facebook Help Center.
How will this affect me?
This policy will affect you in two ways.
If you're doing ads on Facebook, you'll need to comply with the rule. But, the rule does NOT apply unless you're paying to promote an image. We know from experience that strong, clever use of text on images makes for excellent viral fodder. And text-heavy images are still allowed on Facebook. You just can't pay to promote photos like that or use them in ads.
Second, you may need to reconsider your page's cover photo as well. Cover photos, those profile defining images that span the header of your page on Facebook, fall under the same rules as these promoted images. That means that heavily texted, call-to-action laden, or contact-information-displaying cover photos are no-go's.
How do I make sure I comply?
Facebook uses a grid based text detection tool with 25 equal sized boxes. Each box represents 4% of the image. If your text appears in any more than 5 of those boxes, your image is in violation of the rules. Try out the tool here.
To demonstrate this policy in action here are a few images from October's Labs post on 8 Tips on Facebook Images for a Cause. These images still make for engaging viral content, and — key point — we'd still use them for non-paid image shares. But if we wanted to use these images in a promoted post or any other ads, they would not comply with this new rule.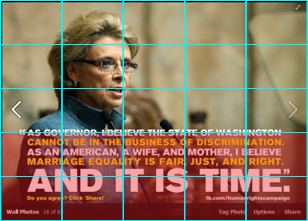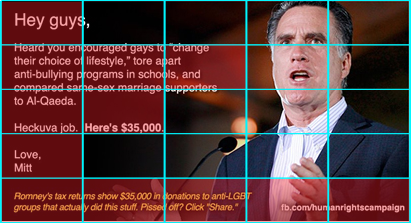 This image of President Obama from AARP successfully uses the grid to comply with the 20% rule: