Time to read: 8 minutes
Three Billboards Outside Ebbing, Missouri and American hero Frances McDormand were winners at the Oscars. It's a story about activist billboards shaking up a community and making a difference—and that part, at least, is pretty realistic. We've been using billboards all year to earn press attention, apply pressure on decision-makers, and spark conversations.
Here are some tips to consider if you're thinking about buying a billboard to drive forward the other communications pieces of your campaign this year.
Start a dialogue or inject a question into an ongoing discussion.
Following Hurricane Harvey, we worked with the Center for Climate Integrity to launch a mini-campaign called Who Pays for Harvey? The storm and its damages were exacerbated by climate change—driven by polluters like ExxonMobil and others. And yet, taxpayers in Texas were forced to foot the bill for recovery costs while those most responsible for climate change got off free. Shouldn't they pay their fair share too? We think so.
Billboards were a key part of our strategy to inject this question into the public dialogue.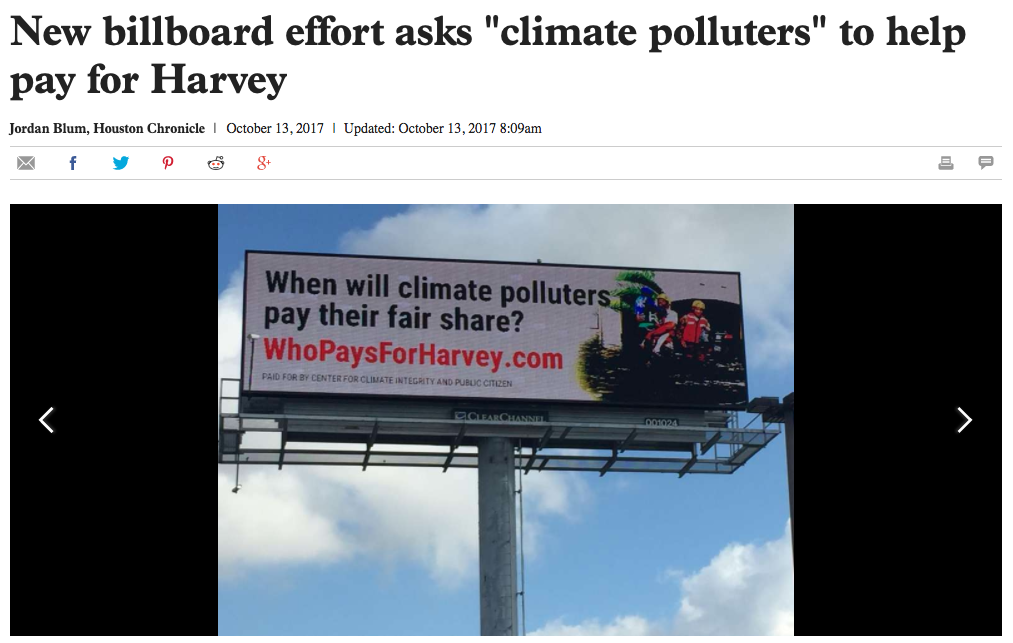 We put up two billboards with images of Hurricane Harvey's destruction. One billboard ran in one of the hardest hit neighborhoods, while the other ran on "Refinery Row," a strip in Houston lined with seemingly endless refineries that are operated by many of the world's biggest climate polluters. (Reminder: location is important.)
As with other visibility efforts, the billboards are meant to start the process of engagement—driving traffic to whopaysforharvey.com. To elevate public attention, we also did direct media outreach. In Houston, we snapped photos of the billboard and sent them to local press with additional information on the campaign and offered up local experts to talk with reporters. This resulted in a story in the Houston Chronicle about the campaign that included an image of the billboards, bringing them into people's homes.
If you live in Miami, look out for this billboard coming soon:

Name and shame—with a purpose.
As Three Billboards makes clear, the tactic can also be used effectively to call out bad guys. We worked with Reproaction on a series of billboards to do just that. Rep. Tim Murphy had a lengthy anti-choice record, publicly opposing access to abortion—until news reports showed that he had engaged in an extra-marital affair and pressured the woman to have an abortion.
We immediately went to work on ads highlighting this hypocrisy and using it to rally support for reproductive rights. These billboards were snarky, direct, and intended to draw attention and raise eyebrows.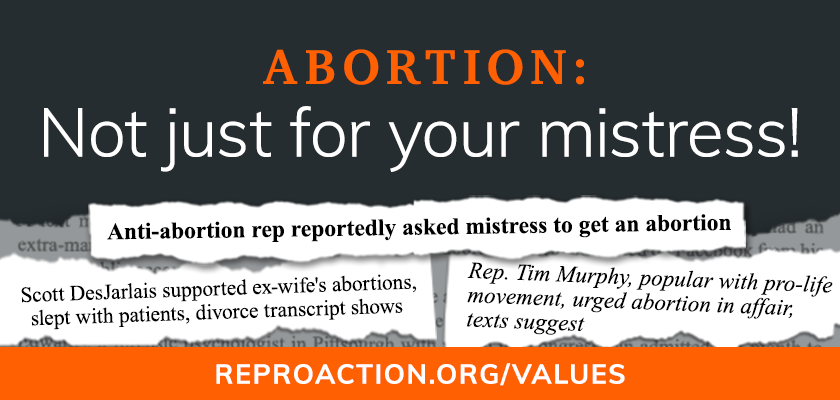 Reproaction's billboards ran near Murphy's former Allegheny County office and a main thoroughfare into the neighborhoods where the former congressman lives and goes to church. As usual, location was important—and so was timing. The ads ran during a heated congressional race, sending a clear message to candidates that abortion access was a campaign issue they couldn't ignore. Given that Rep. Murphy's hypocrisy made national news, it also put other anti-choice politicians around the country on notice as well.
These ads were a success by every measure. As a result of our press outreach, we were able to secure coverage about the ads in the Washington Post and the Pittsburgh City Paper.
Hit the road.
Traditionally, billboards just sit there, and you drive by them—but if you can't get the placements you need, sometimes it's better to keep your audience in one place and have the billboards do the driving. Or if you work at an environmental organization, keep in mind that there are carbon neutral bike billboards too.
We worked with the nonprofit Population Connection Action Fund to develop mobile billboards that drove around Wisconsin and Las Vegas to raise awareness about the Global Gag Rule.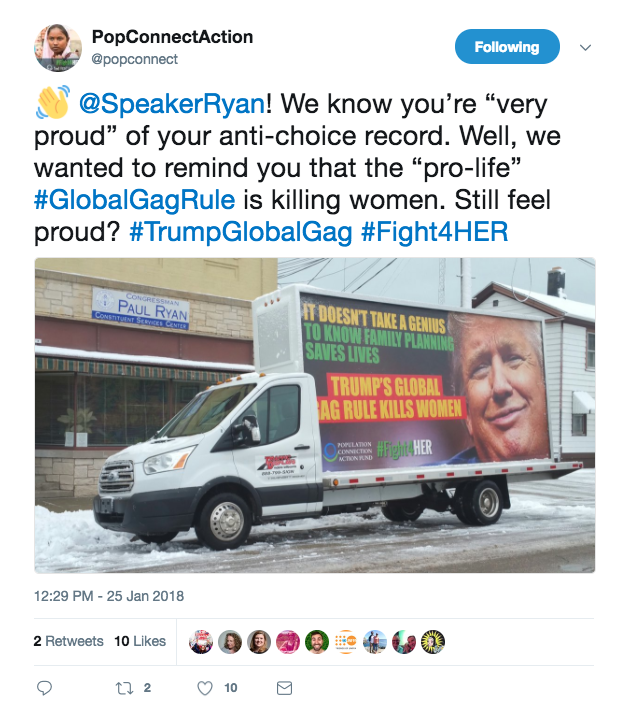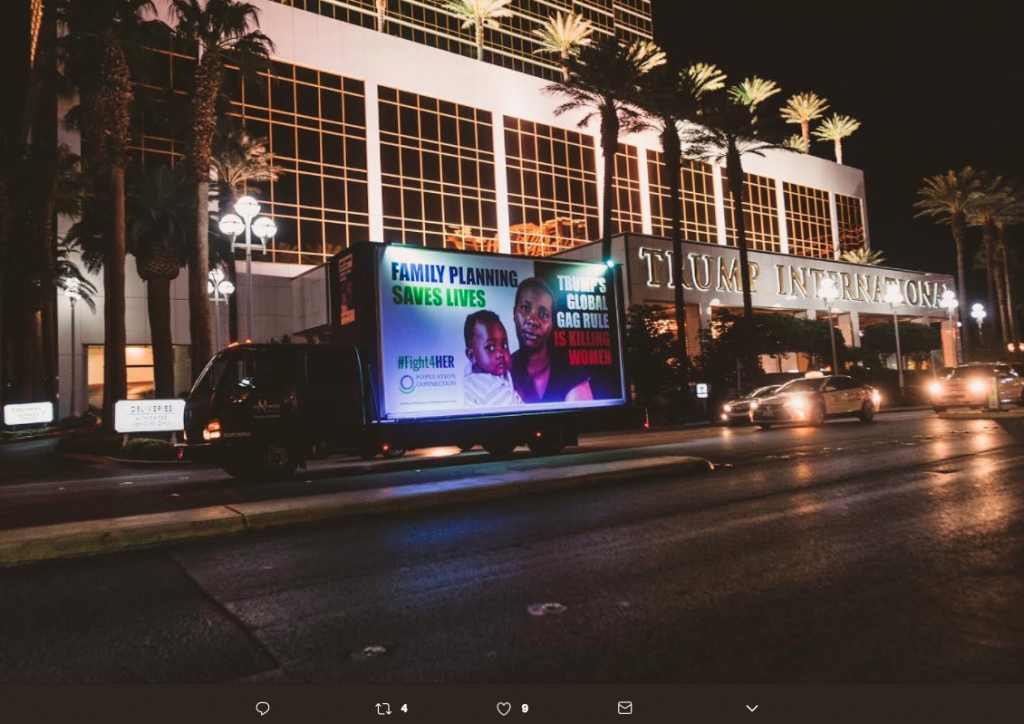 Mobile billboards provide visibility where you need it, along with additional opportunities to snap photos of your billboard at different locations, which is good for social and earned media alike.
None of these billboards have a perfect Hollywood ending yet. But they all started a conversation in the right places with the public and press.
Next time you need to make a big statement that grabs the public and media's attention, consider channeling your inner Frances McDormand. Say something bold, grab the spotlight, and take the conversation literally to your opponents' front door. You might not win an Oscar for it, but you can give your issue a little more public, press, and social media visibility all while getting under your opponent's skin to provoke a reaction.