There are some who think of Thanksgiving as a time to celebrate enduring traditions, share special moments with loved ones, and spend time with family. And there are those of us who experience something more like a six-day emotional journey in which we question our priorities, like pie vs. kale, and peer deep into our bank accounts, asking ourselves, "Can I can buy the complete box set of Designing Women and still have enough money to reply to that appeal before time runs out…?" (The answer is yes and the binge-watching begins about 90 seconds after I finish writing this).
Let me be the first to say: neither of these views of Thanksgiving are wrong. And that's pretty much the deal with Giving Tuesday, too — we're seeing a lot of organizations fall into two camps on the increasingly inescapable annual event. How you see Giving Tuesday (and how your organization capitalizes) comes down to your perspective.

Perspective #1 — Giving Tuesday is the best! Or at least quite helpful!
One caveat before we get started — the results I'm about to report are early, anecdotal, and based on the experiences of a subset of M+R clients. You should not use this information to guide every online fundraising decision you make all year – unlike with our Benchmarks report which you should absolutely use to aid in your decision making (Speaking of Benchmarks, though, you should really consider participating in next year's report — check out MRBenchmarks.com for details).
First, the big number: From the Chronicle of Philanthropy, according to Indiana University's Lilly Family School of Philanthropy, nonprofit revenue on Giving Tuesday increased from $28 million in 2013 to more than $45 million this year — so plenty of organizations reported big upticks in online revenue this Giving Tuesday. The interesting thing is that many of them didn't really go after Giving Tuesday in a big way — a lot of the revenue was of the old unsourced, you-came-to-our-webpage-and-just-gave-us-money-thank-you-very-much variety.
A sudden spike in giving on Giving Tuesday was not unusual for the groups we looked at, even in the absence of promotion. No full-list email appeal, maybe a post on Facebook or a couple tweets, and the money comes rolling in anyway? That's pretty sweet, and an indication that the Giving Tuesday concept is starting to register with a critical mass of donors.
Of course, some groups that went all-out with a dedicated fundraising appeal and other promotions did see a strong return.
PETA promoted a $9 ask over multiple email appeals and ran (heart-wrenching) videos on Facebook, among other things, and was rewarded with an encouraging response. The Wildlife Conservation Society (WCS) ran a Give-in-TWOs Day campaign, asking people to donate and then recruit a friend to match their gift. (See what they did there? Give-in-TWOs Day! That pun is almost as cute as the animals featured in their appeals.) They raised 8x as much as last year, though admittedly they promoted Giving Tuesday way more this year.

Perspective #2 — Giving Tuesday? More like Giving Loseday.
Not every organization woke up Wednesday morning with a post-Giving Tuesday glow. Some saw pretty lackluster results. So, what'd they do wrong? That's a two-part answer: nothing, and maybe a little something.
Generally speaking, groups that are perceived as primarily political or advocacy organizations — even the ones that sent direct appeals — didn't see a Giving Tuesday windfall. And if you think about it, that's not a huge surprise.
Elections drive political giving. So does the news cycle. And jerk politicians doing jerky things. Giving Tuesday is probably too warm and fuzzy of a concept to drive the bulk of political donors (or hardcore activist donors) to give. On the other hand, issues like international aid, hunger, animal welfare — that's where donors are turning first when they are looking to get involved in the Giving Tuesday movement.
So, next year, if you work at a hard hitting political organization and your CEO asks you to cancel that rapid response appeal and send out a generic Giving Tuesday message instead — because Giving Tuesday — it's a safe bet to push back. Also maybe ask for a raise, because you never know, right?
Smaller, local groups, or those without a lot of name recognition, probably shouldn't expect to see as much of that unsolicited over-the-transom giving that other groups enjoyed. If you're not top of mind already, you're going to have to work pretty hard to break through on Giving Tuesday.

Okay, now those five tips I promised in the post title
Your perspective on Giving Tuesday may say more about who your organization is and who your donors are than anything else. The good news is, it does seem like lots of people are giving on Giving Tuesday because it's Giving Tuesday. And that means that even groups that don't sink a lot of resources into promotion can hope to see a benefit.
If you did see a spike in giving this time around, you should definitely consider promoting Giving Tuesday a little more forcefully next year, to take advantage of what appears to be a rising tide. Here are a few eye-catching tricks and techniques we loved this year that should keep in mind as you look ahead.
1. Promote local and restricted giving. There's a bit of an underdog feel to Giving Tuesday, sitting there in the shadow of BLACK FRIDAY MADNESS. Remember what I just said about how small and local charities shouldn't expect to see a bump from Giving Tuesday? That just means that donors may not be coming to you first — but it doesn't mean you can't reach out to them effectively. Lots of people promote their favorite small or local charity. If you're a scrappy, underdog sort of nonprofit — great — lean into it.
Think of Giving Tuesday as an excuse to leverage your best assets — namely, strong, personal relationships with your constituents. Ask your board or best volunteers to come in for a special Giving Tuesday phone bank. Call your best donors and ask them to help you reach an ambitious (but still doable) goal. Engage with your core supporters on social media. Start cultivating your reliable donors for their big year-end gifts. These are the kinds of high impact activities smaller, more local organizations can do that many large national groups can't.
And if you're a large organization, try to get in on the action with local or restricted asks. Planned Parenthood prioritized local giving this year, providing copy and creative its affiliates could adapt to send out localized asks (and focusing on the warm-and-fuzzy side, rather than more hard-edged activism).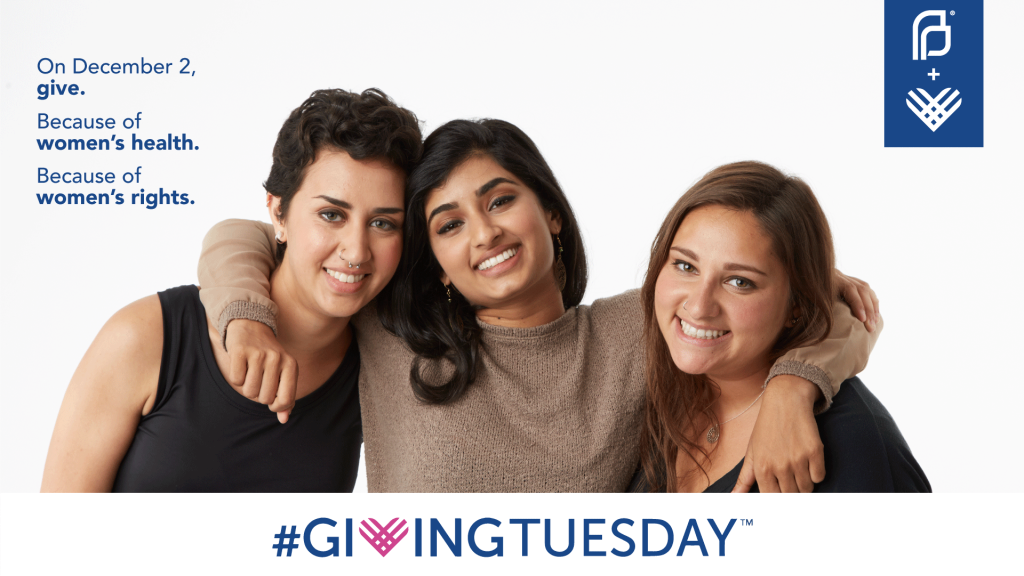 2. Wait, isn't Giving Tuesday the perfect time-limited campaign? There's a small but important difference between asking people to give because it's Giving Tuesday, and using the fact that it's Giving Tuesday to run a deadline-driven, goal-oriented mini-campaign. What's more compelling to you — "It's Giving Tuesday — please give" or "Help us raise $50,000 by midnight this Giving Tuesday, and a donor will pitch in $50,000 more"? Even just a 24-hour challenge in the absence of a match can be a strong performer.
3. Call up those corporate partners! Corporations want to bask in the goodwill around Giving Tuesday, and we want to bask in the money that corporations have. There are plenty of ways to do this: a corporate-sponsored matching gift offer, getting your big-name sponsors to promote you on their own social media properties, or a leveraged gift — triggering corporate donations not through individual giving, but through other supporter actions like signing a letter or engaging on Facebook.
These promotions don't have to feel dry — they can be donor-centric! Sierra Club took a creative approach we liked a lot — asking supporters to tweet about how they're "building something beautiful" to generate a $5 gift from Beneficial State Bank.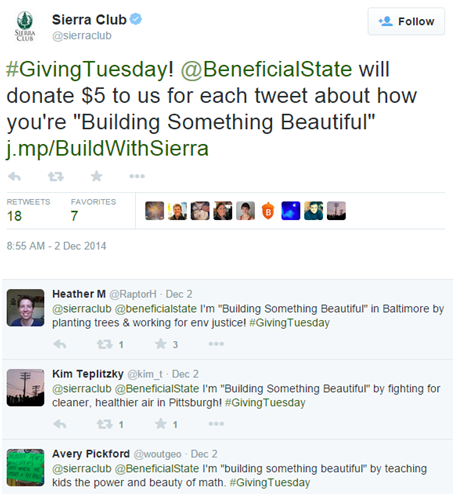 4. Moar puns! Tell a friend! Hey guess what: people like things that are fun. And Giving Tuesday is a great opportunity to get a little light-hearted with your supporters.
We chuckled at the Wildlife Conservation Society's aforementioned Give-in-TWOs Day campaign, asking supporters to donate and then recruit a friend to match their gift. They set up a custom thank you page heavily promoting social shares. Asking supporters to help recruit more people to the cause is a great way to tap into the spirit of Giving Tuesday.

5. Give the gift of direct action. Bread for the World was one of a small number of organizations that prioritized advocacy this Giving Tuesday — asking supporters to contact their senators about global food security legislation. The post-action landing page asked for a gift!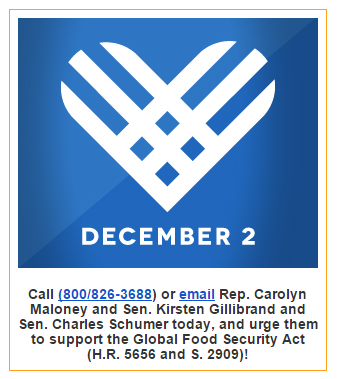 Whether Giving Tuesday was a boost or a bust for you this time around, it's becoming an increasingly crowded day for inboxes and newsfeeds. If you want to take full advantage of donor interest next year, you should be thinking of creative and compelling ways to stand out from the crowd.
Now if you'll excuse me, I have a date with Ms. Julia Sugarbaker. And she does not like to be kept waiting.