FYI! M+R is teaming up with Muck Rack to host a free webinar about the 2017 Mediamarks Study. Learn more about how to use the study to measure your own nonprofit's media impact and make more this year.
July 19 at 2:30pm Eastern / 11:30am Pacific
M+R: Aaron Eske (VP) + Leslie Kerns (EVP)
Muck Rack: Greg Galant (CEO)
Register here to get the webinar link and calendar reminder!
– – – – – – – – – – – – – – –
The 2017 Mediamarks Study painted the big picture of media hit trends and impact for 50 nonprofits. We decided to take a closer look at the 5 nonprofits that had the most news stories of the year — one for each sector we studied (Cultural, Environmental, Health, International, Social Service).
What are these Top 5 organizations doing to make so much news and make an impact for their cause? And what can your organization learn from their success?
Budget
To start, let's deal with the elephant in the data. The money. Getting press — especially press for a purpose — takes time and resources.
All of the nonprofits in this year's study are major nonprofits that qualified for the Chronicle of Philanthropy's 400 list of biggest organizations. It's safe to assume that they invest in a communications budget and team. But don't jump to conclusions that mo money means mo media. That data has polar results.
True, the nonprofits with the most press coverage in the Health, International, and Cultural sectors all had the highest or second highest budgets in their sector. However the Environmental nonprofit with the most media had the second lowest budget in the sector. Similar story for the top-performing Social Service org.
It seems that money can buy you media love but plenty of nonprofits with lower budgets are pulling a Cinderella and getting their press prince anyway.
Content of the Coverage
In next year's study, we plan on tallying what the origin of each news story is so that we have more precise data about what is driving the press coverage of the nonprofits in Mediamarks. This way we'll be able to answer questions like — do nonprofit reports or events make more news?
Alas, we don't have those crosstabs in the 2017 Study. When we single out the Top 5 nonprofits though, there are some clear and common approaches that these organizations are using to make headlines.
1. Do something press-worthy. (We know it might seem obvious. But it's also worth remembering that gimmicks to get press will only get you so far and you should focus your press efforts on the substantial work you do. You don't need to be flashy to be making a big impact.) Examples of headlines from the Top 5:
"Environmentalists Sue the Oil Companies Allegedly Causing Oklahoma's Big Earthquakes"

"US museum launches Kickstarter to save Wizard of Oz red shoes"

"Health workers race to vaccinate 41 million children against polio"
2. Take bold stances and make bold statements. Examples:
"Louisiana Floods Are Called 'the Worst Natural Disaster' Since Superstorm Sandy"

"Opinion: TPP provisions would undermine environmental efforts"

"How a museum is preparing to stage a national conversation on race"

"Replace female genital mutilation with new rites of passage"
3. Respond to disasters with personal stories and evidence. Examples:
"Georgia buses help residents flee Hurricane Matthew"

"Lead fear forces water ban in 30 New Jersey school buildings"

"The Ethiopian school children affected by a severe water shortage"
4. Partner with — or if you don't have Leo on speed dial — tap into pop culture icons or well-known brands. Examples:
"Star Wars' contest will let you do almost anything with Mark Hamill"

"Google aims to build bridges with wetlands project"

"Is That Buzz a Beyoncé Fly or a Lady Gaga Wasp?"

"Ben Stiller credits prostate cancer test for saving his life"

"Andy Murray helps Syrian refugees with every ace scored"
5. Release reports that connect to or create the big conversations of the day. Examples:
"66 million dead trees in California could fuel 'catastrophic' wildfires"

"Women's cancer deaths expected to rise 60% by 2030"

"Nearly half of all refugees are children"
Monthly Presence
We noticed that many of the organizations we studied go completely dark on press during some times of the year. January and July are the main blackout months.
However, most of the Top 5 nonprofits saw steady coverage throughout the year (no blackouts) and came back from holiday vacation with strong January media results; This indicates that the Top 5 are likely carrying out annual communications plans that ensure they are making news all year round.
That said, these organizations did have media spikes that raised their results — like when the top Cultural org opened a new museum in September and when the top Enviro org fired back against President-elect Trump in November. The top Social Service org also took a staggered approach where it went big one month and then regrouped the next.
Mediamarks Top 5 Coverage by Month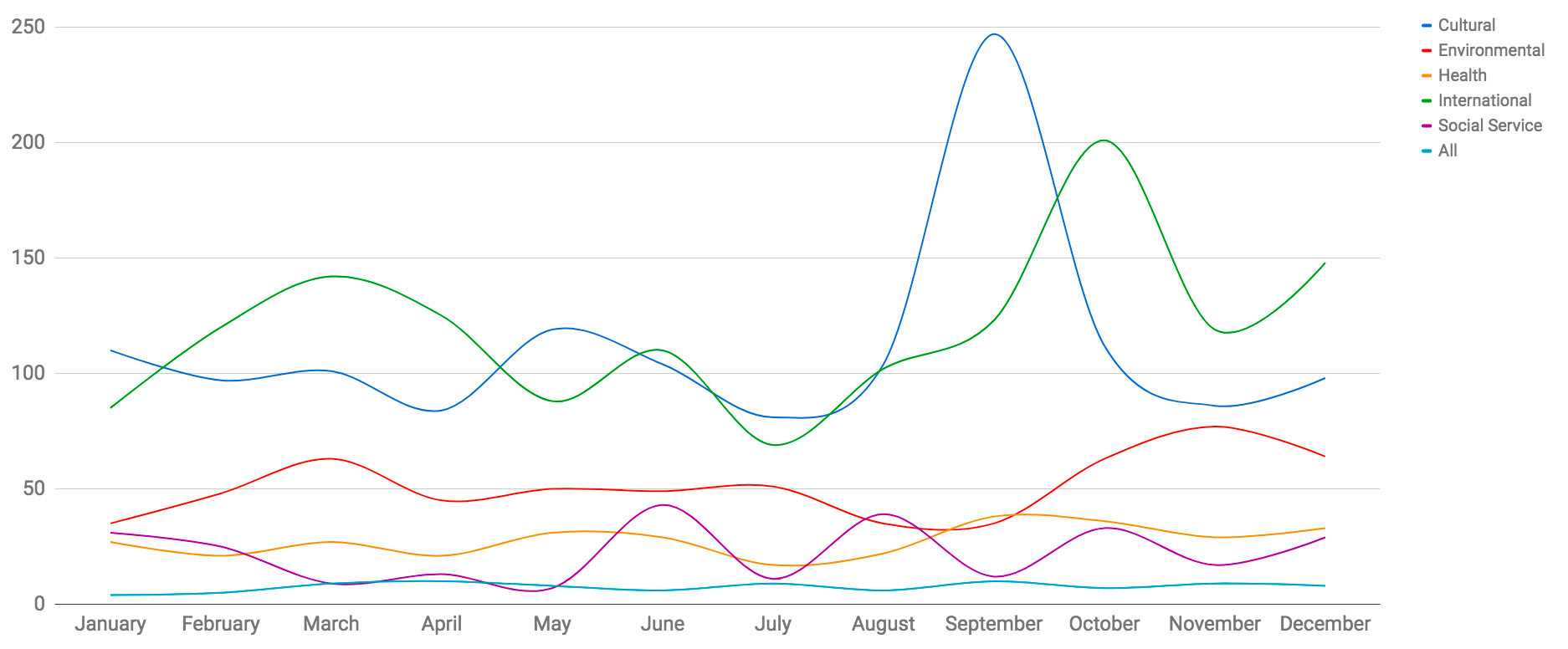 Media Type
Compared to all 50 organizations in Mediamarks, the Top 5 simply got more media hits in all types of media (Newspaper + Magazine + Broadcast + Digital + Wire). The ratio of broadcast hits is surprisingly high though for the Top 5 and partly explains what gave them the lead.
Overall, nonprofits got 2.5 times more newspaper stories than broadcast stories. But the top Health and International orgs got almost equal amounts of newspaper and broadcast coverage. That's impressive PR work and accounts for the nonprofits' bigger media impact.
Sadly, not even the top Enviro org in Mediamarks could break the broadcast curse for the sector, which is notoriously ignored by TV news producers. That organization relied on Newspaper coverage to deliver its advocacy and awareness message.
Mediamarks Top 5 Coverage by Media Type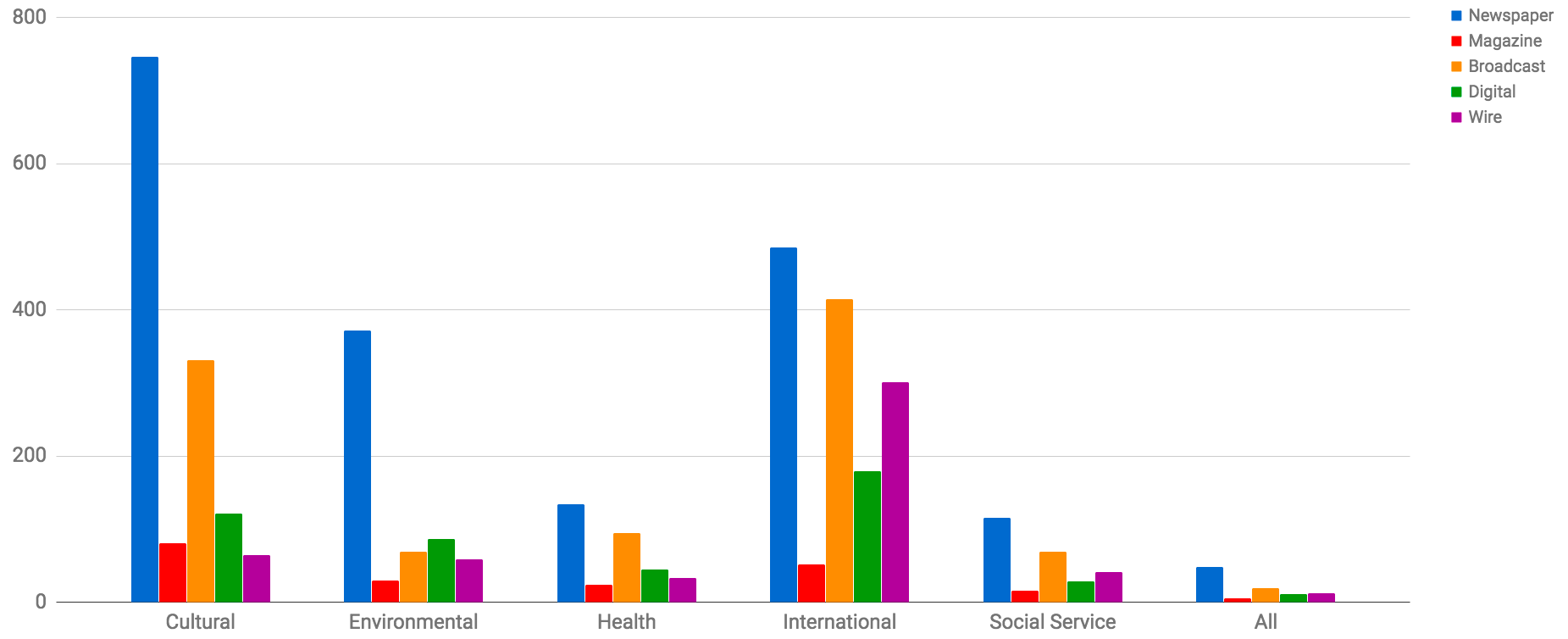 Social Media Shares
Interestingly, none of the Mediamarks Top 5 are excelling at social media shares on Facebook and Twitter. Most are on par with the sector average, and the top Health and International organizations were about half of the sector average on Facebook.
Facebook Shares Per Article: Mediamarks Top 5 vs Sector Average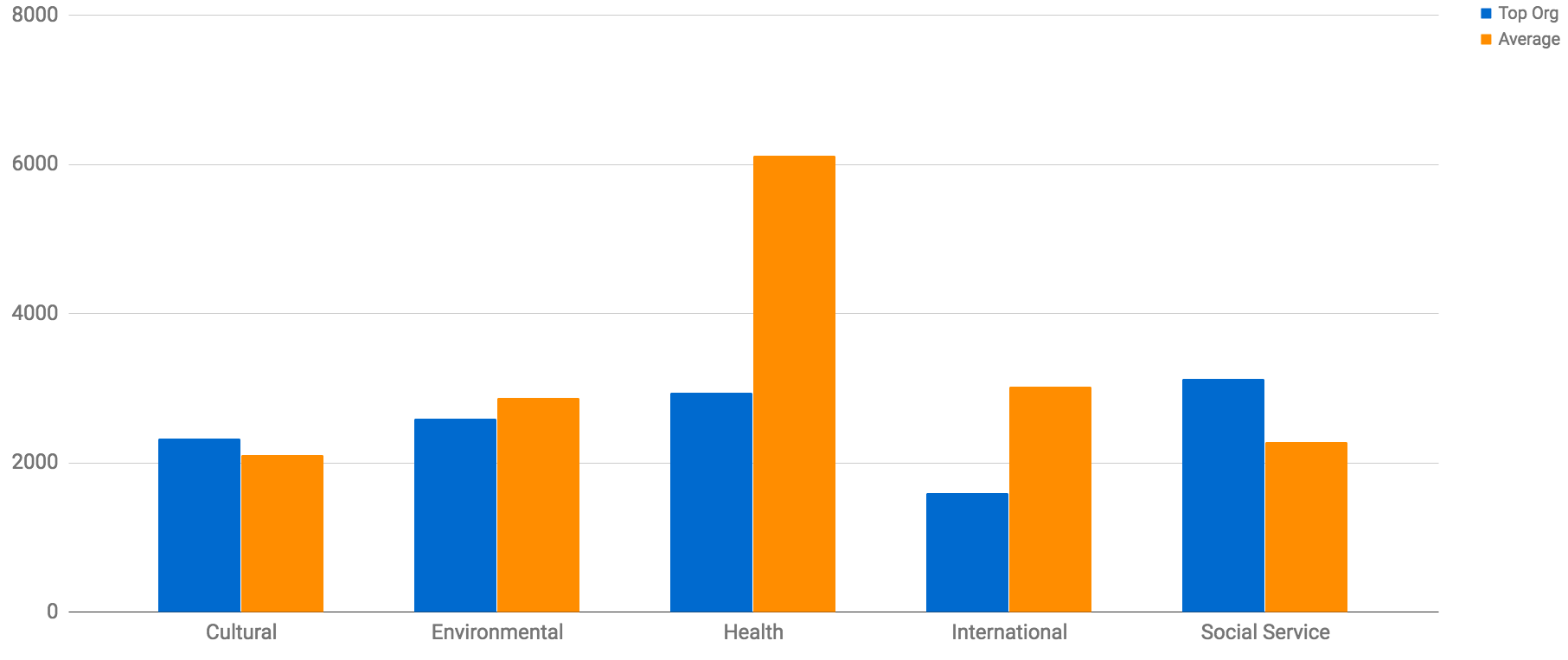 Even though an organization may make a lot of news, that doesn't mean that all that news is spreading and making as much of an impact as it could. We'll be back soon with another post that answers the question: What do organizations that make the most social media news impact have in common?
Reminder: Register for the free M+R & Muck Rack Mediamarks webinar (whoa that's a tongue-twister) on July 19th! We'll share more lessons from this year's study and answer your questions.