I don't have to remind you that 2017 has been a relentless horrorshow dumpster inferno trainwreck of suffering and injustice with no redeeming features other than the Wonder Woman movie, the solar eclipse, and the birth of Beyoncé's twins. (Okay, okay, and this week's elections.)
And I shouldn't have to remind you that effective fundraising copy is all about making an emotional connection with your audience. Before ever quoting a statistic or constructing a reasoned case for giving, messaging must reflect and amplify what is in supporters' hearts (more on that here).
After a year of disasters—both natural and entirely of humanity's own cruel devising—our hearts are filled with fear and anger and pain, with raw sorrow and righteous rage. But as we enter the critical end-of-year fundraising season, I've had to remind myself of something important:
There is still in our hearts, alongside the despair, hope. And this is especially true during the holiday season.
Hope is real, and it has power. As fundraisers, we'll need to harness it to raise money effectively in December. We'll need to offer it honestly to prepare supporters for the year ahead. And after all the gutwrenching, souldeadening copy we've had to compose in 2017… we'll just need it, period. Fundraisers are people, too.
Our task is to maintain the urgency of this moment and deliver a sincere accounting of the enormous challenges we face—while nurturing at least a fragile flickering of hope at a time supporters ache for it. It's not a replacement for those other, more negatively-charged emotions; it is a respite, a reinforcement.
Your supporters need hope to feel like they can make a difference, like their gift of $25 matters, like resistance is something weightier than a hashtag. Whatever your cause, remember: you are a trusted voice speaking with authority on an issue they care about. If you don't believe change is possible, neither will they, and your fundraising isn't going to get very far.
Here are a few ways you can build hope into your end-of-year messaging.
Express Gratitude
Sift through the often literal wreckage of 2017 long enough, and I am sure you will find something to smile about. That's something we can use!
Find the good you did in the world this year. Realize that not one bit of it was possible without the donations, activism, and other support from your audience. And then: tell them. THANK THEM. And mean it.
Don't think of this as a retention tactic (although it can be). Don't think of it as a soft ask (although it can be that as well). Simply be honest with your supporters and with yourself about just how much they matter.
You can make it a Thanksgiving message. Or break up that relentless December fundraising messaging stream with a mid-month cultivation message to say "thanks." You might even consider crafting an infographic showing the impact of your work, and of your donors' generosity.
However you express it, gratitude will help you build a stronger community and more powerful movement. And it feels good, too.
Get Personal
Here's what Emily Dickinson has to say:
"Hope" is the thing with feathers –
That perches in the soul –
And sings the tune without the words –
And never stops – at all –
What I love about this is that it is a vision of hope as something frail and thinboned, smaller than a closed fist, but still and all brightly insistent. The awfulness of our world in this moment is enormous—so you may need to narrow your focus a bit.
Tell personal stories to convey hope to your audience.  
If you work in international aid or disaster relief, then you know how much suffering was caused by hurricanes, earthquakes, wildfires, and more. But you also have stories of lives saved, families reunited, and recovery begun.
If you are an environmental nonprofit, the catastrophic unfolding of the climate crisis hasn't kept you from protecting a species, a watershed, a single orphaned animal, somewhere on Earth.
Or maybe you are an organization dedicated to helping the poor, the middle class, the sick, the formerly sick, the potentially sick, LGBTQ people, immigrants, people with disabilities, women, people of color, seniors, children, or other human beings—in that case, there is a good chance that stopping the repeal of the Affordable Care Act was a major victory. Show what this victory means for one person or one family.

When you tell these specific, personal stories, you are making a direct connection between the impact that a small-dollar donor can make, and actual change in the world. And that's all a donor needs—the belief that somehow, somewhere, their gift matters (it's also a great way to frame the increased impact that comes along with a matching gift).
Hope in Defiance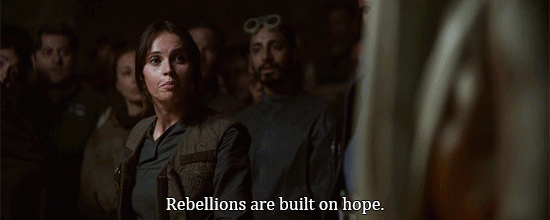 If you look at the past year and see a dark abyss staring back, I don't blame you. So don't look back.
Look ahead to the coming year. What will you fight for? What will you defend? What (or more to the point, maybe, whom) will you defy?
December is the perfect moment to invite your supporters to join you, to rededicate themselves to your cause. And this kind of thing is probably already somewhere in your messaging points, so it's just about shining a spotlight. Tell donors what you'll do with their contribution, and the difference it will make. Tell them how many of their neighbors, their friends, their fellow citizens are standing shoulder to shoulder with them.
This doesn't mean promising to win every fight ahead. The fact is, we're going to lose, we are going to fail, we are going to fall short of our goals and our vision for the future. That's what it means to care about a broken world.
But as long as your supporters know you are not giving up, neither will they. As long as you give them a reason to believe in you, in your organization, in themselves and in each other, they'll stick with you. They'll give, they'll speak out—and if you frame things right, there's a good chance they'll express their commitment by becoming sustaining donors.
So don't look back; shine a light on the path ahead.
Like Harvey Milk says, you gotta give 'em hope. And maybe next year at this time, it won't feel so hard to find that within us.
I hope so, anyway.