It's true: X marks the spot.
Each year, we follow a fascinating trail of donation data, advocacy analyses, and social media metrics submitted by dozens of top nonprofits. Along the way, we track key trends and shine a light on hidden details. And right at the point where raw data and sharp insights intersect, we dig deep.
We haul up this buried treasure, polish it up to a high gleam, and then do the most unpiratical thing imaginable: we share it with you, for free.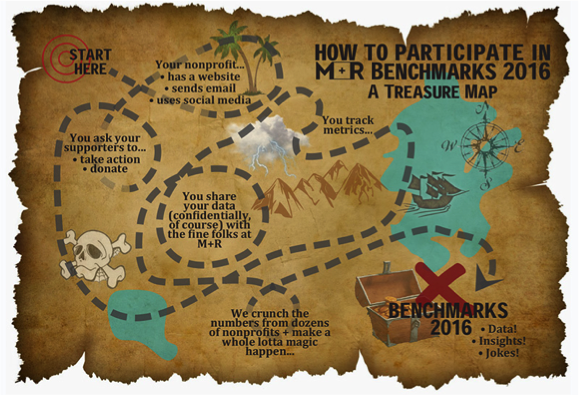 In a few months, we'll release the 2016 M+R Benchmarks Study. This will mark our tenth Benchmarks release. Benchmarks X. And spoiler alert: it's going to be our best ever.
And the reason it's going to be the best ever isn't just because of what we're going to do (collect and analyze an enormous set of data covering online fundraising and advocacy, then put it together in a clear, concise, useful package). It's because of what you're going to do: join in and share your data. Click here to get started.
By adding your data (which we keep completely secure and anonymous), you'll help make Benchmarks the most complete and comprehensive compendium of online nonprofit metrics possible. Even better, you'll get to find out exactly how your organization stacks up against your competitors, colleagues, and frenemies.
Intrigued? Of course you are. Find out more here. (And if you're still not quite sure what this whole Benchmarks Study thing is all about, you can download the 2015 Study here.)
Thanks in advance to all the wonderful, generous, world-changingly-awesome nonprofits who will participate in Benchmarks X. You are the best, and we're going to have so much fun! Data fun!
Got more questions about Benchmarks or participating in the study? We've got answers! Email us: benchmarks@mrss.com.
You should participate in the 2016 M+R Benchmarks Study. Here's how: https://t.co/7A9AOY0Z83 #nptech #fundraising

— M+R (@MRCampaigns) November 17, 2015