Note: This post refers to an archived publication! Visit www.e-benchmarksstudy.com for the most recent versions of all our Benchmarks Studies.
Wow! Once again, you've amazed us! Over 450 people joined us for the 2012 Benchmarks Extra: Facebook webinar we co-hosted with NTEN and the Ad Council last week. Thank you again for being such a great audience.
So many people asked interesting and thoughtful questions during the webinar that we wanted to make sure everyone gets a chance to see them and participate in the discussion! Check out the questions and answers below – they should be useful whether or not you were able to attend the webinar last week. Combine all this knowledge with your free copy of the Benchmarks Extra: Facebook study, and you'll be rocking your organization's Facebook page in no time!
Q: I missed the webinar. Are the slides available?
A: Of course! You can watch the whole presentation, right here!
Q: Viral Reach? Daily Action Rate? What do all these terms mean again and how do I calculate them?
A: We know, a lot of the terms we used might be new for you. That's why we included a Glossary at the end of the report – download the report and check it out! Many of the metrics in our report require no calculations. Total Reach, Viral Reach, Fan Page Users, People Talking About This, and Daily Page Engaged Users are all reported by Facebook Insights – export your monthly data and you'll see. And for you math nerds, here are the formulas of the metrics we calculated outside of Facebook:
Daily Action Rate
: [1,000 * Total likes and comments on page's posts for a given day] / [Fan page users]
Monthly Churn
: [Total users end of last month + New users this month – Total users end of this month] / [Total users end of last month + New users this month]
Q: How do I find how many people have unsubscribed from my page's feed?
A: It's hard to count exactly how many people have unsubscribed from your page, which is why we report churn instead (the overall loss of people you're reaching). A good metric to keep an eye on if you're concerned about churn is Negative Feedback, which represents how often people hide your post or choose to hide all posts from your page. Facebook reports negative feedback on a post level, and also as daily, weekly, and 28-day page metrics.
Q: What are some tactics for growing your fan page size?
A: We got this same question a few times during last year's webinar, so we offered up some advice for growing an email list through Facebook, and vice versa.
One of the tactics we highlighted during the webinar is the "like drive" – where you promote a campaign to receive more likes through various channels, including a dedicated email. Learn more about best practices for a "like drive" from our blog post. Someone asked if hiding content from non-fans violates Facebook's terms of service – it doesn't! Just be sure to stay away from offering prizes or sweepstakes.
Also, if you increase your reach, your page will get in front of more people and more people will have the opportunity to like your page. And don't forget about Facebook Ads – they can be very effective!
Q: What is EdgeRank and how does it work?
A: EdgeRank is Facebook's algorithm for what items populate a user's news feed. The likelihood that your page's content will get into a user's news feed is determined by how recently the content was created, what type of content it is, and past interactions between your page and the user. We love this post from FirstGiving – consider it a primer on EdgeRank.
Q: So, bottom line, how can I increase my reach?
A: That's what everyone wants to know! You have to play into the EdgeRank algorithm, and you can do that two ways:
1. Post rich content like photos, videos, and links. EdgeRank gives these higher value for news feeds.
2. Get people to engage with your content. As people are interact with your page more, EdgeRank will show your content to them more often, thus increasing your reach. Your viral reach will also increase because with every like, comment, or share, your page's content shows up in more people's feeds.
Q: How do I post engaging content that generates likes, comments, and shares?
A: You'll see some examples of engaging posts in the Benchmarks Extra: Facebook study and a few more below. Asking questions or posting trivia are great ways to get people talking in the comments. You can also simply ask for likes and shares directly.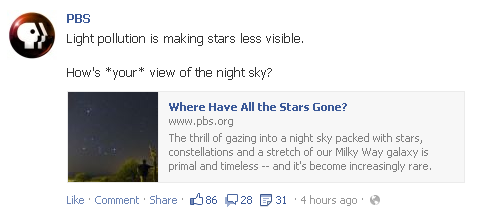 Also remember that photos and videos often spark a lot of engagement. You may not be a wildlife or animal welfare group with cute animal photos, but don't count yourself out of the photo game. Take some tips from Nonprofit Tech 2.0 and post one of these 11 types of photos to engage your audience… or you could just work cute animal photos into your mission, like HRC did here.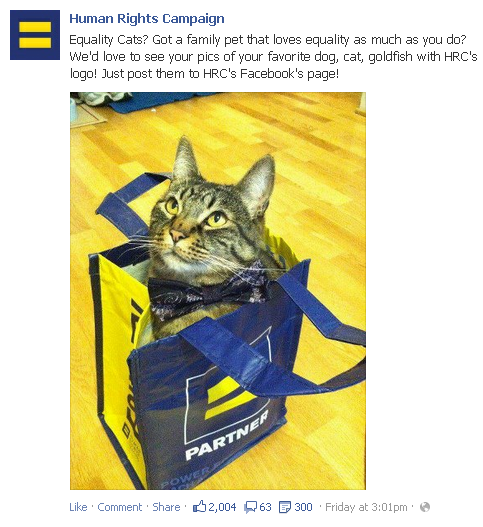 Q: Should I be using third party apps like Hootsuite to post to Facebook?
A: Ideally, no. Posts from third party apps are downgraded by EdgeRank, so they aren't shown to as many people. In the past, third party apps were sometimes necessary because they allowed page administrators to schedule posts. But now, Facebook has built in this feature so you don't need to use third party apps which would hurt your EdgeRank. Learn from Facebook how to schedule your posts.
Q: What should my organization be tracking?
A: What your organization should be tracking depends on your goals. So before you set out to make a list of what you're going to track, you should take a step back to determine what you're trying to achieve. Here's a tip – if you choose the same metrics that we've included in the study, you can compare yourself to other organizations!
Once you've identified what measures you want to track and set your goals for improving or maintaining them, put them in a spreadsheet and begin tracking them regularly (weekly or monthly). Track your own progress over time, and compare to benchmarks measurements.
Q: My sector isn't in the study. What should I do?
A: Look at the "All Sectors" numbers, or pick the sector most similar to yours.
Q: How does a new sector get added to the Benchmarks study?
A: We want to include as many sectors as we can, but we need a critical mass of groups to make it work. If you want a new sector in next year's Benchmarks study, please email us to volunteer to be in the study! And if you can also help recruit other organizations from the sector to be in the study, the chances we'll be able to break your results out by sector will be even better. (We've heard a lot of chatter about wanting Arts & Cultural organizations… we hope to include you all soon – get in touch!)
Hopefully we've answered a bulk of your questions, and now you're ready to use the Benchmarks Extra: Facebook report to start mastering your organization's Facebook page. Have a question we missed? Let us know in the comments below!