Read time: 6 minutes
A nonprofit in crisis response mode needs to be nimble, efficient, and effective. So we made a go-to version you can use to be sure your nonprofit's voice (and donation page link) is breaking through and reaching those who need it.
Here are six steps you can take to ensure the work you're doing to help the most impacted communities is in the news during the coronavirus crisis. We've also included a list of all the "How to Help" news roundups you could be pitching for your nonprofit during the crisis.
1. Determine your voice and role for this moment.
Whenever communicating with the media, it's important to consider your role. That's especially important right now, when just about everyone in the world is engaged in a single conversation. 
What unique perspective can you and only you bring to bear? What meaningful knowledge or deep expertise do you and only you command? What makes you the right voice to be out in front of this issue in this moment?
If you're helping feed families, protect renters, get medical care to immigrants without status, transform paid family leave and childcare policies, inform the public about what to do in a public health crisis, and so many more actions that demand attention—then your nonprofit belongs in the news this week.
2. Press pause on communications and press plans that don't have a role for the moment.
There are some emergencies and crises that last a week and don't affect your plans. In case it's not obvious: this pandemic is not one of those. The pandemic will dominate the headlines and consume reporters for weeks—if not months—to come. And it's not just health care reporters, or political reporters, or a handful of others covering this—reporters on virtually every beat are writing about coronavirus from various perspectives. 
That means we need to take a moment and think about how this impacts our planning—not just for April, or for the spring, but for all of 2020. Assess your existing communications plan and make modifications—either pausing and shifting into planning mode or being clear-eyed about if and how you can add value to the conversation. 
The questions you need to ask yourself go beyond whether it's strategic to release your annual report about xyz this month. Instead, the more important question to ask is: Does the world really need to know this information at the moment? Will this help reporters cover the impact of the coronavirus and inform or influence the public or policymakers during the crisis?
If yes, then keep calm, wash your hands, and carry on. If no, that's okay. Develop your content and file it away for a future time when it's more appropriate, and much more likely to receive attention. There will come a day when it's right to release that report or hold that event (in person or virtually).
3. Establish your chain of communications command.
Crisis news cycles turn on a 24/7 wheel. While it's critical that those of us running on that wheel practice self-care and take a break from work, sometimes people will need to be reachable beyond the normal 9-5 Mon-Fri.
To reduce the stress and give people a chance to recharge, make sure everyone on your team knows who will be on-call over the weekend to sign off on press materials and give media interviews if needed. We're seeing lots of nonprofit press officers keep this information in their cell's phonebook and remotely accessible locations like a Google sheet.
And if you haven't already, spell out and streamline your nonprofit's press and social media statement approval process. Identify the one or two key people who need to review and sign off on a statement—and who can act as their proxy if they're unavailable—so that you're not getting caught up in red tape when time is of the essence.
4. Act fast and don't let perfection be the enemy of good.
News outlets are in a big rush, and they're not going to wait around while you craft your usual thoughtful, flawless statement or pitch. Speed is everything.
Internally, this means establishing expectations for the quickest way to reach teammates in an emergency. You may find that calling and/or texting first (rather than email or Slack) is the quickest and best way to inform and engage the right people in a hurry.
Externally, acting fast means not letting perfect be the enemy of good. You don't have to include everything you have to say—and reporters' inboxes can't handle it anyway. Instead, only include top-level information about your response and pertinent links for the public. You can always follow up later with more information.
5. Get your pitch email right.
Your contacts are as stressed and overwhelmed as the rest of us right now, so do them a favor: don't get sloppy with your pitch. Before you hit send on that email to a reporter or media list, check your email to make sure…
The subject line is super direct. For example: "[ORGANIZATION] Calls on Lawmakers to Halt New York Evictions during COVID-19 Crisis"

The pitch email is as short as possible.

The pitch email mentions who you can connect reporters to if they want to learn more—like medical experts or contacts on the ground in affected communities available for interviews.
TIP! We made a fast pitch tool to help nonprofits draft short and effective pitches that we hope helps.
6. Get your nonprofit in the "How to Help" news roundups.
You've surely seen a bunch of "How to Help" news stories with roundups of links to nonprofit donation pages. We're currently keeping our data eyes on what kind of fundraising impact these stories have. But we can say that in the past two weeks for a couple nonprofits we work with, the impact has been great. Traffic to news sites is through the roof right now, and people are yearning to do something to help.
So how do you get your nonprofit in those round-ups? 
Reporters and editors will often continue to add more nonprofits to these stories even after they've been published. And we won't be surprised to see news sites publish new round-ups as the crisis continues. So the people to contact first are the reporters who are already making these round-ups. (SEE BELOW!)
Your notes to these reporters should follow the format from Tip #5 in this post. (SEE ABOVE!)
Similarly, this is a great time to lean on any social media influencers you have strong, existing relationships with. For one heartwarming example, former President Obama shared a Twitter thread on "how to help" during the coronavirus outbreak. He may be just a tad harder to secure than other influencers—but you get the gist.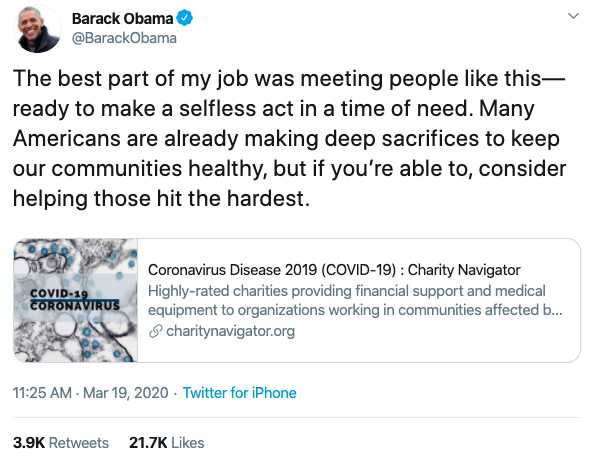 To give you a head start pitching your nonprofit to be part of these lists, we want to share links to the "How to Help" news roundups that our team is using too.
National
The New York Times: How You Can Help Victims of the Coronavirus Pandemic
The Washington Post: How you can help during the coronavirus outbreak
USA Today: Mister Rogers said to 'look for the helpers.' Here's how to help amid coronavirus panic.
CNN: How to feed the hungry, protect health professionals, aid refugees and support service workers during the pandemic
CBS: How to help your community amid pandemic
Good Morning America: Ways to volunteer from home and how to help food banks during coronavirus
PBS: How uninsured patients can get help during COVID-19 pandemic
The Atlantic: What You Can Do Right Now About the Coronavirus
TIME: How to Help — Or Get Help — in the Coronavirus Pandemic
Vogue Magazine: Here's How to Help Those Most Directly Affected by the Coronavirus Pandemic
Paper Magazine: How to Help Incarcerated People During COVID-19
Regional
San Francisco Chronicle: 'Last man standing': Bay Area nonprofits that help the vulnerable try to push on during coronavirus
The Mercury News: How to help during the coronavirus crisis
Chicago Tribune : How you can get financial help to get through the coronavirus crisis
Houston Chronicle: How to help Houston's hungry, even from home
The Seattle Times : Want to donate to coronavirus causes in Seattle? Here's how to help
Philadelphia Inquirer: How to help, or get help, in Philly during coronavirus
Atlanta Magazine: COVID-19: How you can help those in need in Atlanta
Miami New Times: Be a Good Neighbor: A Few Ways You Can Help Miami Survive Coronavirus
Minnesota Public Radio: Coronavirus resources: Ways Minnesotans can help others during pandemic
NJ.com How to volunteer and donate in New Jersey during the coronavirus outbreak
Long Beach Post: How to help those most impacted by the coronavirus (First: stop hoarding)
Trade/Online
Slate: 11 Ways to Channel Your Coronavirus Fears Into Action
Vox: Here's how you can help people who've lost jobs or housing in the wake of coronavirus
WIRED: The Nonprofits and Companies Helping to Fight the Pandemic
Do Something: CORONAVIRUS: WHAT'S HAPPENING AND WHAT YOU CAN DO
The Chronicle of Philanthropy: 6 Steps for Grant Makers to Take Now to Ensure Nonprofits Recover From Coronavirus Spread
Fatherly: 9 Nonprofits Fighting Coronavirus: Organizations That Need Donations
Elite Daily: Here's How To Help Laid-Off Shift & Gig Workers During The Coronavirus Pandemic
The Handbook: How To Help Your Community During The Coronavirus Crisis
These are just a few of the most important steps to include in your rapid response protocol to help you communicate effectively in the middle of a crisis. We know this situation is evolving daily—even hourly. We'll be back over the next few days with more tips and resources to help you and your team navigate this. We're all in it together. 
–––
When Maria isn't working to secure media hits for nonprofits, she likes to read, hike, and find new restaurants to try. For the time being, you'll find her doing all of these things at home in Washington, D.C.—though hiking is the exception. Email her at mboldt@mrss.com
Turning his eyes aways from the news isn't always easy for Jack, but when he does you can find him playing the guitar and piano, running down the National Mall in Washington D.C., and learning how to make the perfect pasta dish. You can reach him at jwalker@mrss.com 
Related Links