Read time: 3 minutes
ICYMI: We released a guide to help nonprofits develop creative that reaches your goals while living your values. It's a pretty great read, if we do say so ourselves! 
We began to unpack the challenges and obligations of developing ethical creative in a roundtable discussion with our friends Amirio Freeman of Feeding America and Rosa Del Angel of Oxfam America. Over the past few months, we've been discussing the core elements of effective creative and how to incorporate them into your direct response creative.
+++
If relevance is about who is listening, authenticity is about who is speaking. Just as relevant creative begins by understanding the audience, authentic creative begins by understanding the speaker.
That speaker may be a specific person. An email may be signed by an organization's president or development director. A campaign might feature video content from field staff, a featured supporter, or a celebrity advocate. A text message might be from a staff organizer or a volunteer.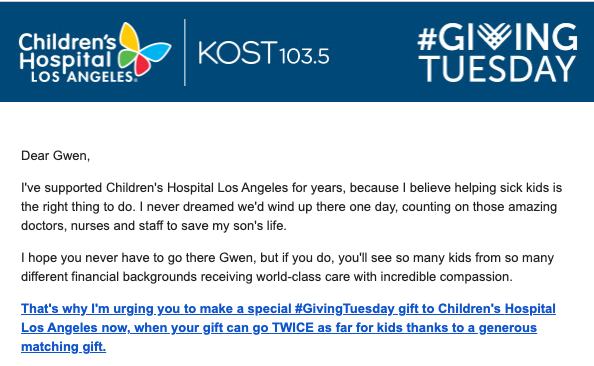 Source: Children's Hospital Los Angeles
In all of these cases, authenticity is enhanced by understanding the speaker's perspective and using it as a lens for creative development. All of the questions we asked about the audience to develop relevant creative apply here as well. The answers should be more clear since we are talking about one specific mind rather than an audience's collective experience, and there is often the opportunity to ask these questions directly.
In many cases, the "speaker" is not a person, but the organization itself. But just because there is no face does not mean there is no voice, and the voice still must be authentic.
Authentic creative will look and sound natural and organic, not forced and artificial. It will use language, visuals, and other creative elements that are appropriate to the speaker in tone and content. It will be focused on issues and actions that make sense given who the organization is, how they effect change, and the relationship they have with the audience.
Source: SEIU
The closer the connection between the speaker and the cause, action, or moment, the greater the potential for authentic creative. An expert can speak with authority in their area of study—that's authentic. A parent can speak powerfully—which is to say, authentically—about issues affecting children. An organization is authentic when it is honest about its role in addressing a need and transparent about how it invests supporters' donations.
Beyond the immediate impact of a particular ask, authenticity serves the long-term effectiveness of creative. It is a way to strengthen and deepen the relationship with an audience, which makes them more likely to pay attention to and respond to further efforts in the future.
The soft power of authenticity is felt most keenly when other elements reach their limits. When an earthquake or tsunami strikes, the enormity of human suffering overtakes efforts to communicate need, urgency, impact. Depending on the circumstances, even relevance may need no explanation. In these moments, nonprofits that have developed authenticity over time will be the first place supporters turn. Authenticity can be a key driver in crowded moments—such as Giving Tuesday, or the lead-up to a presidential election—when so many voices are clamoring for attention at once. When need, impact, and other elements are broadly shared, authentic connections are especially important.
On the other hand, the effectiveness of creative can be dangerously undermined by ignoring authenticity. Real, lived experience matters. Honest, human language matters. Cultural fluency matters. This is one of the ways that organizations can harm their missions when they do not prioritize diversity and inclusion. There is a close relationship between authentic creative and ethical creative, which we explored in our roundtable discussion, and explore more in Section II of Direct Response Creative for Nonprofits: Theory and Practice.
————
Gwen is the Creative Director here at M+R. When she's not scheming up new campaigns or writing dazzling copy, she's kicking it with her pug Frankie. You can reach her at gemmons@mrss.com.
Will is the Senior Creative Director and sole member of M+R's remote Rhode Island outpost. Send him a note at wvalverde@mrss.com with questions about copy, creative, or comics.
Related Links: