Read time: 4 minutes
Over the past few weeks, M+R and our friend Allyson Goldsmith of USA for UNHCR have presented our experiments around using data-driven audience insights to reach more donors and raise more money at NTEN's Nonprofit Technology Conference and at an M+R Roundtable. If you missed out (or didn't miss out but want to relive the whole thing) the recording is here. This M+R Lab post digs into what we shared.   
You probably know your typical donor pretty well. You can describe her—it's almost always a her—in fairly vivid detail. And you wouldn't be wrong, that donor looks typical! But you also wouldn't be entirely right. 
Turns out, your donor file—and each of your donors—contains multitudes. They have unnoticed qualities that drive action, surprising passions that you couldn't possibly predict, and about a thousand quirks that have an impact on how they respond to your appeals and calls to action. 
In other words, the monolithic approach is over. When it comes to digital advertising in particular, we now have access to an abundance of data and tools that enable us to develop a far more complex program that listens to your donors' behavior, learns, and improves. Here's how:
Use the tools that the industry has provided to automate tailored audience approaches.

Don't rely on digital advertising algorithms to do your testing for you.

Use manual data tactics like cluster analyses to find opportunities to expand your targeting to audiences you might be otherwise missing.
Don't just think about your list in terms of demographic differences. Behavior is at least as significant a differentiator.
Don't forget that different audiences will respond differently to different creative. Test and verify what works best!
Some examples:
Colonel Mustard in the Conservatory with the Candlestick, er, the blue button with the snowy scene and the short call to action
USA for UNHCR is using Dynamic Creative Optimization (DCO)—tools that allow advertisers to automatically test hundreds of ad variants in Facebook and on display—to tailor creative in real time. Their Senior Manager for Digital Advertising, Allyson Goldsmith shares, "This has become best practice for our ads and has helped us improve performance and find winning combinations of creative we would have never tried otherwise. The callouts on the right show elements of a display ad on which we can run dozens of test variants at the same time."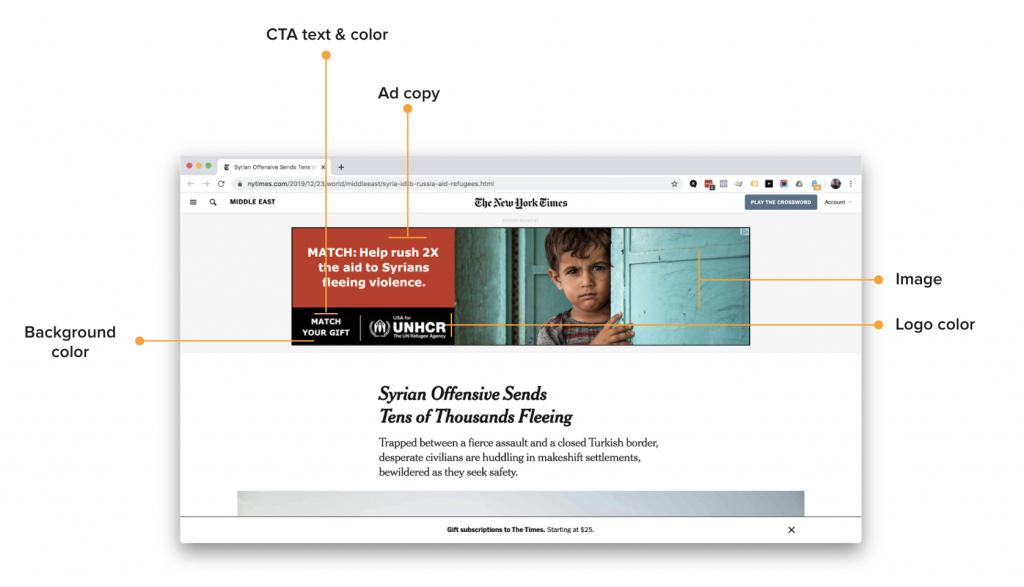 DCO technology means we generate 100s of versions of ads, which would be impossible to make by hand, and takes advantage of the algorithm to adjust who gets served which ad based on prior performance. It's not about finding the "best" version…it's about serving the right version to the right person in that moment. The results are impressive: USA for UNHCR was able to achieve 3x the average performance of running any single variant!
Danger: If you treat your audience like a monolith, you end up with…a monolith
UNHCR Canada uses "Lookalike" iterations to test a multitude of audience targeting options. And because they operate in a three different countries around the world, we've started testing different combinations of input donors for their lookalikes and have seen some surprising results!

For example, you would expect that a lookalike of Canadian donors would perform the best in Canada, right? Not so fast. What we've actually seen is that while Canada lookalikes definitely outperform other countries, a combination of all three performed the best during this test.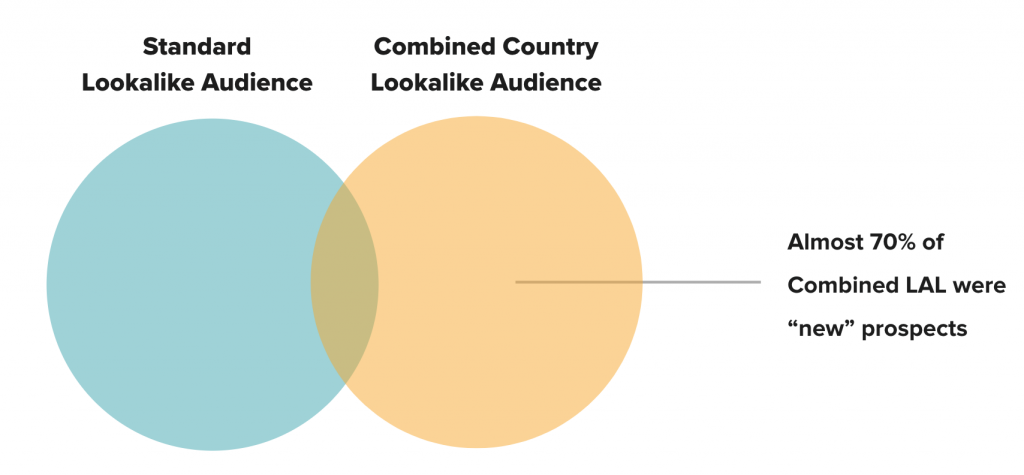 Your intuition is often wrong!
We've all learned this lesson over and over: what we think is the obvious winning creative for a particular segment often bombs. And sometimes the one you think is a real stretch…ends up being the top performer. Ideally, you learn this lesson before spending a bucket of money on the lackluster performers. 
We recently helped a client explore creative options for several emerging clusters within their sustainer pool (new to hidden markets and cluster analyses? Check out this post!).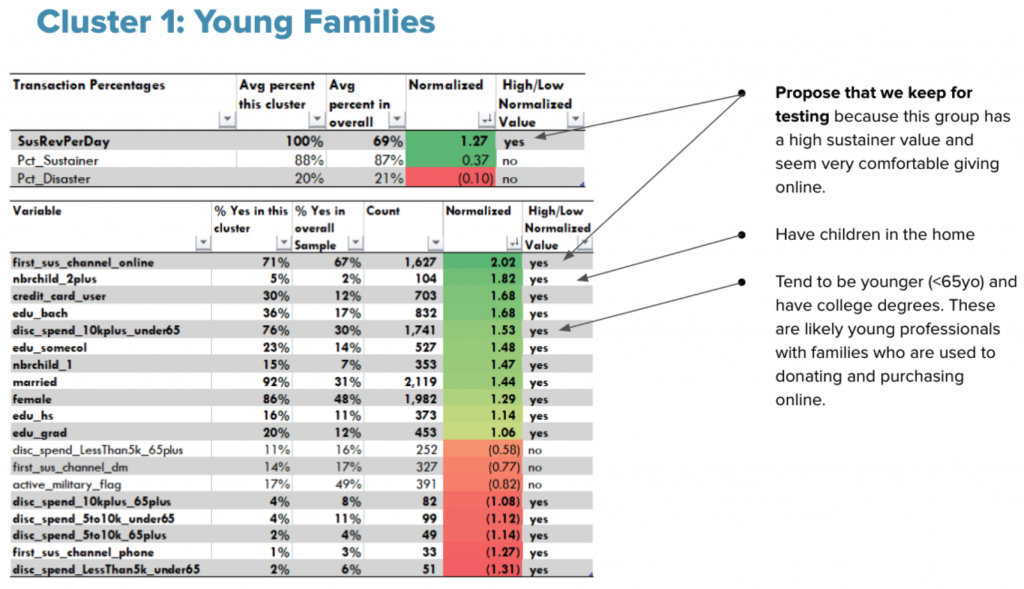 After selecting our emerging clusters, we developed a set of hypotheses about each cluster and produced a set of initial creative concepts.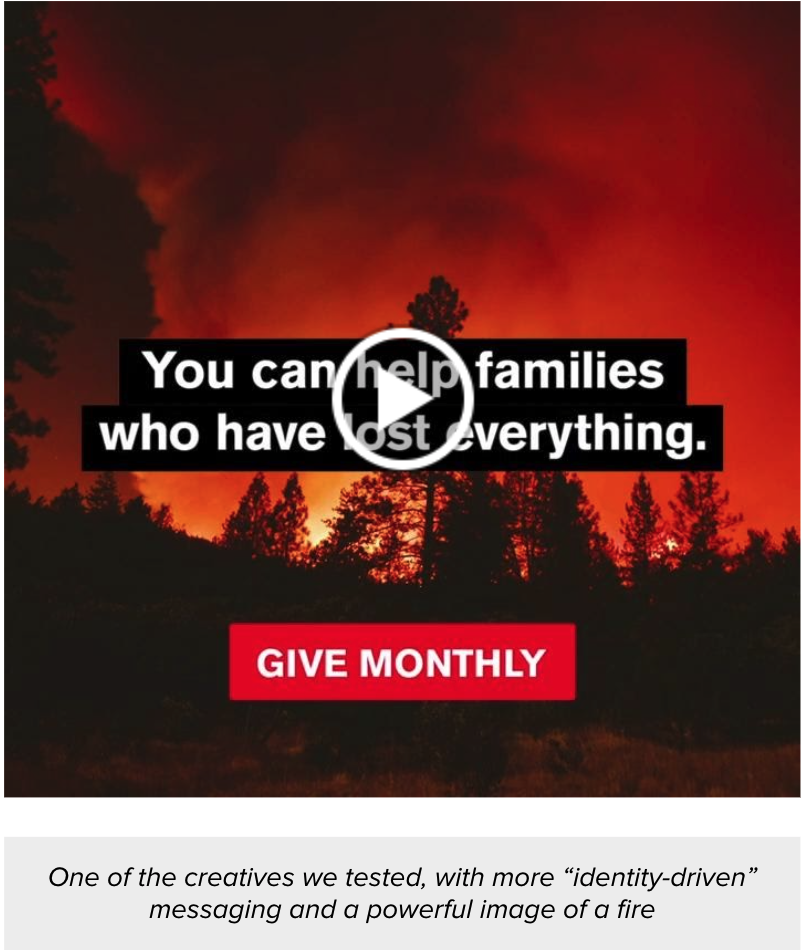 Then, through pre-market testing and data modelling, we gathered quantitative and qualitative data on which creatives best motivate people similar to the organization clusters to give.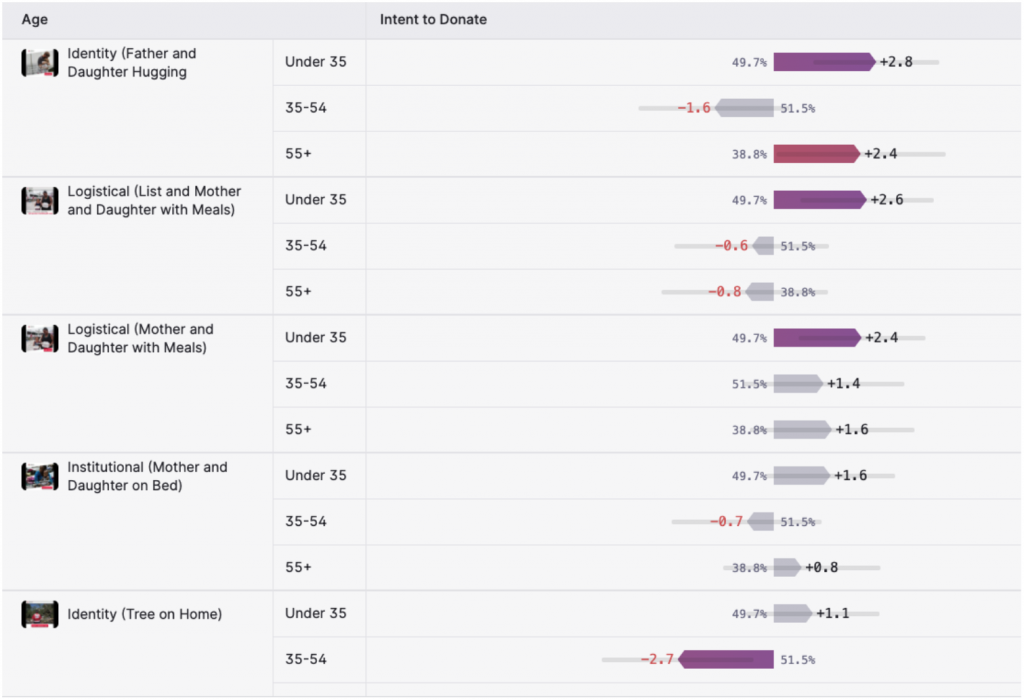 Finally, using the findings from pre-market testing, we revised the winning creative and developed new, unique creative for each cluster. We then launched the concepts to lookalike audiences of the organization clusters.
The results were wildly successful. Over a four-week period, we were able to recruit donors at a much higher return on ad spend (ROAS) ($1.24 vs. $0.15), with sustainer acquisitions making up 17% of all annualized revenue. 
***
Did these examples get you hopped up for more data-driven audience insights? Good news: you can find lots more in this recording of our Roundtable. And if you want to be on the list for the next Roundtable, sign up here!
——————
Matt is a Senior Vice President, based out of New York City, working on Advertising, and in the Before Times regularly spoke at conferences in Europe like the Institute of Fundraising's Fundraising Convention in London and The Resource Alliance's IFC in Amsterdam. You can email him at mderby@mrss.com.
Gwen is the Creative Director here at M+R. When she's not scheming up new campaigns or writing dazzling copy, she's kicking it with her pug Frankie. You can reach her at gemmons@mrss.com.
Related Links