Read time: 9 minutes
We have something to say that lands somewhere between an observation and a complaint and a call to arms: Not enough attention is paid to mid-level donors. Major donors get the fanfare, the galas, the special one-to-one contact. Small-dollar donors are often the solid foundation, the activists, the heart of the movement.

And so, too often, the magic of mid-level giving is lost, especially in digital channels. And it's a big loss! For one nonprofit we work with, individual donors who give between $1,000–$99,000 make up less than 1% of the overall donor base, but they contribute an amount that is equal to the entire small donor program. Whoa.
That's not to discount the value of the small-dollar fundraising program. Creating change in this world depends on the contributions and commitment of entire communities, and everyone who joins a movement matters. But from a revenue perspective, sometimes the greatest value of a small-dollar fundraising program is the extent to which it can operate like a pipeline for the mid-level program.
One of the most astonishing things we've found in our digital marketing to these high-value audiences is that just a very small lift in performance among them can yield significant increases in revenue. And, unfortunately, the reverse is also true—what seems like a minor drop-off in your mid-level acquisition or retention rates can create enormous drag on your revenue. 
Goals + strategies
First, let's be clear about who we're talking about. Mid-level donors are typically those who give over $1,000 and up to $100,000, and major donors give anywhere from $25,000 to $100,000 to $1 million or more. Different nonprofits define the levels differently, so what qualifies as "mid-level" in one organization may qualify as "major" at another. Where you draw these lines is less important than how you think about your audiences. 
For many of our clients, our goal is not simply more revenue—it's to expand and accelerate the pipeline. We want to move people up and into the mid-level program more efficiently and effectively, retain them, and build the prospect pool for the major giving program. 
The questions we need to ask go beyond the immediate revenue numbers. What is the speed of upgrade? Do newly acquired mid-level donors retain at higher rates? What is their lifetime value? How large is the potential audience?
In our work with our clients, we have found three core digital strategies that can accelerate the mid-level pipeline:
Find your audience.

Knowing who you should target with this effort—and how to find them online—is the first step. 

Customize your appeals.

This is more than simply adjusting the cadence and frequency. We've found that highly tailored content targeted at your most valuable donors can have a big impact.

Cultivate and engage.

Communicating stories and opportunities to engage in ways that deepen your relationship

with your supporters is a critical strategy for any mid-level donor program, and digital can support that.
Finding your audience part 1: file analysis
There are three audiences to focus on when (re)designing your mid-level program. First, your active mid-level donors, who you want to retain and upgrade. Second, your lapsed cohort—those who have given at this level in the past but have since dropped off. These two groups are important, but you already know how to find them, so let's set them aside for a bit and focus on the third group: prospective mid-level donors. These are the folks in your file—and not yet in your file—who are likely to have the capacity and interest to give significantly more but haven't ever done so.
This is a great place to start, but can sometimes cast too small of a net. 
Some nonprofits are increasingly experimenting with combining wealth scoring, RFM market research, and additional behavioral and demographic data with the goal of building more precise predictive models for mid-level prospects. 
In our work with Oxfam America's mid-level program, we expanded their prospect pool from two existing modeled audiences to six additional prospect groups. Using our own approach drawing from donor recency, frequency, and monetary value data, we more than doubled the size of the prospect audiences.
So far, we have seen our new prospect groups generating 7x the conversions of the wealth-scored donors, and we are continuing to refine our approach based on which segments of this expanded pool made qualifying gifts throughout the first year of the program. 
Finding your audience part 2: matching to digital marketing channels
Once you know who your audience is, you still have to figure out the best digital channels to reach them in. In all likelihood, you are able to reach these donors via direct mail and/or telephone outreach. However, digital can be a bit trickier. We've found that only 25%-40% of mid-level, major donors, and major donor prospects are likely to be subscribed to your mass email list. 
The chart below is an excerpt of an analysis that we conducted for one M+R client, looking at a range of digital platforms, and the "match rate" of our donors to those platforms. As you can see, 1:1 personal email is by far the best digital channel, but even that does not have a 100% match rate!
SEGMENT
1:1 EMAIL
MASS EMAIL
MASS SMS
DISPLAY ADS
FACEBOOK
TWITTER
LINKEDIN

Major Donors

83%

42%

17%

53%

28%

23%

54%

Mid-Level Donors

80%

39%

22%

19%

50%

Major Donor Prospects

86%

30%

18%

34%

23%

57%

Mid Level Prospects

86%

33%

29%

14%

53%
While this is not a comprehensive list of possible digital channels, it gives us real insight into how important it is to understand where you might find your most valuable donors. In order to design an effective digital marketing program for these incredibly valuable donors, you will want to design a strategy that uses a mix of digital channels, and not rely on one channel (for instance, mass email) alone. 
One hot take: We did an informal survey of several groups, and while we found that most are not yet using peer-to-peer texting to reach their mid-level donors, the handful of organizations who are doing so are getting GREAT results.
So, now that we know who our audience is, and where and how to find them, what do we send to them in order to achieve our goal? 
Sidebar: Building a pixel-based audience
There is another way to improve your reach via display and Facebook advertising—build a pixeled audience. We could write a whole blog post on this topic alone, but here's the quick version: 
If you create a special page or set of pages that ONLY major donors have the link to—for instance, an exclusive version of your annual report, or event registration pages for high dollar donors—you can place advertising pixels on those pages and start to build an audience for retargeting.

This will allow you to show ads to your major donors even if they don't match via other means. You can promote these private/unique URLs in 1:1 email, in mass email, in SMS, via a private Facebook group, or even in direct mail. Any individual who goes to that page will be 'pixeled,' making it possible to now show them ads. We suggest having a steady state pixeling strategy so you are constantly building this audience.
Highly custom appeals
In the world of direct mail, a mid-level treatment might include a fancy envelope, high-quality paper, and a special premium. How do you replicate that feeling in an email?
Working with Oxfam America's mid-level Impact Circle, we designed a strategy that delivered a more personalized service at scale: branded email appeals with highly tailored content inviting people to join the named mid-level program. But we weren't sure that this level of effort was making a difference (or even potentially depressing response)—so we tested it! 
Over three months and 15 fundraising appeals, we tested using custom language for mid-level prospects, including thanking them for their support, describing the impact of the group, and asking them to make an Impact Circle-qualifying gift.
Here is an excerpt from these custom email messages:

This approach yielded an incredible 100% increase in response rate, and a 135% increase in revenue per visitor.
Cultivate + engage
For many digital marketing programs, cultivation can be an afterthought. But we've found cultivation and engagement to be essential building blocks for a mid-level giving program, and communications that are designed to cultivate your relationship with your donors can yield a huge impact. 
Below is the mid-level welcome email that Oxfam America sends to new mid-level donors. This also features a link to their private Facebook group.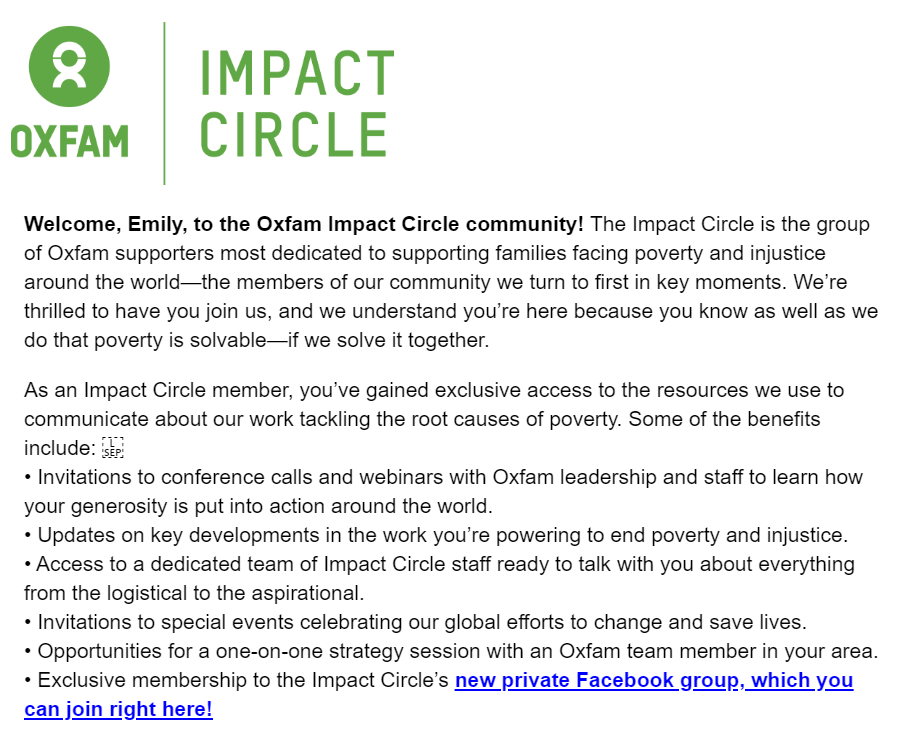 Through our work with Oxfam America, we started a new communication stream—a special bimonthly report—to give mid-level donors and prospects a deeper understanding of their gifts' power.
Though these pieces mostly do not include direct donation asks, they also generate incremental revenue. Donors give generously to these emails without decreasing their response to direct fundraising efforts. 
Sample impact report from Oxfam America.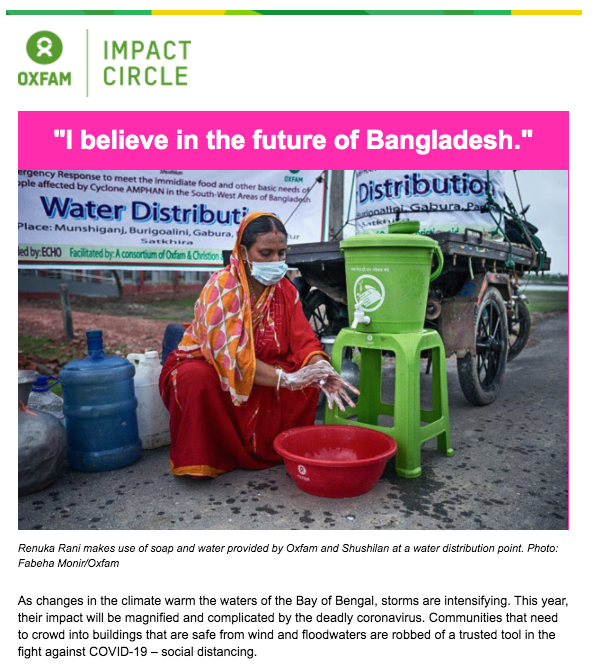 And recently, we've started running mini impact reports in ads! Again, these are for cultivation, but they've been doing surprisingly well in generating donations—a 4.5x return on ad spend, and they don't even have a donation ask!  
Impact report advertisements to mid-level donors.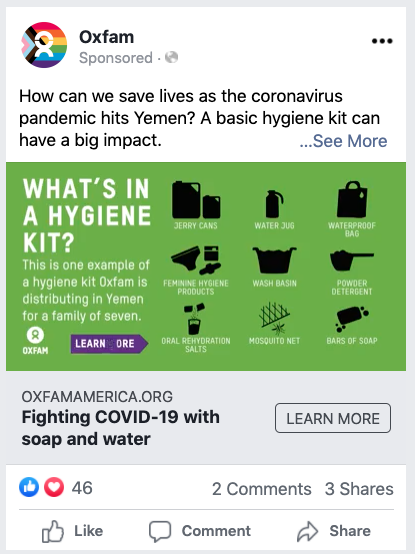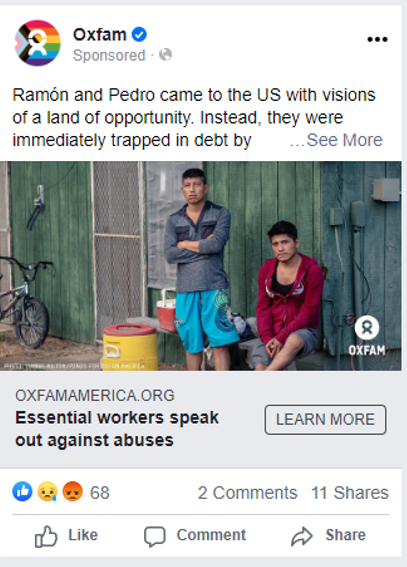 This fall, another M+R client, LCV Victory Fund, tested advertisements targeting mid-level donors and prospects. These ads focused on brand validation and impact. The strategy was designed to create a 'surround sound' across social media and news websites. 
For instance, when LCV Victory Fund's efforts were covered in prominent news outlets like the Washington Post, we amplified that story by doing paid advertising to put it in front of our mid-level donors. The results of this campaign for mid-level donors were remarkable—a 100% increase in revenue per person as compared to the control group who did not see the advertising. 
Samples from LCV's advertising to mid-level and major donors.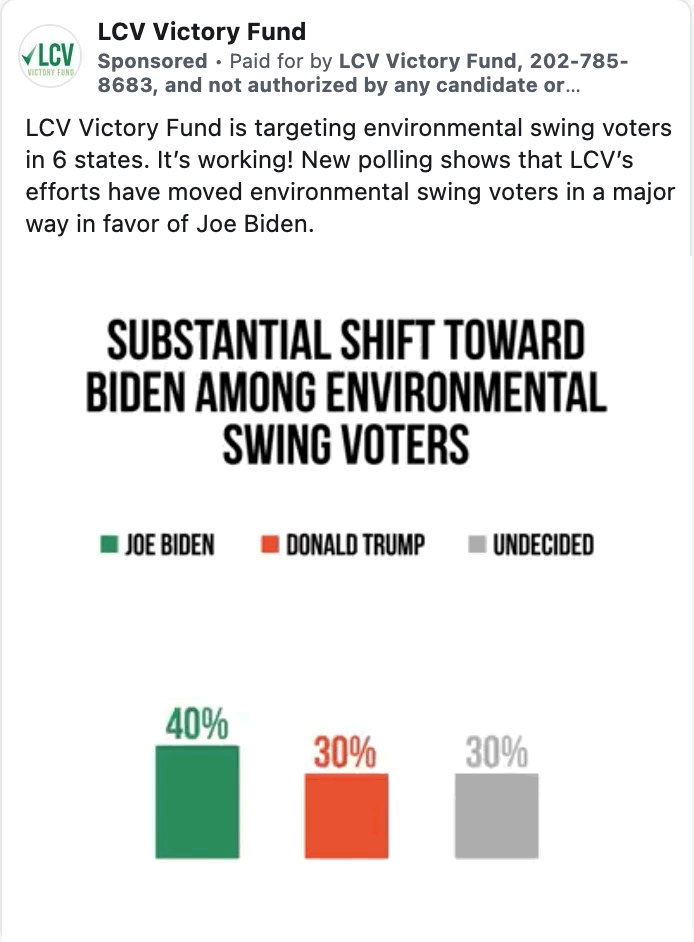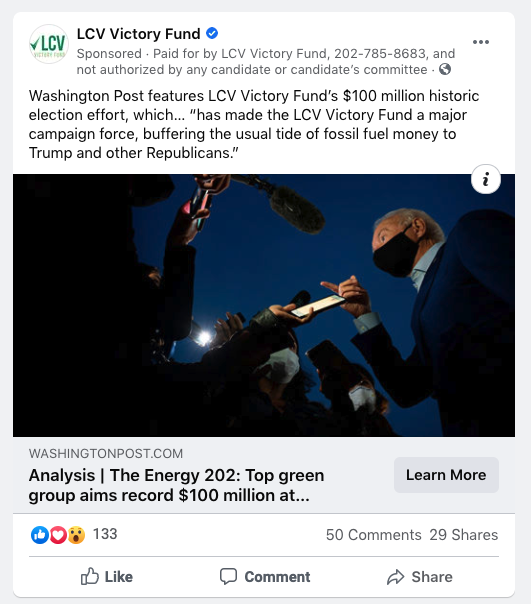 M+R client Union of Concerned Scientists invited their mid-level members to send in book recommendations. They included some of these in their next "impact report" email, with an invitation to get the full list of book recommendations. This approach gave an opportunity for two personal touchpoints!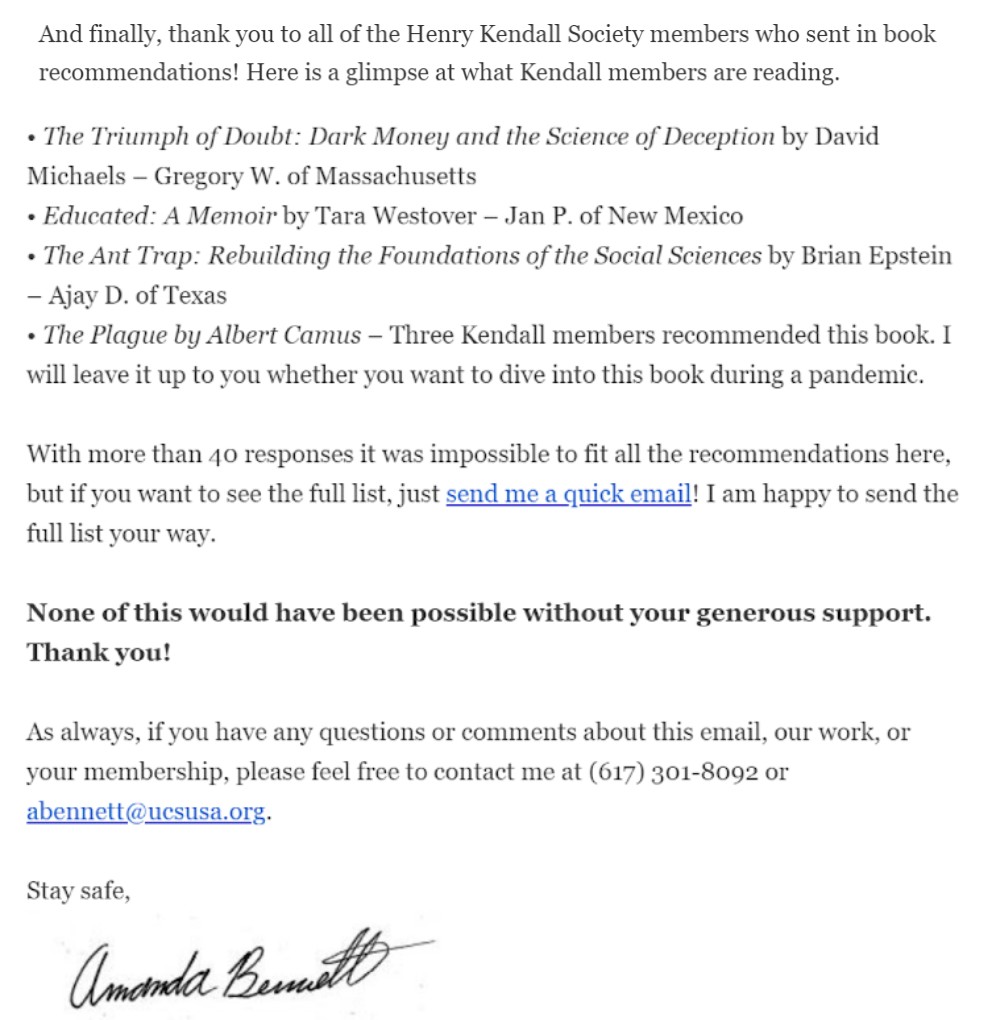 Analyzing the results
Let's go back to the core questions we started with. So the key question is of course, does all of this extra work yield results? Do these tactics move mid-level prospects to upgrade more quickly to mid-level giving? Does this help us retain and upgrade our mid-level donors at faster rates? Have we accelerated the pipeline? 
The answer to that so far is a resounding yes. The individual strategies and tactics often yield impressive results:
New prospect groups with 7x the conversions of wealth scored donors;

A 100% increase in giving from mid-level prospects when custom content is added; and 

Cultivation advertisements that yield 4.5x the cost of the media buys in direct revenue.
But the immediate story is in the overall program performance. In the past two years, Oxfam America has seen revenue from its mid-level digital program grow by 83%. The LCV Victory Fund found that mid-level donors in their digital surround sound program gave on average twice the amount that the control group did—an enormous lift. 
Have you tried other tactics for building your mid-level program? We'd love to hear 'em @mrcampaigns!
p.s. A big thank you to the 25 clients and friends who took part in our discussions around mid-level giving!
————
Sarah DiJulio is a Partner at M+R. When Sarah's not at work (and there's not a pandemic), you can usually find her with her two boys hiking the Billy Goat Trail, swimming at the pool, or exploring the Museum of Natural History. You can reach her at sdijulio@mrss.com.
Yoonhyung Lee is currently a stay-at-home parent, teacher, janitor, Girl Scout cookie distributor, and Senior Vice President for Digital Fundraising and Advocacy, based out of the Washington, D.C. area. Her clients include Oxfam America, the American Museum of Natural History, and the American Red Cross. She is happy to be not as invested in the Super Bowl this year, since her beloved Patriots have sent a smaller contingent than usual.
Related Links