Read time: 5 minutes
M+R's annual Benchmarks Study crunches millions of data points from over 150 nonprofits including fundraising, advocacy, advertising, and website stats. And there is PLENTY to love and learn from if you work in nonprofit social media, where our world is changing fast.
Social media audiences are still growing
In 2017, the average nonprofit saw an increase of 13% in Facebook audience size and 15% for Twitter. Instagram growth far surpassed these two, with audiences growing 44% over the course of 2017.
Insta still has some catching up to do, though—despite faster growth on that platform, most nonprofits still have far more followers on Facebook: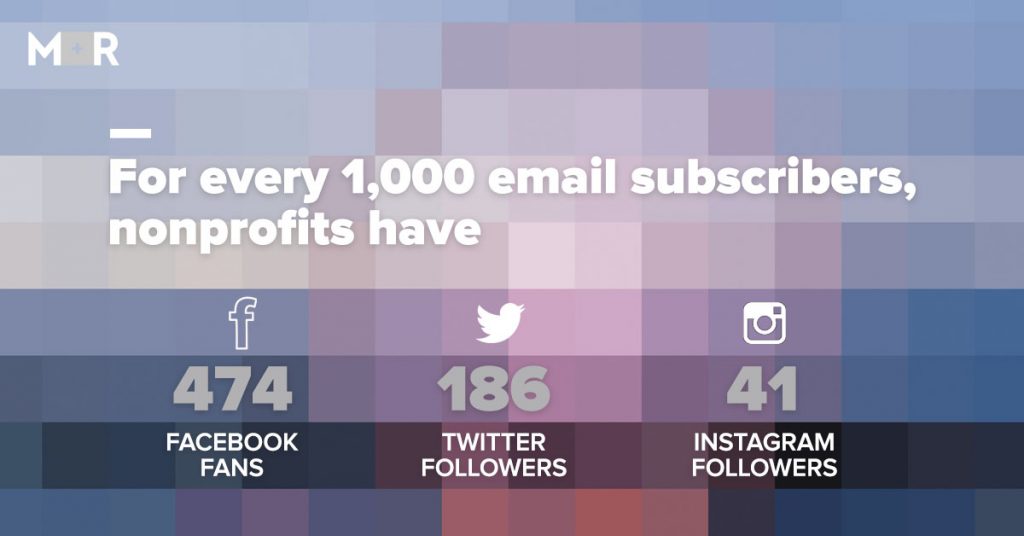 Of course, social media isn't just about how many fans you have, it's about what you do with them (and what they do for your cause). The average nonprofit posted 1.5 times per day on Facebook and 3.3 times per day on Twitter, though the averages vary by sector. See all the details and check out how you compare to your sector at mrbenchmarks.com >>
Better metrics to measure post performance
We've never been satisfied with the post metrics Facebook provides, so for this year's Benchmarks Study we created a few new metrics of our own. It can be helpful to compare your performance to similar organizations to get a baseline, but we really recommend tracking these over time and establishing (and then surpassing!) benchmarks for your program.
ERA (Earned Reach Average)—Measures the reach of a post compared to the size of your page, so you can compare to other organizations and compare reach of your posts over time despite your amazing growth. On average, any given post reached 112 people total for every 1,000 likes of the Facebook page, for an overall ERA of 0.112. Read more about ERA here or see page 31 of the Study.
Engagement Score—Measures how many people are engaging with your post in some way. The Engagement Score for an average Facebook post was 0.44%, meaning 0.44% of people who like the page engaged with the post. Of course you want to maximize this in order to beat the algorithm and show your posts to more people. We suggest a very specific way to calculate engagement score—read more about it and all the metrics below here.
Clap Score—Measures how many people click Like or some other reaction. The overall median Clap Score was 0.18%. This is the lowest-bar engagement on Facebook and is a good indicator of which posts are sparking an emotional response.
Share Score—Measures how many people share your post. The overall median Share Score was 0.068%. Calculate Share Score for all your posts and see what type of content people share most with their friends. Then you will know how to get important messages beyond your audience bubble!
Talk Score—Measures how many people are commenting on your post. The overall median Talk Score was 0.016%. Comments often tell Facebook that your post is engaging so better Talk Scores should help you get better reach on your posts.
If you calculate these for every post you make, you can establish your own benchmarks and start to see trends in which type of content gets the best reach and engagement, and what scores help you to get the best reach.  
It's all about advertising
If you only read the social media section of the M+R Benchmarks report every year, you're missing out on something important: Advertising—especially social media advertising—is an increasingly important element of nonprofit programs.
The average nonprofit spends 5 cents on digital ads for every dollar they raise online, and 44% of digital advertising budgets go towards social media advertising.
In our experience, most groups are doing more than just boosting Facebook posts (on average, 2.6% of an organization's Facebook posts were boosted). They are setting up campaigns aimed at lead generation, direct fundraising, or branding, and targeting specific audiences like donation page abandoners or audiences modeled to look like their donors.
If you haven't dug into social media advertising yet, it's probably time to start. Get the lay of the land by reading the Digital Advertising section of our Benchmarks report >>
Your promotions are only as good as your landing page
As a savvy social media professional, you already know to think about mobile first, because the majority of time spent on social media is happening on mobile. That means that if you want people to click off Facebook or Twitter to visit your site—say, a donation page—that page absolutely must be mobile optimized.
But you wouldn't be alone if you had a hard time pushing your organization to make changes just for social media traffic. Well now it's not just about you. We have new data in the 2018 Benchmarks Study that backs up the need to focus on the mobile experience:
Mobile traffic to nonprofit websites increased by 9% in 2017, while desktop decreased by 4%.

People on mobile devices now make up 50% of nonprofit website traffic on average—for your organization it could be more.

Desktop is still driving most web revenue at 76%, but this will likely continue to shift, especially as groups invest more in converting the mobile visitor.  

From 2016 to 2017, the proportion of transactions from mobile users increase by 50%!
One important thing to think about for those landing pages—either on mobile or desktop—is how fast the page loads. Do you know how long your website and donation page take to load? Check out how to test your page load speed and compare to benchmarks >>
There was a time not too long ago when social media strategy was a bit of an afterthought for a lot of nonprofits, something to consider once you'd figured out the website and email. Not anymore. Social touches every part of what nonprofits do online, from fundraising to organizing to marketing to advocacy.
So feel free to do what I do, and flip straight to the social media section of the Benchmarks Study. But then, take the time to read through the rest, too. There's something on almost every page you can use to develop smarter strategy and more effective content on all your social channels.