Read time: 6 minutes
It's day 9,347 of quarantine (give or take). You've eaten all your good snacks. Run out of ways to occupy your kids. Watched that virtual 'Hamilton' concert a dozen times, wondering if the next time will be the time you watch it and don't tear up (it won't be).
If you're like a lot of the nonprofits we work with, you're also trying to balance being thoughtful and compassionate about the impact of COVID-19 on your supporters while still doing the very urgent, very important work you do every day. And you're doing that while figuring out Zoom passwords, juggling pups and partners and kids, and dealing with the aforementioned good snack shortage.
So much of our work—and our world—has changed, so quickly. Here's how we're seeing the digital advertising landscape shift—and how you can adjust your strategy to meet this moment head on:
Step one: Understand the new rules of the road.
Facebook and Google have both announced new guidelines for advertising around coronavirus, in an attempt to avoid the spread of disinformation or profiteering around the virus (were you planning to do this? This post is not for you).
Facebook has prohibited ads that "refer to the coronavirus in ways intended to create a panic or imply that their products guarantee a cure or prevent people from contracting it."
Google has gone a step further, restricting specific coronavirus keywords and content on search, display, and YouTube. At the outset, only government entities, hospitals, and nonprofits working directly on the coronavirus could use those keywords. Recently, they've permitted political and issue ads around the coronavirus as well. Some groups have needed to contact Google directly to have their account whitelisted.
Step two: If you need help, ask.
We've heard a lot of trepidation from the nonprofit community about whether it's appropriate to run ads asking people to support their mission right now. 
So here's the scoop: People WANT to do something right now. Not just because they've finished organizing their bookshelf by color and need something else to do. But because in a moment of unimaginable uncertainty and suffering, people genuinely want to do something—anything—to help. 
We always obsessively monitor our clients' ad performance—now more than ever. Many nonprofits aren't seeing a drop compared to 2019. If anything, they're seeing a stronger response. This is true for nonprofits who are directly responding to the crisis, and for those continuing to make their mission a reality in spite of everything going on.

So don't be shy—if you're helping frontline workers get the personal protective equipment they need to stay safe on the job, ask people to help you put pressure on companies. If you're making sure domestic workers get the paid sick days they need to care for themselves or loved ones, make sure you're asking people to contribute to your emergency fundraising campaign.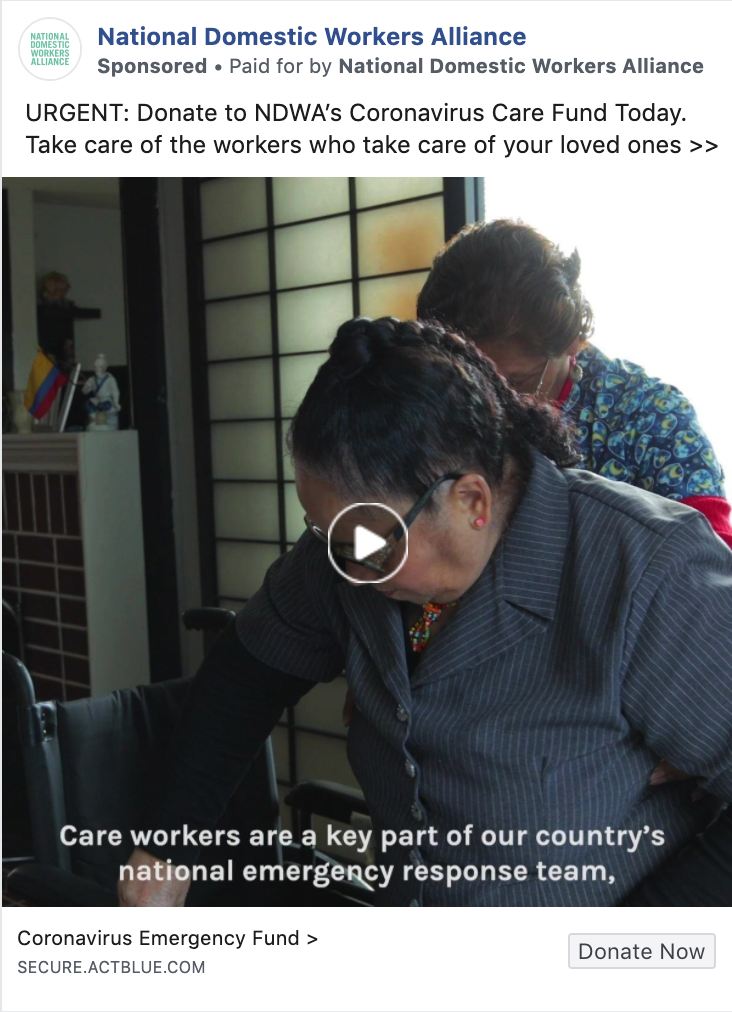 And if you're continuing to protect the environment, safeguard our civil rights, help sexual assault survivors, or any number of other important issues that are STILL HAPPENING amidst this crisis—don't be afraid to raise your hand and ask for help. You'll be pleasantly surprised at how many people take you up on it.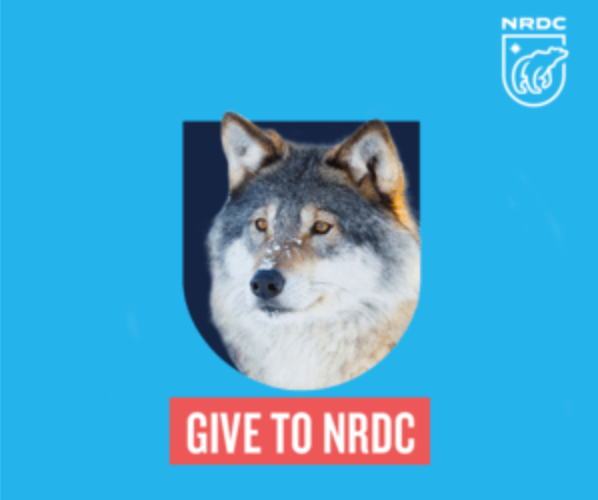 A corollary to step two might be, If you've got important info, don't wait to share it. Ads remain a relatively low lift way to get important information to a large group of people quickly. SEIU, for example, worked overtime to make sure voters in Wisconsin knew when and how they could vote—even as the basic realities of their election changed seemingly every hour.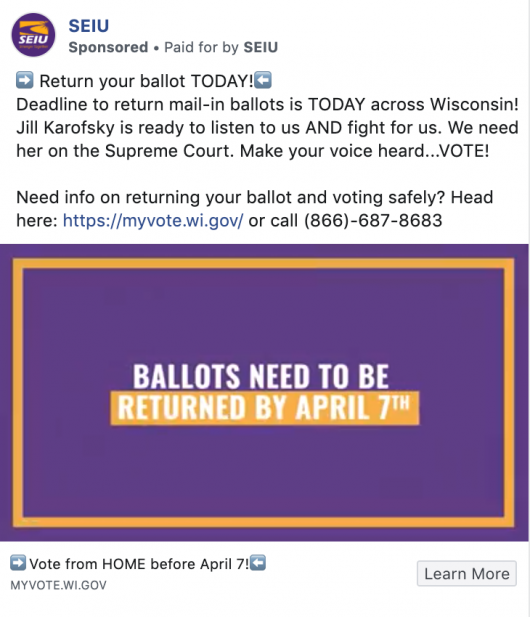 Getting a headache at the thought of updating countless pieces of copy and creative on the fly? Creative optimization and automation tools like Smartly.io can make this easy for you! With these resources, we're able to create hundreds of variants of ads for our clients quickly—and crucially, update them quickly when needed.
Step three: Meet the moment.
All of that above? It doesn't mean business as usual necessarily. Just as every clothing company that targets me is now serving me ads for comfy leggings and "unbelievably soft" hoodies, so too have nonprofits adjusted their creative strategies to fit the moment we're in.
A couple of my faves: World Wildlife Fund is promoting their many, many teaching resources right now—including these coloring pages that are great to work on while you're dialed in to your seventh conference call of the day an engaging way to teach kids about threatened species around the world.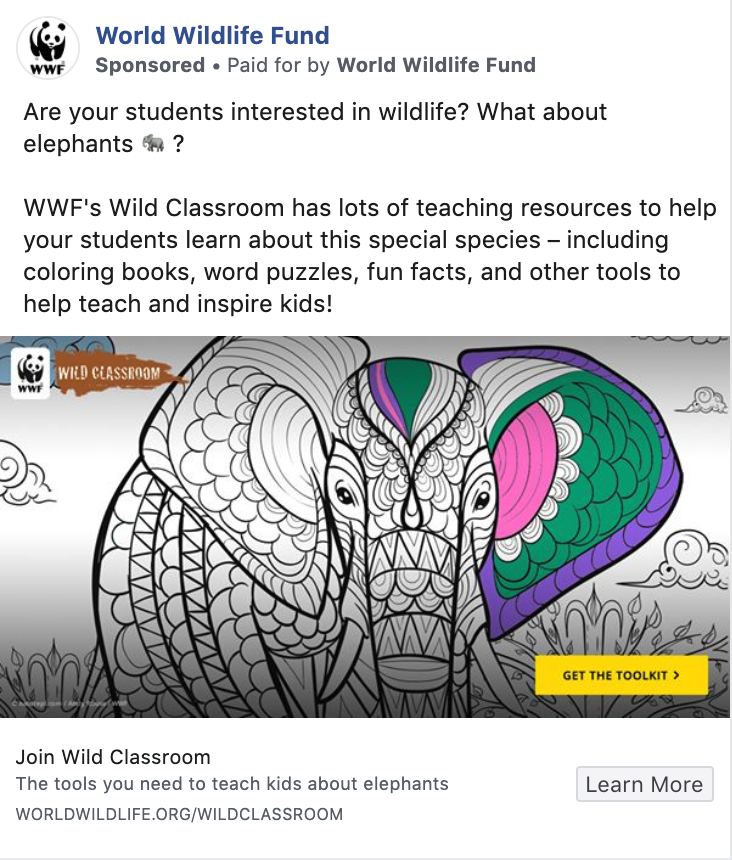 And Planned Parenthood has experimented with copy and creative that's entirely different from their standard fundraising fare—the post copy doesn't even have a direct ask at all! 
USA for UNHCR is also taking a different approach with supporters, using this moment to express gratitude for donors and remind people of the amazing work the USA for UNHCR donor community accomplishes. It's a little slice of hope in a world of bad news.
Meanwhile, NARAL Pro-Choice America isn't letting social distancing get in the way of filming great ads—their recent spot is basically a Zoom session, ad-ified.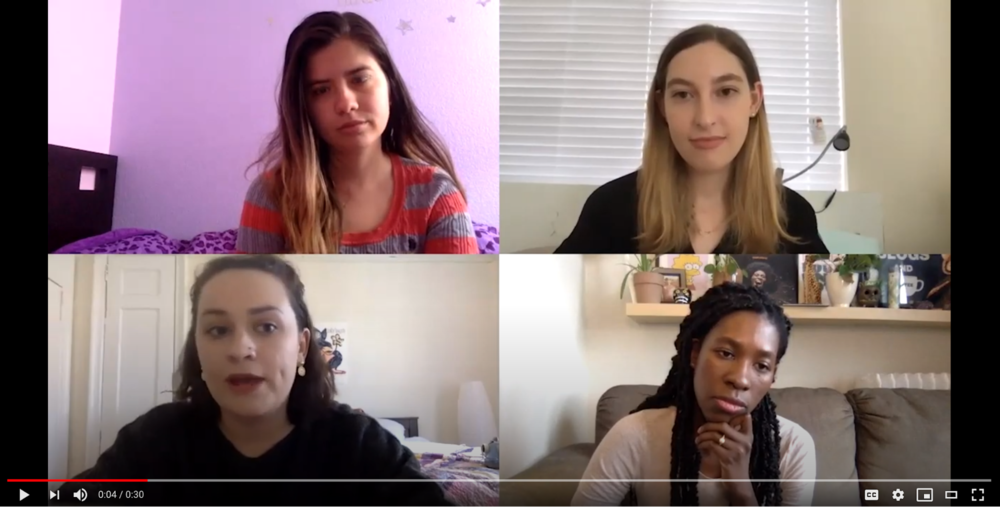 I've also loved these ads from my local children's hospital, the Children's Hospital of Philadelphia. They're asking their supporters to send words and photos of encouragement to the brave folks caring for kids at this time. When you click through, you're landed on a form to submit your own note and you can see what others have submitted. The result? Wall to wall JOY that reminds you you're part of a community.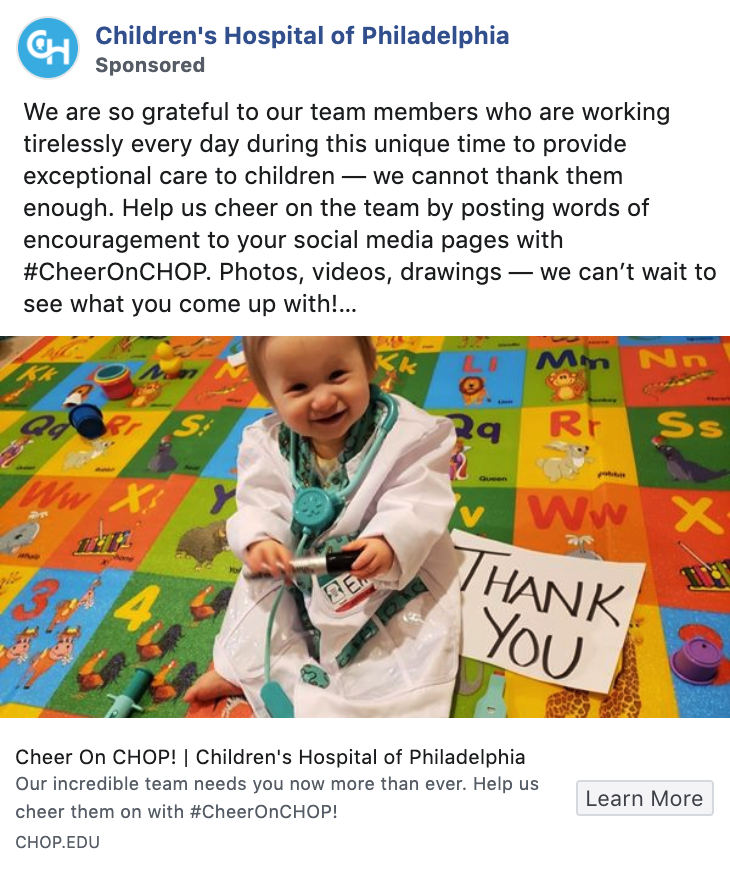 But my paws down favorite coronavirus ads have been the many zoos, aquariums, and museums using ads to bring their work to life, right in my living room (please, nonprofits, target more of these to me!). The San Diego Zoo earns extra points in my book for delightful puns and seriously arresting imagery.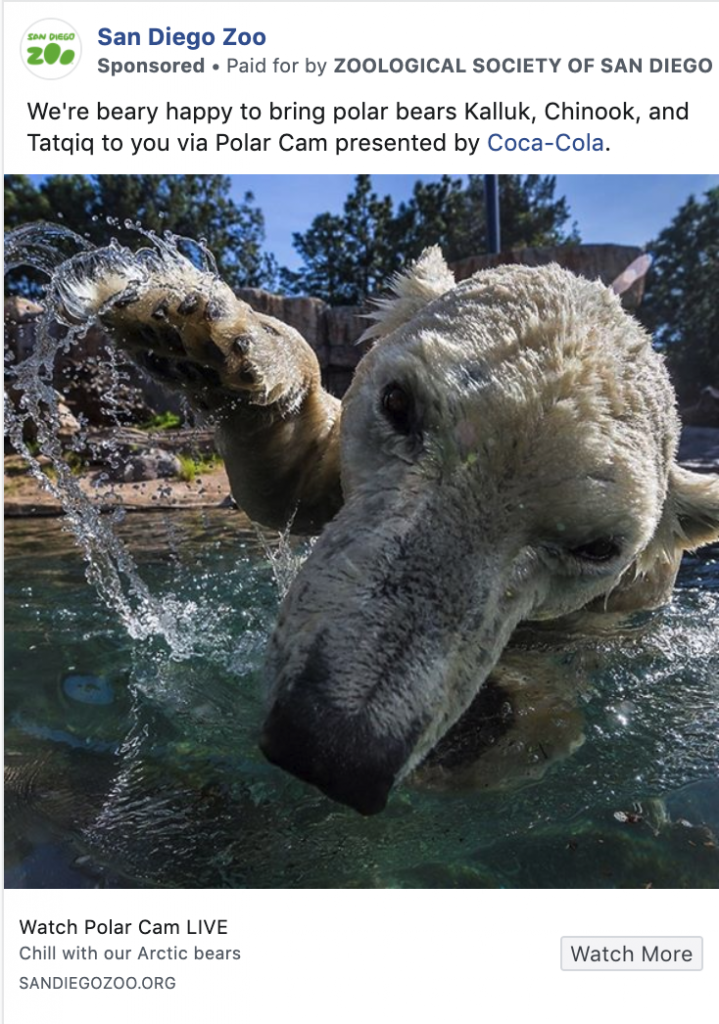 Step four: Monitor the marketplace.
As with so much of the world in this moment, the advertising marketplace is changing rapidly. 
Right now, a lot of advertisers, particularly large corporations, are quiet. Meanwhile, people are spending a lot more time online. That's bringing down competition and opening up more inventory, which is leading to rapidly dropping CPMs and CPCs by as much as 50% on some channels. 
What does that mean? It bears repeating: Don't be afraid to raise your hand and ask for help right now. Not only are people listening, it's as cheap as it's been in a long time to speak to them.
And that doesn't just mean asking for donations. Use this opportunity to replace the offline activities you usually rely on—from in-person fundraising events to canvassing. Ramp up donor acquisition and lead generation efforts. Double down on efforts to recruit people to take higher bar actions, from collecting phone numbers to asking them to share how the coronavirus has impacted them.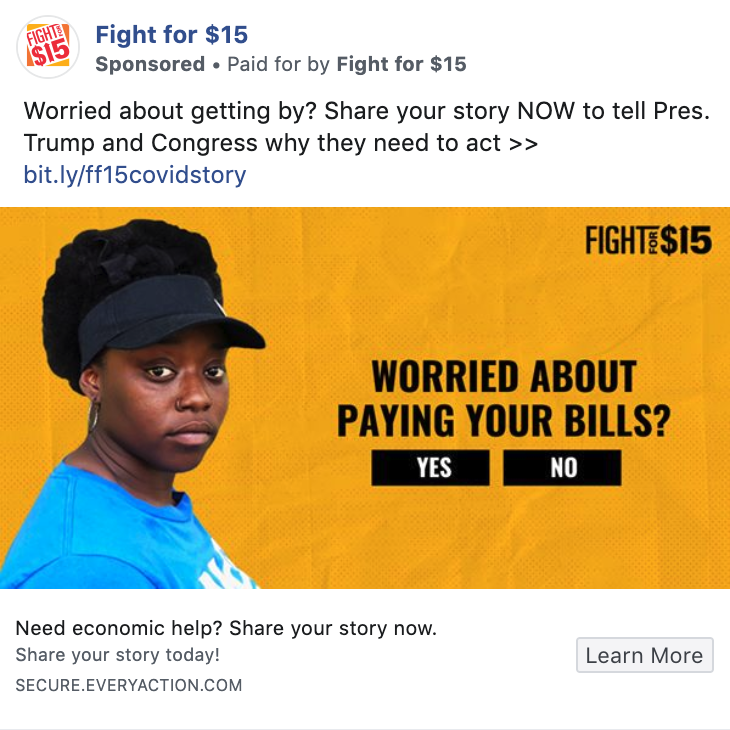 Paired with a finely tuned digital organizing operation, you can follow up with these recruits quickly, giving them additional actions to take and building a personal connection that, to be honest, we could all really use right now.
When Gwen's not scheming up new campaigns or writing dazzling copy, she's kicking it with her pug Frankie. You can reach her at gemmons@mrss.com.
Related Links