Read time: 6 minutes
Nonfungible Tokens (NFTs): What are they?
My kids had a long phase when they spent their precious and meager allowance buying Pokémon cards. I have no idea why. They sit there, collecting dust, and sometimes they take them out and look at them, but mostly they are just there for the sake of being owned. This, I think, is what buying NFTs are like. They're assets, like Pokémon cards and also like actually awesome digital art, that can be owned and traded—only they're all digital. The thing that makes them special IS that they can be owned, and that the ownership can be proven because it's recorded and tracked on a public blockchain ledger (a digital record of transactions). Some well-known examples of NFTs are: 
The original YouTube video of "

Charlie Bit My Finger

" (sold for $761k)

"

Disaster Girl Meme

" (sold for $500k)

Lebron James highlight reel (sold by the NBA for $200k)

Beeple's "

OCEANFRONT

" (sold for $6m and all proceeds donated to Open Earth Foundation)
How do NFTs work?
First things first, you'll need a digital wallet. Then you can shop for NFTs on online marketplaces like Opensea (basically an online gallery + auction house) and purchase with cryptocurrencies like Ether. Have a digital asset to sell? Upload your asset onto marketplaces like Rarible.com, enter your price, select your royalties, and connect your digital wallet. Some platforms even allow you to set the payment address as a nonprofit's crypto wallet address if you want sales donated directly to a nonprofit.
NFTs might put the "fun" in Nonfungible, but they come with plenty of significant challenges as well. Cryptocurrencies are inherently volatile—there are also lots of potential legal unknowns around taxation, data protection, and financial regulation, which vary from country to country. Most concerning of all, they're an environmental disaster. And NFTs themselves consume large amounts of energy when minted. 
NFTs: The new fundraising frontier? 
Admittedly, NFTs could just be a flash in the pan. OR they could be a pretty exciting new concept of establishing ownership of digital work. They provide direct access to an international audience of investors—and potential new donors. Plus resale royalties keep generating revenue automatically to the original owners. 
Recently, Save the Children partnered with NFDoge, a platform that sells "Non-Fungible Doge" artwork. Ten percent of the profits from the sales go to the organization, making it a partner in this auction rather than just the once-off end recipient. 
As fundraisers, it's worth thinking about what assets your organization might be able to auction off, but there are still lots of questions. What types of content might have value? Who is connected to your nonprofit that would be interested in creating a media moment through the purchase of or donation of NFT profits? Are there artists or other influencers who might be interested in partnering with your organization to support you through NFTs?
Twitch and Tiltify: What are they?
Twitch is a live video streaming platform for gamers (and everything else). Tiltify is the fundraising platform that can be used with Twitch, YouTube, Facebook Live, and Twitter. It allows users to take action or donate right from the streaming platform.
Fun fundraising with gamers
Though newer, Twitch competes on the same level of viewership as traditional media channels. Engaging on Twitch opens your nonprofit up to a huge new audience, especially younger audiences (there is no age requirement to view Twitch, although you have to be 12+ to stream)—and many orgs have already beat you to it! Some nonprofits have already raised millions on Twitch, including Extra Life (Children's Miracle Network), which raised $14 million in 2019. In 2020, the top two streamers raised over $3 million each for charities. 
Twitch and Tiltify also offer options for quick, seamless, and authentic engagement. Gamers can thank donors live and read their messages on stream, creating real-time gratification and engagement. Tiltify even provides tools like baked-in incentives, milestones, and alerts to keep fundraisers engaged. And, it's a great away to get corporate sponsors involved, to back fundraiser events with higher-value incentives. 
Not all fun and games
Successfully running campaigns on Twitch and Tiltify requires a great investment of time and staff resources to build and maintain a gaming community—and that staff needs to have the expertise to do the work. Anyone developing these networks needs to be social media savvy, up to date on peer-to-peer fundraising basics, and—importantly—have knowledge of gaming trends, if not actually a gamer themselves. This fundraising space is already dominated by a couple of big name nonprofits, so it can be difficult to break through if you don't have these elements of authenticity!
Another downside? Donor data collection is not always transparent, and it can sometimes depend on what payment method a donor uses. Donors must opt-in to receive emails and often don't provide real names or addresses. But even if you're getting donors in the door, their data is not as important as the cultivation you should be doing with the actual streamers/gamers. Streamers are the source of revenue, and that's the most important relationship to build, even if recruitment is mostly passive. So something to note—they are choosing for themselves to support your cause, and this happens mostly during special events or when a major disaster strikes.
Finally, the gaming itself can be potentially problematic. Nonprofits have no control over what games people are playing while fundraising, and in many instances, these are violent or first-person shooter games that might not align with your nonprofit's values. 
Twitch & Tiltify tips
If you do decide to pursue this new—potentially huge!—community of fundraisers, here are a few tips, courtesy of our friend at Doctors Without Borders, Marc Almanzor, Senior Manager of Gift Processing (and Twitch Affiliate!): 
Recruitment[spacer height="10px" id="2″]

Look for streamers in your community—your office, student groups, or Twitch meetups.

Find streamers where they are. Attend gaming conventions, join charity stream communities like Gallant Gamers, Good4Gaming, or Gamers for Life. Create an account on Discord.

Encourage gamers to create teams on Tiltify.

Resource kits

—

Creating a resource kit for gamers to use makes setting up fundraisers even easier and seamless. Kits should include:[spacer height="10px" id="2″]

Branding with custom overlays ("skins"), banners, and panels 

Videos for "ads" breaks

Talking points

Rules!

Events

—

Creating big dedicated fundraising events can take at least 6 months to plan, but they are usually well worth the effort. Here are four types of events worth trying:[spacer height="10px" id="2″]

DIY:

Allow streamers to come to you. This is the lowest cost and lowest effort type of event to support your nonprofit.

Solo:

Reach out to an individual streamer to coordinate schedules, goals, and promotions.

Marathon Relay:

Multiple streamers in many locations coordinate their schedule and "raid" the next streamer for constant coverage.

Special Event:

Multiple streamers participate at a single location. These tend to generate high viewership but come with a higher cost as well.
Real-world example
The American Red Cross created a sub-brand on Tiltify called MISSION RED. We love how they've built out a separate page with lots of information, including some pretty hot incentives for different levels (who doesn't want that trophy?!). They also promote very successful streamers through their spotlight feature.[spacer height="10px" id="2″]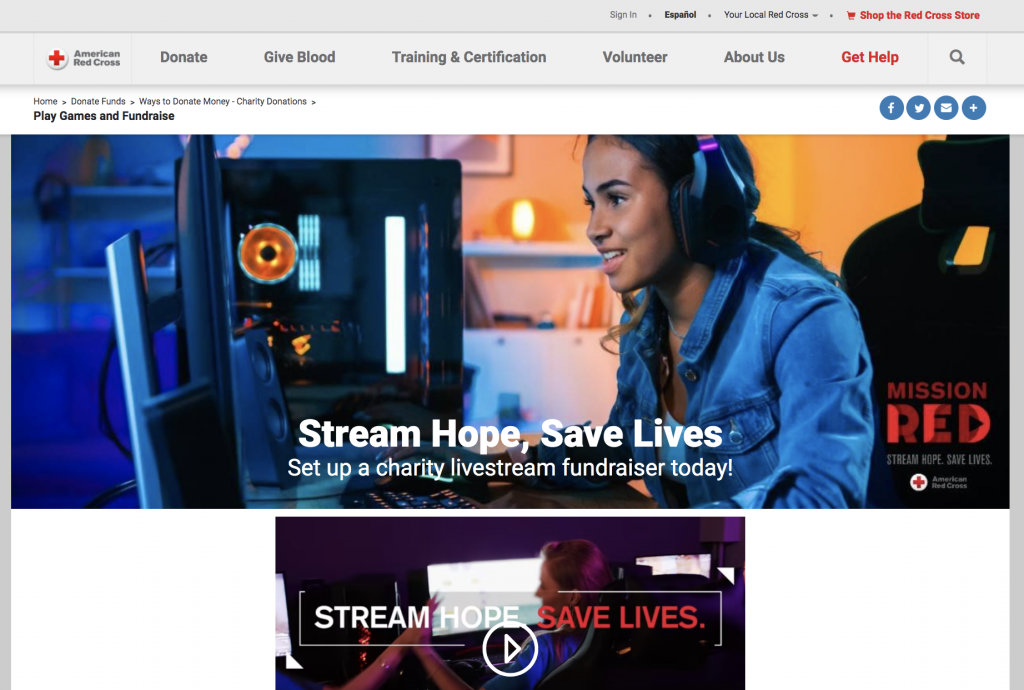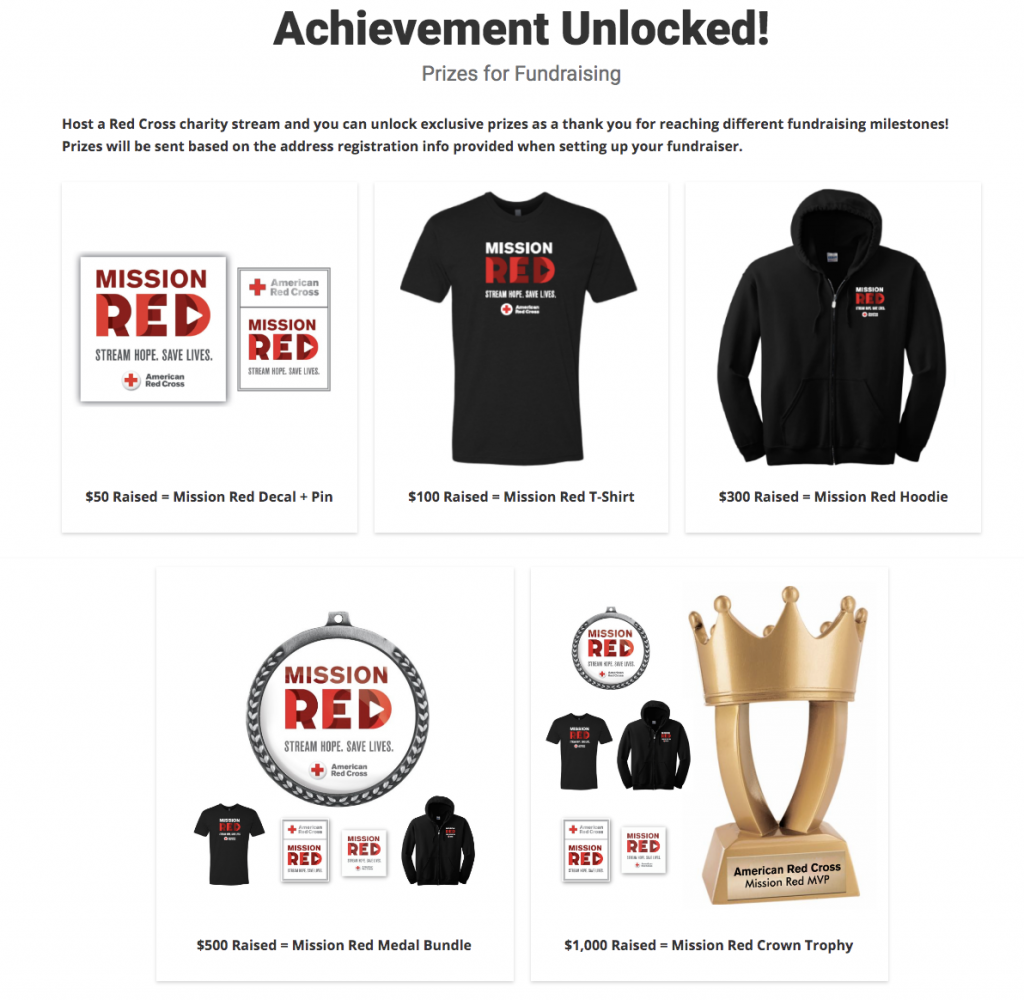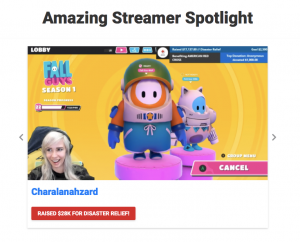 Have you used these new platforms? What are your best tips? Let us know @mrcampaigns!
—————
Yoonhyung Lee is currently a stay-at-home parent, de facto summer camp counselor, janitor, short order cook, and Senior Vice President for M+R's Digital Fundraising and Advocacy practice, based out of the Washington, D.C. area. Her clients include the International Fund for Animal Welfare, the American Museum of Natural History, and the American Red Cross. 
Related Links: