Read time: 9 minutes
Warning: This post looks at how the media covered white supremacy in 2020. The content includes references and links out to press coverage from some of last year's most defining but also painful moments concerning violence and police brutality against Black lives.
It did not begin with the murder of George Floyd. It did not begin with Breonna Taylor, or Ahmaud Arbery. Our national reckoning with white supremacy and racism is long overdue, driven by countless acts of violence against Black people and determined calls for change from activists and communities. In 2020, in the midst of a pandemic and a presidential election, the national conversation shifted dramatically. 
For communications professionals, there are important lessons to be learned from 2020—trends that tell a (sometimes surprising) story of how different issues unfolded in the media last year, and tips for how we can advocate for our issues as effectively as possible moving forward.
To better understand those trends and plan for the future, M+R's Media Relations team will be releasing a series of Mediamarks Labs posts over the coming weeks. In years past, we've looked at big, year-long trends in our annual Mediamarks report. But this past year was not a normal one, and so we instead decided to look closely at how media responded to a few specific issues.

This first post examines coverage of white supremacy, and our next two in the series will zero in on food security and voting rights. (Our methodology for how we go about all this data collection and analysis is at the bottom of this post.)
We looked at media coverage of white supremacy across 100 top national and international news outlets in 2020, and considered a number of different search terms to inform our analysis of how the media examined systemic racism and violence against Black people. Terms such as 'Black Lives Matter' and 'police brutality' returned such an extraordinary number of results across the 100 media outlets we examined for this analysis that it was difficult to identify a cohesive narrative amongst the overwhelming tide. That fact itself is disturbing, but scale alone does not tell the full story. 
In order to examine media treatment of the systemic racism and violence that infects virtually every aspect of our culture, we placed our focus on white supremacy itself as a topic of coverage. The search term "white supremacy" yielded just over 8,100 articles from the 100 outlets we scanned—and we quickly found that it was a term that offered a fuller picture of the conversations happening across many institutions last year.
Top Trends and Lessons from 2020 News Coverage of White Supremacy
When looking at the data, coverage of white supremacy tells a story that informs many of the challenges we're confronting right now—from the Trump insurrection and his ongoing promotion of the Big Lie, to fear mongering from right-wing media outlets and politicians over critical race theory. Here are the top trends we noticed in the coverage, and how they shaped the media landscape we're currently operating within:
Media coverage exploring white supremacy was comprehensive, and reflected the many different conversations occurring last summer across institutions, companies, and communities.
For many of us, 2020 marked the first time that we stopped viewing white supremacy narrowly (the Ku Klux Klan, for example)—and started honestly assessing how we as individuals, and the institutions we're a part of, prop up white supremacy and racist infrastructures. The breadth of that reckoning was reflected in the coverage we examined. The top stories with the largest reach across Facebook last year included: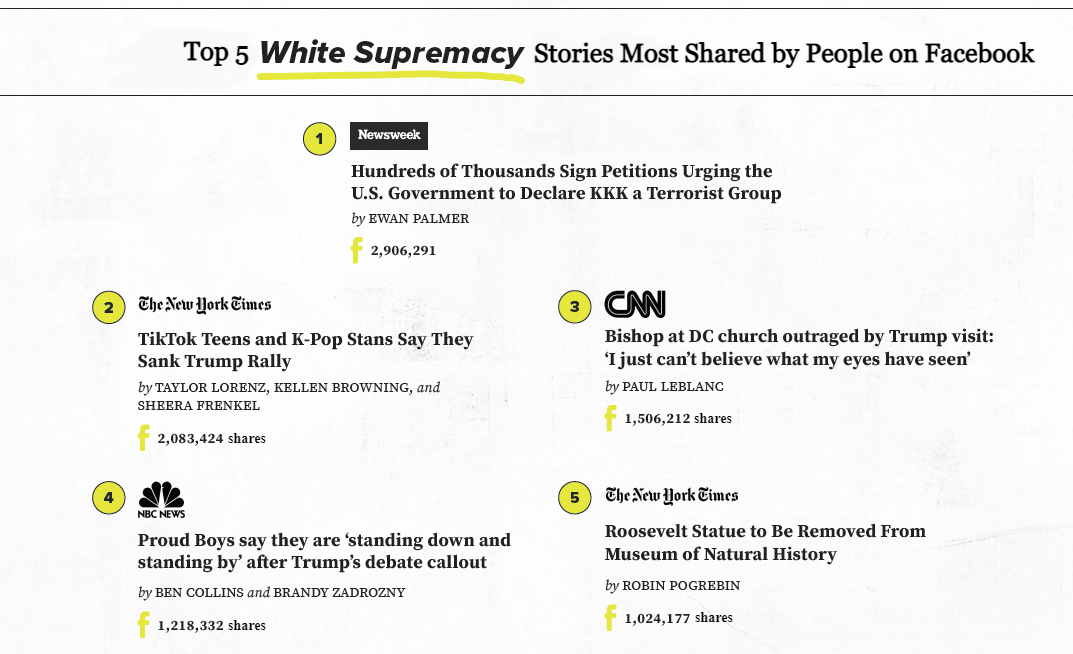 It's also worth noting that these are some pretty significant Facebook shares—the articles above are the top five for white supremacy alone, but their share numbers are on-par with the top five most widely shared articles on Facebook overall from 2019's Mediamarks study. There are two takeaways here: The lines between earned and social media are continuing to blur, and white supremacy is a topic that garnered significant conversation last year—likely only surpassed by COVID coverage.
The timeline of 2020 coverage also tells a story—from the initial wave of summer coverage, to the dangerous rhetoric coming from Trump and his supporters in the fall.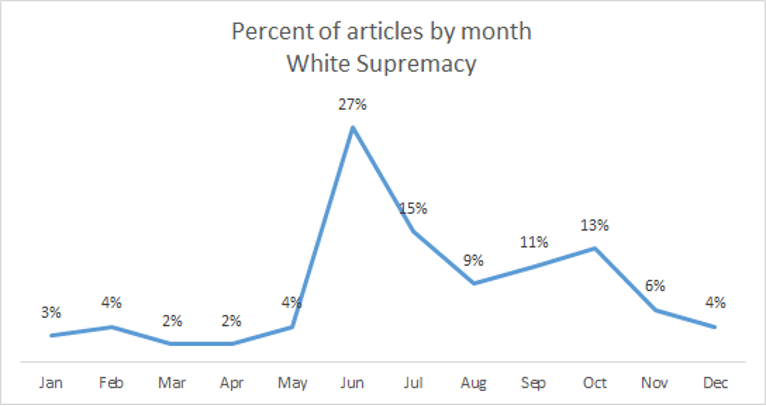 Ahmaud Arbery was killed in February 2020. Breonna Taylor was killed the following month, in March. Yet coverage of white supremacy (and issues of racism and police violence more broadly) did not spike until late May and June of last year, in the wake of George Floyd's death. One reason for this is because Floyd's death at the hands of Minneapolis police officers was inevitably a tipping point moment, captured on video for the world to see. But the late February-early May period also was dominated by coverage of the exploding COVID pandemic—during that time period, it was virtually impossible for anything not related to the pandemic to break through.
What's interesting about the two "waves" of coverage is that the focus of white supremacy in the media was not identical in the summer months versus the fall months. The summer—particularly late May through late July 2020—was dominated by an array of stories that explored white supremacy across many of our institutions and communities, as we discussed above.
The second "wave" of coverage, which peaked in October, was much more homogeneous in nature. The vast majority of stories last fall that mentioned white supremacy were centered around Donald Trump and his base of supporters. Trump's penchant for being racist on the campaign trail (and, really…in everything he does) garnered significant coverage, as did his tendency to sometimes preach white supremacy outright for all who came to his rallies. Unsurprisingly, Trump's nationally televised call for the Proud Boys to "stand back and stand by" also generated a substantial amount of media; as did warnings from white supremacist groups who threatened violence if Trump lost the election—warnings that would foreshadow the January 6th insurrection.
The arc of the coverage in 2020 foreshadowed many of 2021's political battles.
It's possible that the fall 2020 coverage became more uniform in nature simply because of the presidential election. But the arc of coverage—from summertime stories exploring white supremacy across our culture and so many institutions, and how those conversations were beginning to play out in communities; versus the fall coverage—which focused more on Trump's rhetoric, his desire to politicize many of the ongoing conversations, and the willingness of many in his base to both embrace Trump's (often racist) claims and white supremacy more broadly—also foreshadowed the earliest months of 2021.
In the new year, our conversations around white supremacy became less of a reckoning—less about what each of us can do to dismantle white supremacy in our own lives, our communities, and the institutions governing us—and more about political battles. Anecdotally, we know that many of the biggest issues garnering attention this year—from efforts to enact restrictive and discriminatory voting laws in states, to the push to advance HR 1 through Congress, to the ongoing coverage of critical race theory—all involve white supremacy. They're all about dismantling systems of oppression, building toward a more equitable nation, and ensuring we can have honest conversations about our history.
__
So, what can those of us who are working day-in and day-out to communicate with the press and other stakeholders do with all of this information? Here are a few starter ideas:
Continue talking about the role of white supremacy and racism in propping up inequitable systems so this deeper conversation isn't swept aside by the polarizing one Fox News wants to have:

It's probably a fair assumption that if you've made it this far in the blog, you're working on an issue (or issues!) that stand to improve peoples' lives, strengthen communities, and build a better and more equitable society. As we move further away from the events of 2020, and as the news cycle becomes clustered with different topics (we're looking at you, delta variant)—remain steadfast in talking about the role white supremacy plays in your work.

This is particularly important to remember when creating messaging for "moderate" or "conservative" audiences. You can adjust values-based messaging while still being honest  about both the historical context and disproportionate harms of specific issues.
Always be intentional about centering the expertise and lived experiences of those most impacted by a particular issue:

This is always a good rule of thumb, but particularly important when thinking about ensuring our media outreach is equitable and honest. Stories centering lived experiences of people were missing in some of the most-consumed coverage we tracked on white supremacy in 2020 (though the stories most-shared by journalists themselves did

tend

to

feature

people a tiny

bit

more). That could be because 2020 was a seismic year, and the biggest stories focused on institutions and communities. But as we look to keep the conversation going in the months ahead, remember that it's always about people—not politicians or partnership, votes or processes. 
Don't limit yourself to the same-old news outlets:

This is another age-old rule, but one that we all need to remind ourselves of constantly. Hits in outlets like

The New York Times

,

The Washington Post

, and

USA Today

are great and splashy—but not always the best ways to reach the people we need to be reaching. When thinking about how to engage the right audiences about white supremacy and its impact on your policy area, we have some data about which outlets covered the topic the most in 2020. It's not too surprising: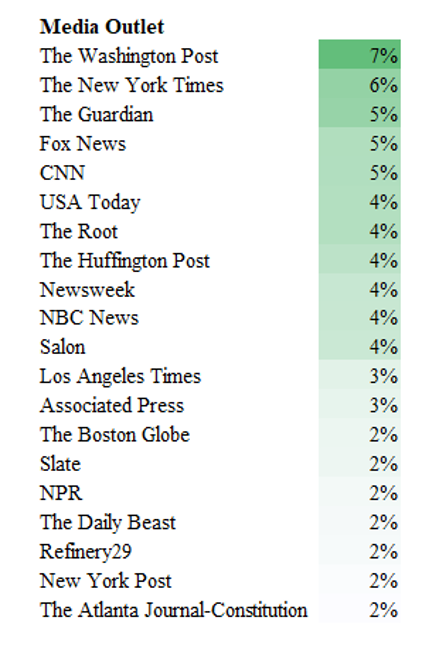 Don't automatically pitch the outlets that have covered this most frequently in the past—instead, take a beat to think about what outlets will genuinely reach the people you most need to hear your message. Maybe it's a regional newspaper, like the AJC or Philadelphia Inquirer. Maybe a wire story with the AP or Reuters will give you beneficial reach; or maybe it's a more niche outlet like Refinery29 or Daily Beast—outlets which offer outstanding journalism. (And, hey, maybe it IS most strategic for you to pitch one of those top three outlets in the charts above—as long as it makes sense for your longer-term communication goals, that's ok!)
Do you have other ideas about how communications professionals can continue centering equity and the harms of white supremacy in our media work in the months ahead? Or questions about the 2020 Mediamarks data? We'd love to talk more—reach out to us at mediamarks@mrss.com.
*A quick word about methodology: We use Muck Rack for a lot of our work at M+R, and that includes Mediamarks. The data in this post—and in our forthcoming Mediamarks posts on voting rights and food security—are based on a comprehensive Muck Rack search to pull media hit data aligned with our search terms from January 1, 2020 to December 31, 2020.
We pulled articles from a universe of 100 outlets. To choose the outlet pool, we gathered the outlets that have higher Unique Visitors per Month (UVM) and Mozrank scores. They are a mix of regional, national, and international newspapers, magazines, broadcast channels, digital news sites, and wires.
---
Dan Rafter loves rolling up his sleeves to design big campaigns for causes that deserve the media spotlight. When he's not working, he's desperately attempting to make a dent in the growing backlog of books on his shelf (his success rate here is decidedly mixed.) You can find him at drafter@mrss.com.
Related Links: