Read time: 3 minutes
There's no denying that the world—and the media landscape—have flipped upside down in the last several months. And as nonprofit communication professionals chart their course forward, our 2020 Mediamarks Study can help inform decisions about the future by reflecting on the past. This year's study offers in-depth data about 2019's media universe as well as a very early look at how the coronavirus pandemic impacted our work in the first months of 2020.
Here are some of the top takeaways from this year's M+R Mediamarks Study:
2019: The Year of the Defender (Again)
2019 was dominated by Trump, Trump, and…Trump. (And the incredible victory of the World Series Champion Washington Nationals. Remember baseball?)

As we reported in last year's study, 2018 was the year of the Defender—nonprofits working tirelessly to protect and advance civil rights. That trend continued into 2019. Defenders in 2019 saw a slight dip from the averages we clocked in 2018, but they still had the most coverage of any sector that we include in our Mediamarks study:


Welcome to Mediamarks, Movements!
This year, in addition to our usual six sectors in Mediamarks, we've added data around Movements—the grassroots-driven efforts to achieve the changes critical to improving peoples' lives. Think Black Lives Matter, March for our Lives, #MeToo, and Medicare for All, to name a few. 
The movements that saw the most traction in 2019 were Medicare for All and Green New Deal. Healthcare was one of the core issues at the heart of the Democratic primary, so this isn't too surprising. Green New Deal feels like a lifetime ago but dominated headlines early in 2019 when AOC and a new generation of progressive Democrats entered Congress.
Note: The Census and Stop the Bans movements had lower numbers in 2019. Much of this is due to the search terms we used. But it shows that not all movement hashtags make their way over to news coverage.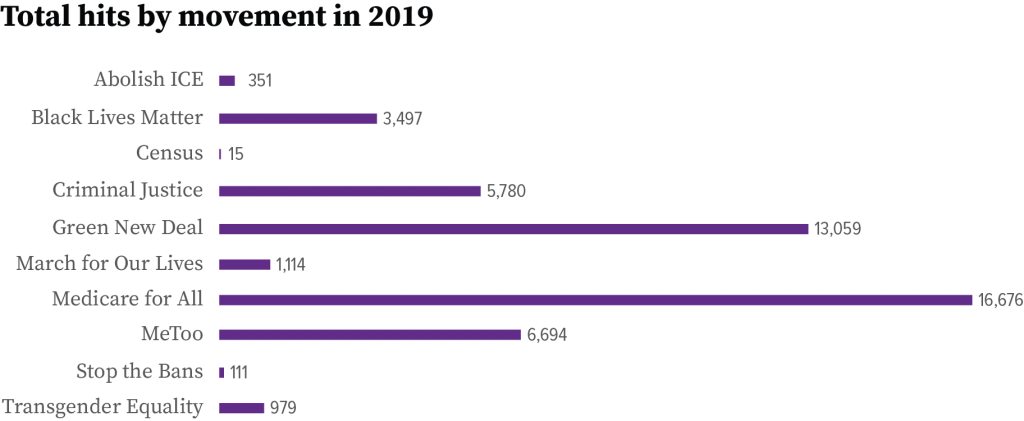 We don't have data on the last few months yet, but it's a safe bet that Mediamarks 2020 will look pretty different. We expect Black Lives Matter and Medicare for All to rule the year, but if 2020 has taught us anything, it's that we really cannot predict what the universe has in store for us. 

The Intersection of Earned Media and Social Media
More and more, journalists are sharing stories (both their own and their peers') on social media. Many reporters have massive followings, and if your organization can land, or even appear in, a story that a journalist (or multiple journalists) tweet out, it will significantly elevate the exposure of your work.
Here are the top five articles with the most journalist shares on Facebook and Twitter. Three of the five most-shared stories from journalists in 2019 came from The New York Times, and the most-shared was in The Washington Post.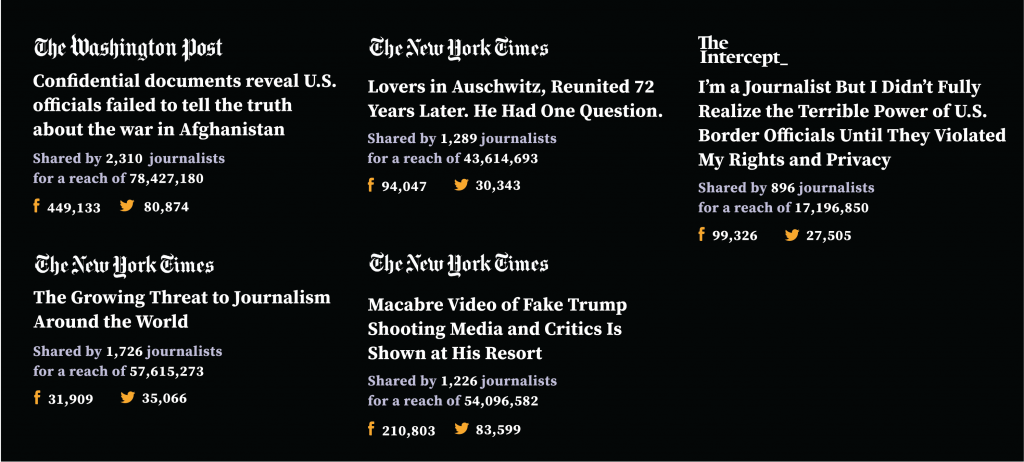 An Early Glimpse at COVID's Impact
Our Mediamarks studies traditionally look at data from the prior year. But we couldn't release this year's report without at least starting to look at the impact of the coronavirus on media coverage. 
We took a look at coverage for our sectors and movements for the first four months of 2020 and compared it to 2019. The Defenders—who have led the news cycle consistently the last few years—actually took the biggest hit in coverage once the coronavirus began dominating headlines. We saw coverage for healthcare, environmental, and social services organizations tick upwards. Cultural institutions also saw a dramatic increase in coverage, likely driven by a rise in the number of articles exploring the closure of museums, concert venues, and other cultural institutions as well as the impact of those closures on artists and employees.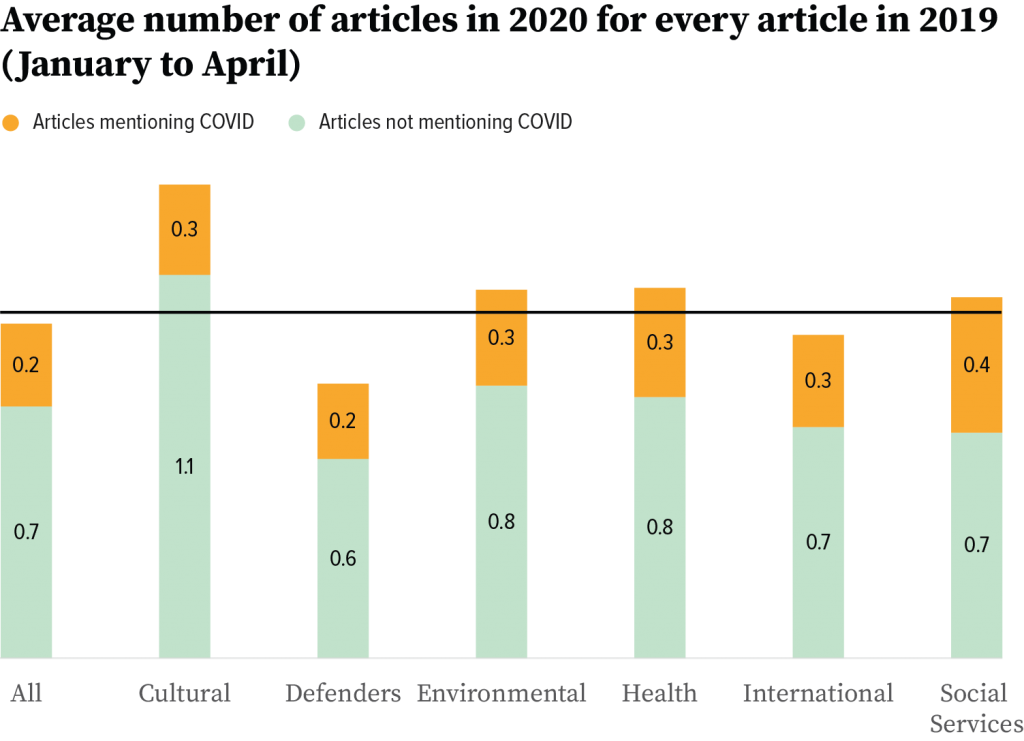 These are just some of the findings in this year's Mediamarks study—be sure to download the full 2020 Mediamarks report for a deeper dive. And if you want to learn more about the findings for your particular industry or chat about what other data we have that could be useful to your comms planning, we'd love to talk!
—————
Susan Klau is a Media Relations Associate where she provides research and account support, conducts media monitoring, prepares media materials, and assists with outreach to reporters. When not working, Susan enjoys spending time with her French Bulldog puppy, Fenway. You can reach her at sklau@mrss.com
Related Links