Read Time: 6 minutes
Under normal circumstances, the story you are pitching to reporters is competing against dozens of other topics. This moment is different. There is one topic, COVID-19. So getting heard and getting published is going to look a little different.   
This moment presents an opportunity to lift up powerful stories from communities disproportionately impacted by the pandemic, and to highlight the urgency of growing and increasing support for many of the causes we care about or work to advance. We work with a number of nonprofits and advocacy campaigns making these calculations, and we talk with reporters and editors every day about what's sticking and what's not. Here is our guidance  for engaging with reporters right now. Have other ideas you want to add to this list? Let's talk about it—we'd love to hear from you!
DO: 
Be a human being

. Now is the time to check-in with reporters you've built up relationships with to see how they're coping. A little note on email or text can feel like a big gesture right now. Even if you're sending out a cold pitch to a reporter you don't know well, acknowledge that this is a difficult time and thank them for the work they're doing. Showing you care is just the right thing to do.

Be strategic with your outreach

. Earlier this week, we shared

our thinking

about how comms shops can decide which stories and narratives they can and should be pitching right now, and which items on their comms plans should get paused. Same rules apply here: Is now a smart time to share your news? (Is it really?) Have internal discussions about shifting your advocacy strategy to a time when your go-to beat reporters aren't all-hands-on-deck for COVID-19 coverage. 
Show off your smarts by delivering tailored pitches to the right reporters.

Yes, it's a crowded news environment, but it's crowded because this virus is impacting every single person on the planet. Many communities are disproportionately impacted, and many of the nonprofits and foundations we all work with or work at are playing critical roles in the response.

There's incredibly urgent work going on right now—from ensuring the dignity of immigrants seeking healthcare during the pandemic to fighting for paid sick leave and more. Show reporters that you have a unique or missing perspective that adds to the conversation and advocates for a path forward on your issue. Here are a few examples of the types of stories that are gaining traction and need to be told:
Immigration

: The pandemic can impact immigrant communities in insidious ways—from people who suspect they're sick but are too afraid to seek treatment for fear of ICE at hospitals; to crucial legal services that are halted or jeopardized as communities shut down.

People in prison

: In many states, prosecutors are actively working to deny the release of people in prison (a move that some places, like New Jersey, are employing to save the lives of incarcerated people. Environments like prisons are, sadly, prime for outbreaks like COVID-19.)

Paid sick leave:

Advocates (and many of you reading this post!) have been working to achieve nationwide paid sick leave for years. But never before have so many Americans become so acutely aware of just how important paid leave is. 

Access to broadband internet:

Every aspect of our lives is shifting onto the internet right now. Schools, work, virtual happy hours and family chats, and streaming shows on Netflix. There's only one problem: Lots of kids don't have reliable internet access where they can easily just resume their classes. Lots of people—particularly elderly Americans or people living in rural areas—don't have high speed internet connections. The pandemic is exacerbating inequalities in many ways—including who can (and can't) participate in society's "new normal."

Housing

: Affordable housing is not a new issue in this country. But with more Americans facing unemployment than ever before, we need to advocate for aggressive measures to secure rent and mortgage eviction relief. 

Food insecurity

: Millions of Americans have long faced food insecurity—long before the pandemic shuttered our nation. But with historic layoffs (already impacting the most vulnerable among us), schools closed, and grocery store shelves increasingly bare—food insecurity is taking more importance than ever before. Particularly worrisome: the millions of kids who may go hungry because of disruptions to meals they usually receive in schools. 

Think local—and keep submitting those LTEs and op-eds.

This is especially important if you have a storyteller or issue expert who can help give context or insight to complex issues right now. Keep an eye out for local opportunities to elevate these voices in written pieces. We're hearing from newspaper editors that they're overwhelmed with COVID-19 LTEs and op-eds, so consider pitching your piece to an online outlet or turning your piece into a blog post for your website. (Pro tip: Want to generate an LTE quickly?

We have a tool for that

. Need to know who you can send your op-ed submissions to at national outlets?

We've got you covered

.)

Make the most out of your hard-earned media hit!

When the link goes live, SMASH it with our

checklist

that helps you ensure you're leveraging multiple platforms—from social and earned media, to ads, to syndication (we'll hold off on the handouts for now) to get your story in front of as many different audiences as possible. 
DON'T
Spam or disrespect reporters

. This is true always, but is worth mentioning that now is

especially not the time

for aggressive follow-up, and disingenuous "I hope you're doing well!" pitches. Be specific and tailored in your outreach—don't blast out template pitches to massive lists of reporters. And be clear about your value-add—don't waste their time right now (or…ever. But especially now.)
Forget to read the room.

If you're hoping to connect with a Congressional reporter, don't send a pitch when the Senate is voting on a stimulus package. If a beat reporter's past five stories have all been on COVID-19, don't pitch something they can't dedicate time to right now. And we're past the novelty of working from home and quarantine! Journalists are already looking forward to the impacts and solutions of COVID-19, and if you can shed light on what the future needs now you will have a better chance of building out a story.   

Freeze all outreach and retreat

. Remember, it's about smart and strategic outreach—not no outreach at all. Nonprofits and foundations rely on media outreach to lift up the voices of people being overlooked and advocate for vulnerable communities. We need you to keep reaching out, sharing personal stories, and fighting for justice! Don't be intimidated by the news cycle if you genuinely have useful information to share. Many nonprofits also have reports, analysis, and data that reporters can use to make sense of COVID-19 impacts. Just ask yourself, does this add to the conversation? If your answer is "yes," then share your insight! 
We don't have to lose weeks or months to COVID-19—we just have to be nimble with our plans. And there could be moments in the wake of this disaster that can prove transformative for the communities we're a part of and fighting for. As the pandemic recedes, we'll be in a position to advocate better for big issues like comprehensive paid leave, increased access to affordable and high-quality healthcare, and other policies that promote equity and reduce inequality. We can plant those seeds now with smart media stories.
We're here for you. And we're looking forward to continuing fighting the good fight with you.
BONUS DON'T:
Do not, under any circumstances, no matter what else you do in this life or how clever you think this is or how many days you have been locked alone in your apartment trying to get your kids to do distance learning, for the love of all that is good and righteous in this world, be this person: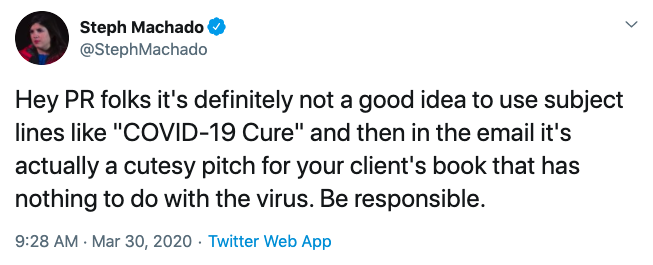 ———
When Alexandria Trimble isn't on the phone with reporters, she's on her way to the farmer's market near Capitol Hill or reading the latest book checked out from her neighborhood public library. You can reach her at atrimble@mrss.com.
Dan Rafter loves rolling up his sleeves to design big campaigns for causes that deserve the media spotlight. When he's not working, he's desperately attempting to make a dent in the growing backlog of books on his shelf (his success rate here is decidedly mixed.) You can find him at drafter@mrss.com.
Related Links: