Read time: 6 minutes
Just because you finally landed that major media hit you've been working toward doesn't mean you get to relax. In fact, your job is just getting started.
The 24 hours after a news story appears are the most important 24 hours in that story's life. It's on us media relations folks to give that story the most wonderful life it can have. A life that people are still talking about next week and remembering next month. 
It comes down to this: Do you want that news story you worked so hard to make happen to become the equivalent of a Michelle Branch track that peaked at like number 36 on the charts — fine for what it was, but easily forgotten? Or do you want it to achieve legend status like Beyoncé's worldshaking epic Lemonade? 
A couple years ago, our team started SMASHing the major media hits we pitched and placed. That means as soon as an important news link goes live or a news segment airs on TV, we go through our SMASH Media Hit Checklist to spread the news as far as it can go with: 
Social media
Media Relations (yes, more!)
Advertising
Syndication and
Handouts 
There are 63 tasks on M+R's SMASH Media Hit Checklist (this is not a joke or a typo—63 separate tasks), but let's just look at the bigger picture strategy. On your marks, get set, SMASH.

Beyoncé could have simply released the album the normal way in 2016 and it would have been a classic. But these are the pieces that came together in the days and weeks after the album release that made it such a freaking SMASH that here we are still blogging about 4 years later.
Social Media
As we saw in the 2019 M+R Mediamarks Study, the average news story that features or mentions a nonprofit is shared 2,000 times on Facebook, but top media hits were shared more than 100,000 times! So how do you make a news story about your cause bigger than average? Try these steps from our SMASH checklist:
Post the news link to niche networks, like LinkedIn profiles or groups related to your industry, or the NextDoor for the community your media hit talks about.

Ask the reporter to do a follow-up Facebook or Instagram live interview with your team.

Check if the reporter or news outlet tweeted the story and ask your supporters to show them some <3s and RTs.

Activate your Beyhive. Tweet the news link and share with relevant thought leaders (policymakers, pundits, academics, practitioners) whom you want to share it too. Just like they did for Bey: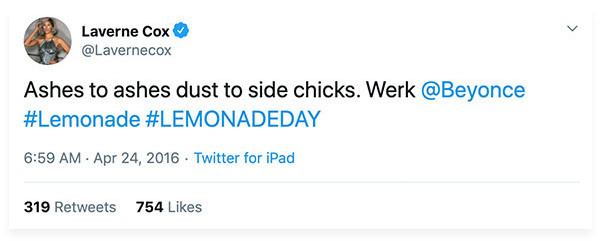 Not all of us have a Shonda going to bat for us. But whoever your own social media influencers are, don't be shy about asking them to help you SMASH your next major media hit.
Media Relations (yes, more/still/always!)
Using a media hit to get more media hits may sound silly, but it's actually one of our favorite things to do. If the original story was in a magazine, then it could give you an amazing opening to pitch your spokespeople to radio or TV shows. And as Beyoncé's publicity team will tell you, there's usually another angle of the story for another reporter to explore. 
After her legendary visual album dropped, the media was thirsty for every drop of Lemonade they could get. Vulture and Vogue started with the "Everything You Need to Know" stories: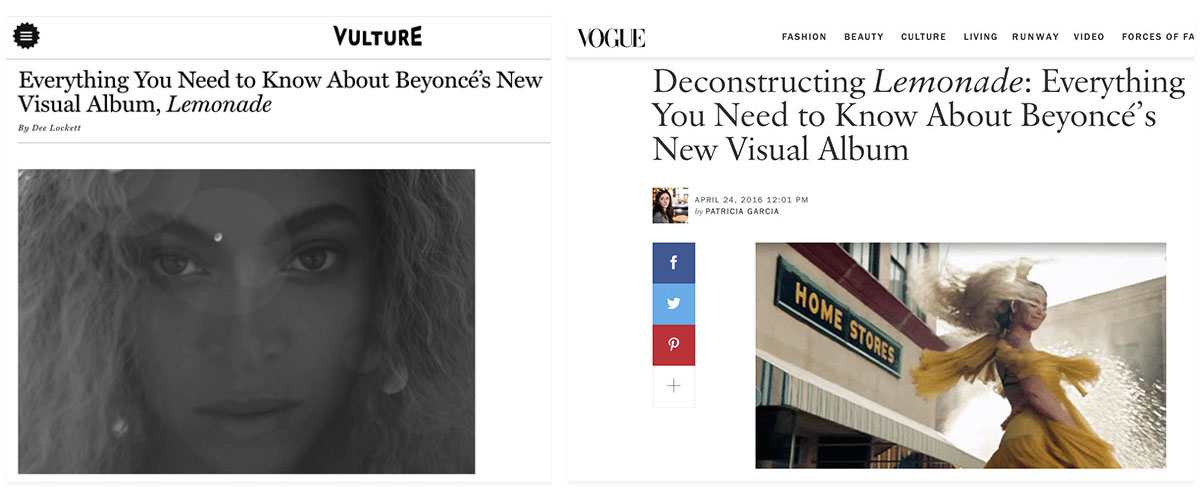 Then Fader took the coverage to another level by examining the Black Lives Matter tribute in Lemonade: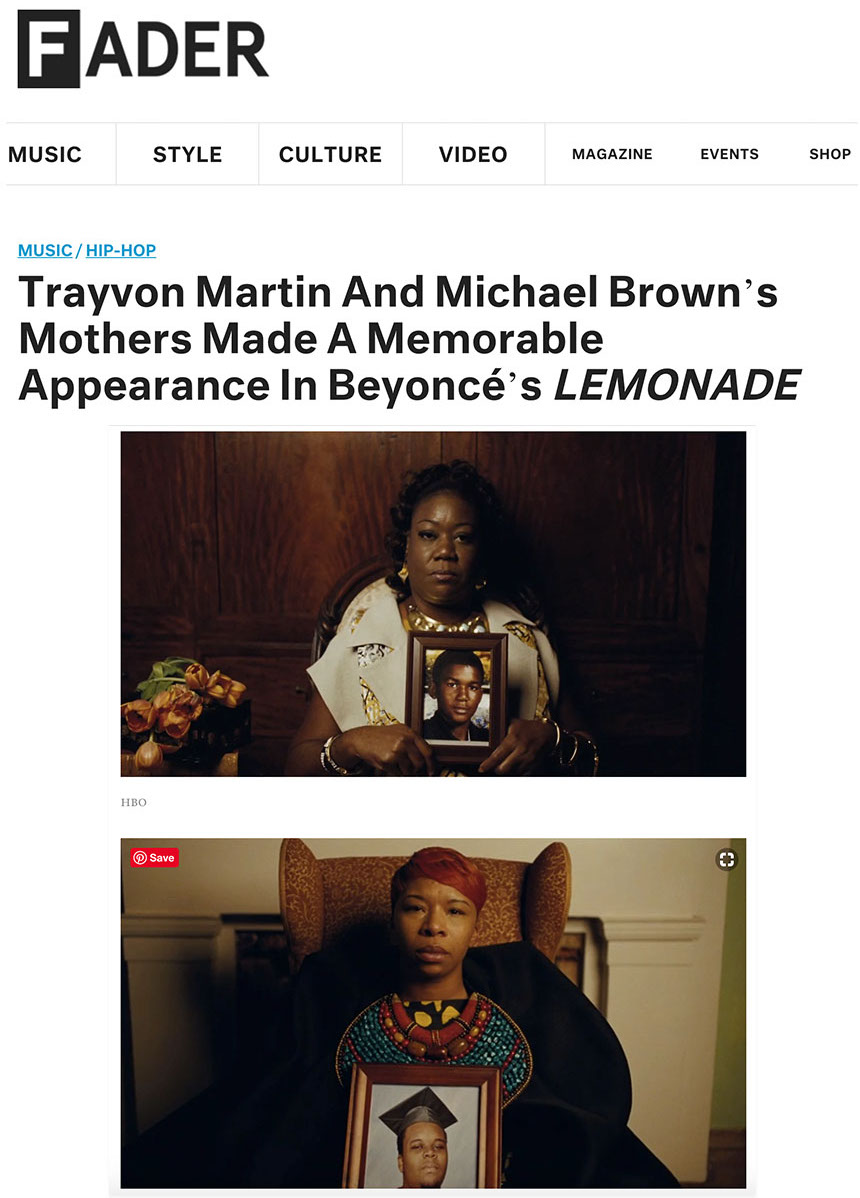 Refinery29 even had a story about where to get a pair of headphones Beyoncé wore in the visual album. So many media angles, Lemonade was like a PR dodecahedron. But even if your major media hit is more like a pentagon—hey, 5 stories in 5 news outlets is greater than 1.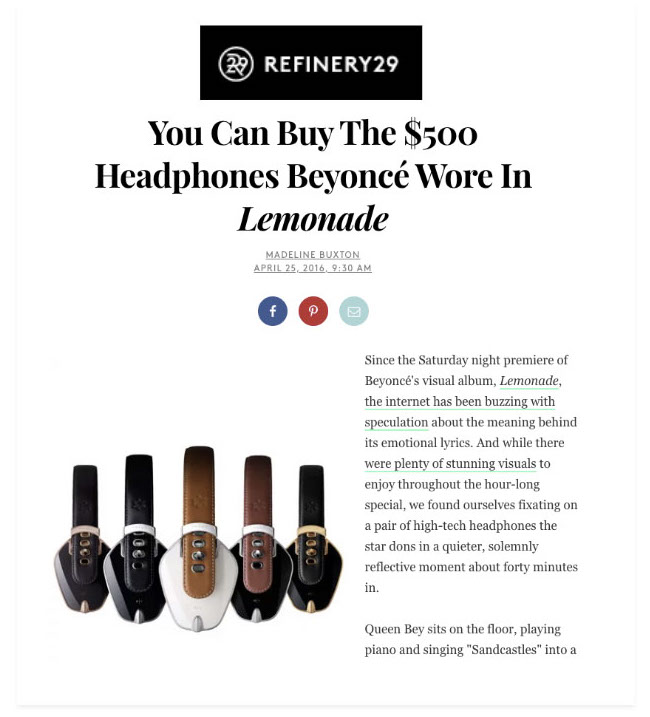 Advertising
Surprisingly, we can't find any evidence of Beyoncé's team running a "For Your Consideration" ad campaign for Lemonade to win at the Grammys. Maybe they forgot that one time with Taylor Swift at the VMAs and thought, "Who the eff would vote against Beyoncé?" But then again, maybe that's why this happened:
At least it looks like they learned their lesson a couple years later for Beyoncé's jaw-dropping Coachella concert and bought billboard and digital ads aimed at Emmy voters: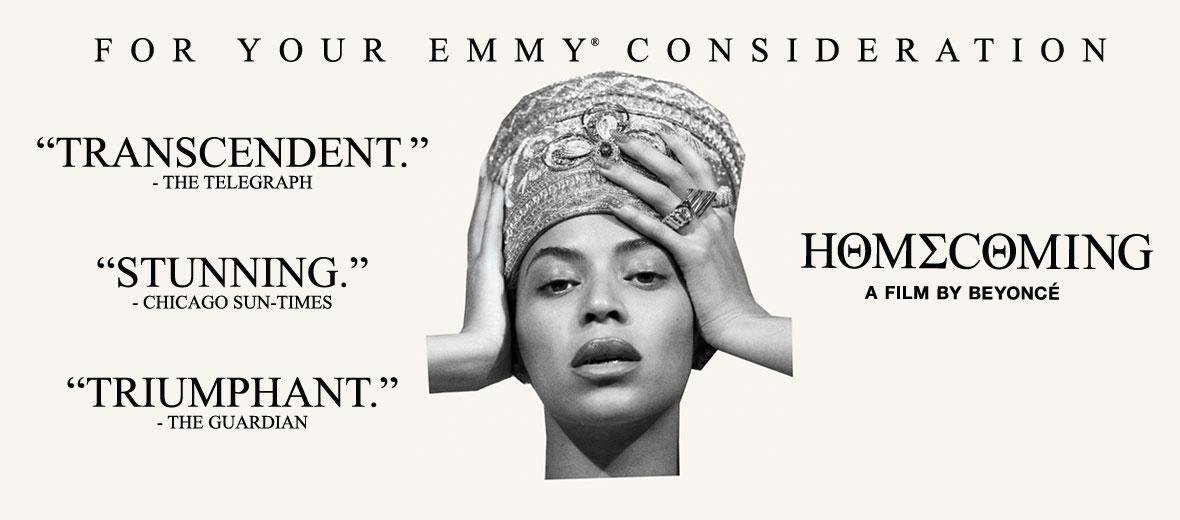 Nonprofits can do this too! For as little as $20, we've run ads featuring our media hit that SMASHed into the world of very specific targets. Sometimes we are super specific and advertise to 600 Twitter handles of reporters, professors, and policymakers. Other times we use geo-targeting to advertise to people who are inside EPA headquarters or a corporation's annual shareholders meeting.
These posts tend to get great click-thrus and engagement. They can also extend the impact of a news story for months or years. If a news story explains your issue or positions your nonprofit in a beautiful way, then you can run Google Search ads so the news link shows up higher in the search results when people want to learn more about the topic.
Syndication
We love how many news sites there are in 2020. Some of the best journalism is being done by a new class of digital outlets and podcasts that don't have a big base but have powerful stories. It's impossible for people to pay attention to everything that's out there today. That's why email news digests like the Skimm and NYT's California Today are important. 
When we get a SMASH media hit, we like to pitch the editors of those email round-ups who we think would care about the story and want to share it. That way a bigger audience will see the news. We checked our email archives and sure enough, Beyoncé lit up the round-ups in April 2016. Yes, here's QUEEN BEE making the rounds in Politico Playbook and NextDraft: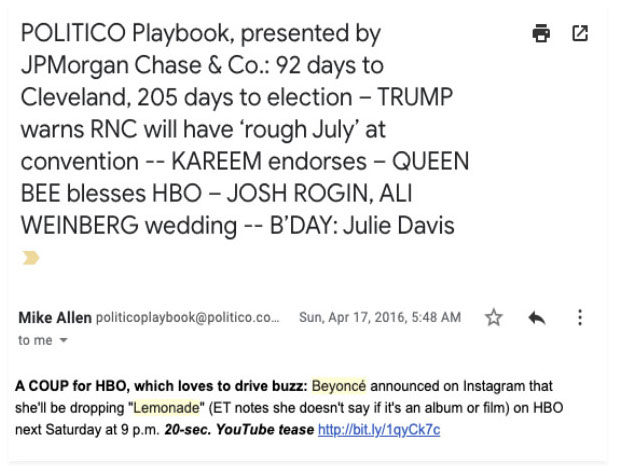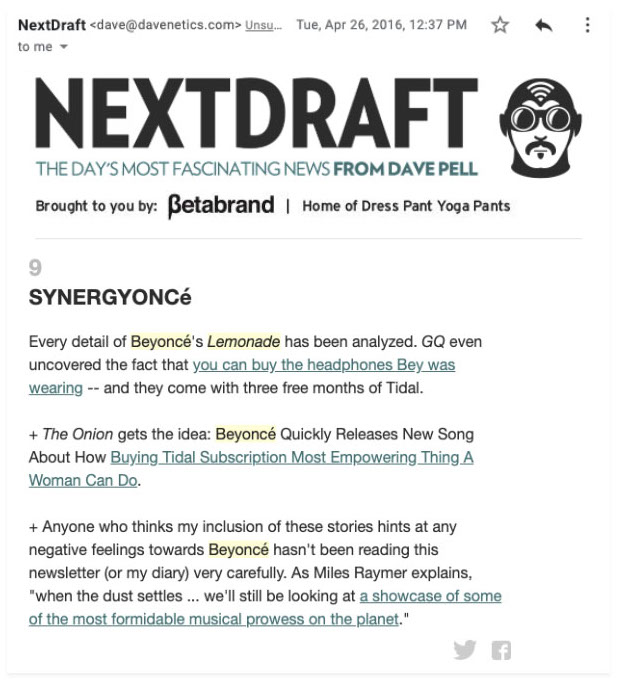 Handouts 
This last one is a throwback. All it takes is an op-ed and an inkjet printer.
Nonprofit policy teams love a leave-behind when they're meeting with a mayor or member of Congress. Press hits make powerful leave-behinds. Whether it's in the Wall Street Journal or a hometown paper like the Omaha World Herald, press hit handouts are a SMASHing way to spread the impact of a news story.
You can creatively interpret what "handout" means to you. Maybe all 50 AGs are staying at a hotel for their annual conference—and maybe you slip a printout of the article under every room in that hotel. Or maybe CNN has a segment you want the owners of McDonald's to see—and maybe you rent a light projector and display it on the wall of McDonald's drive-thrus and livestream it on Instagram.
Or maybe you just want to print this photo of Beyoncé reaching her hand out to President Obama on his inauguration day to remember what life was like and why we're working so hard this year to get SMASH media hits in the first place.
_______
Aaron gets his best campaign ideas on daily walks in Golden Gate Park with his dog Cow. He also makes a nonprofit print magazine with friends from SFMOMA and Pinterest about social issues from the past and present (DoubleIssueMag.org). You can reach him at aeske@mrss.com.
Related Links