Read time: 6 minutes
One of the gravest harms of the pandemic has been its impact on the food security of millions of people, in the United States and globally. As part of our 2021 Mediamarks Labs series, we're taking a close look at the trends in last year's coverage of food insecurity, with the hope that communications professionals will keep the lessons of how coverage of this issue shifted in 2020 in mind when charting a course for the future.
COVID-19 exacerbated the link between food insecurity & global systemic inequality
Although food insecurity is a global issue that receives billions of dollars in funding from governments and philanthropic organizations and regularly receives commitments from international institutions such as the United Nations, at the beginning of 2020 it was far from the minds of reporters and many Americans. From January to March of 2020, articles focused on food insecurity received scant engagement on Facebook and only broke through during natural disasters, such as flooding and locust swarms in East Africa, that affected food insecurity on a regional scale. However, the scope of the problem began to expand following the declaration of the COVID-19 pandemic by the WHO in early March 2020, when a food security crisis began affecting the entire world.
As the crisis unfolded, journalists and the public alike gave substantial attention to articles highlighting the pandemic's disruption of supply chains—and thus the world's food supply—as well as how increasing economic instability affected individuals' ability to afford food. Different outlets covered these effects both globally (such as in The New York Times) and nationally (such as in NPR). 
The pandemic also led to renewed attention and advocacy on the behalf of undocumented migrant farm workers facing unsafe working conditions while navigating federal government policy that deemed them "essential workers" even as it persecuted them as "illegal immigrants."
The reopening of schools and its impact on food insecurity
By July, the pandemic's impact on food insecurity and the potential long-term effects on hunger were more well known. During this time, stories on this issue received their highest average Facebook and Twitter shares. Coverage from NPR on a UN report that found the pandemic could potentially push 132 million people into hunger received almost 2 million shares on Facebook—the most of any story about food insecurity from this past year. 
But in the summer and fall of 2020, other major issues also started to dominate press coverage. As the charts below illustrate, the murder of George Floyd in late May and the subsequent protests for racial justice quickly overtook many other media narratives, including stories about food security. (We looked at the media's coverage of white supremacy in 2020 in our first Mediamarks Labs post, which you can check out here.)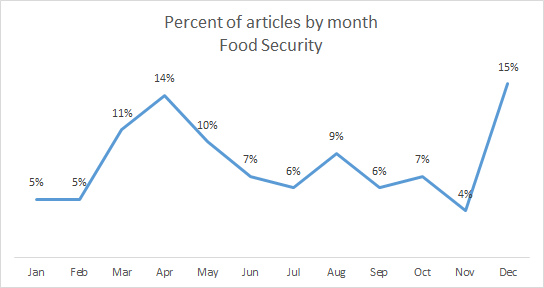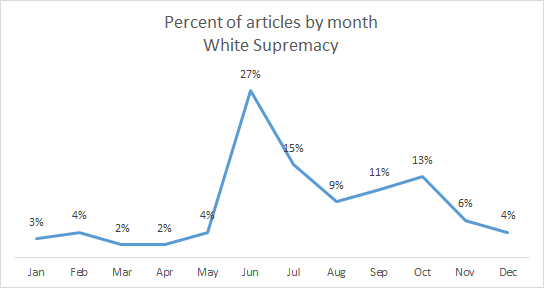 The debate over reopening schools also played a significant role in the tone and quantity of coverage. After declining in prominence between May and July, the percent of monthly food security articles picked up again in August, when some school districts began looking to resume in-person classes, and debates began surrounding the safety and ethics of these decisions.
Many of the most popular food security articles shared by the public over Facebook between July and December were pieces published by NPR focused on reopening of schools, which had been a lifeline for many children facing food insecurity prior to the pandemic. The outsized impact that reopening schools would have on millions of families, and differing recommendations from researchers, doctors, and the Trump administration, made this the defining food insecurity narrative for much of the summer and fall.
Inequality, public figures, and what it can tell us about the news in 2021
Public figures—from philanthropists to elected officials—drove a big piece of the response to the food insecurity crisis, whether through charitable giving or developing relevant policy. As a result, these public figures received a decent amount of press coverage that was often mixed in nature. 
MacKenzie Scott was treated favorably in outlets such as Bloomberg, The Guardian, and NBC News, and received substantial attention on social media for donating over $4 billion to communities facing high food insecurity, racial inequality, and poverty. Meanwhile, Mitch McConnell was notably condemned by Newsweek for opposing a $2,000 stimulus check while his wealth was reported to have grown during the pandemic. In the Newsweek piece, which ran on New Year's Eve, the reporter noted that while McConnell's wealth grew in 2020 the number of Americans affected by food insecurity was projected to hit 54 million.
These trends remind us that the food security issue is intensely linked to systemic inequality, both within countries like the United States and globally between rich countries and poorer ones.
But we also hope that a new presidential administration, coupled with this greater public awareness of how many Americans regularly face food insecurity, will lead to substantial policy change in 2021. The Biden administration recently approved the largest increase to food assistance benefits in the history of the Supplemental Nutrition Assistance Program (SNAP), and nonprofits should continue being vocal in urging the White House, Congress, and state legislatures to solve some of these longstanding, systemic issues.
2020 taught us all a lot about our society, politics, and the interconnectedness of the global community. The long-term economic consequences of the COVID-19 pandemic, the greater awareness it has caused about the essential role migrant labor plays in producing our food, and a growing public realization about the importance of schools in providing for food insecure children, could lead to increased advocacy on these issues that continues to shape the discussion of this issue in the press, on Capitol Hill, and amongst broader audiences, in 2021 and long after the pandemic is over.
Do you have other ideas about how communications professionals can effectively advocate for food security in our media work in the months ahead? Or questions about the 2020 Mediamarks data? We'd love to talk more—reach out to us at mediamarks@mrss.com.
*A quick word about methodology: We use Muck Rack for a lot of our work at M+R, and that includes Mediamarks. The data in this post is based on a comprehensive Muck Rack search to pull media hit data aligned with our search terms from January 1, 2020 to December 31, 2020.
We pulled articles from a universe of 100 outlets. To choose the outlet pool, we gathered the outlets that have higher Unique Visitors per Month (UVM) and Mozrank scores. They are a mix of regional, national, and international newspapers, magazines, broadcast channels, digital news sites, and wires.
__
About the Author
Turning his eyes away from the news isn't always easy for Jack, but when he does you can find him playing the guitar and piano, jogging around the streets of New York City, or lying to everyone (but mostly to himself) that the Chicago Bears are going to be great next season. You can reach him at jwalker@mrss.com.  
Related Links: