So, that sucked. We have a lot of work ahead of us… starting with year-end fundraising (for many progressive causes, this is going to be an even more important year-end, obvs). So, as painful as it is, let's look forward.
Is your mouth watering in anticipation of the end-of-year (EOY) fundraising season? It's the busiest time of year for fundraisers like us, with some nonprofits raising up to a third or more of their annual online revenue in December alone.
With so many opportunities for fundraising, sometimes we can't pursue every tactic we might want to try—especially when it comes to social media.
So we've put together a special tasting menu of fundraising strategies for your EOY campaign. Pick one or two items from each course, create your own delicious and satisfying meal, and enjoy the holiday fundraising season with a bellyful of tasty social media tactics.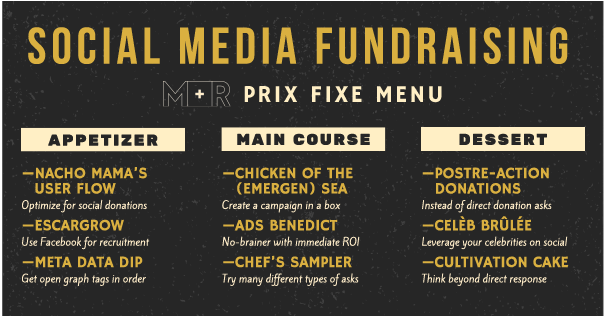 APPETIZERS
Don't go into EOY hungry! These tactics are best done before your fundraising campaign even begins.
Nacho Mama's User Flow
The people reading your social media posts are very likely to be on their mobile phones (in fact, over half of Facebook users sign in on mobile exclusively). If they get to your donation page and have to fill out a milion fields and get our their credit card, they might just choose to quit the process and go back to catching Pokemon. So at the very least, make sure your donation pages are optimized for mobile. You may even want to look into some new technologies that make giving on social easier: PayPal express, the Facebook donate tool, #Donate from GoodWorld, or even a Text to Give program. New technology won't make people WANT to give, but it could help reduce the barrier for people who do. Test it out!
EscarGROW
The most successful EOY campaigns start long before December. It's never too early to fatten up your email file by recruiting email addresses through your Facebook page. Post advocacy actions and other engagements that require email collection, and seed your email file with highly engaged supporters who believe in your mission. Take some tips from Children's Hospital Los Angeles.
Meta Data Dip
Undecided about what to order? This exercise will help you know if this is the menu item for you: Go to your donation page, copy the URL, and paste it in your Facebook status. What shows up in the link preview? If you don't see a compelling reason to donate pop up, you need to update the meta tags on your donation page. (Not sure how? Send this article to your on staff developer.)
While you're at it, make sure you are asking people to share on social after they donate and/or take action. People are much more likely to give when their friend asks them to than when your organization does. A lot of groups we work with see more social media donations coming in through viral sharing than posts by the nonprofit itself.
MAIN COURSE
Seasonal fundraising strategies to fill your belly (and your budget line).
Chicken of the (Emergen)Sea
Social media campaigns work best when there is a moment that grabs your supporters' attention and creates a sense of urgency. The problem with emergencies is that they're hard to predict—and once you're caught up in the moment, it's hard just to keep up. Consider preparing a campaign in a box—a strategy and arsenal of posts (or at least templates) that you can use when your cause has a moment in the media. Planned Parenthood Action Fund are pros at this—you can be too!
Ads Benedict
This may be the most popular item on our menu, because it's a no-brainer with immediate ROI (or maybe it's the hollandaise sauce—we're not sure). If this is your first time venturing into social advertising, start by retargeting donation page visitors with Facebook ads encouraging a donation, and make sure to play up the deadline or incentives in your creative.
Ready for the next step? Upload your most likely donors into Facebook as a custom audience and show them ads—we've seen this boost revenue by up to 15% when you select the right audiences to target. If you upload your full list, your budget gets diluted too much. If you're willing to take a risk, try donor acquisition to lookalike modeled audience. This can be a tough nut to crack, but if you're willing to try something a little bold, December is the time to do it.
Chef's Sampler
Don't assume that what works for your email audience will work for social. Try a lot of different offers on social media and see what your audience responds to. Each of these tactics can be ordered à la carte or as a combo platter:
Promote your gift program instead of direct donations. Feature specific gifts instead of making a generic ask.

Offer premiums exclusive to social media. They can even be digital premiums like a recipe book download.

Set mini-campaigns with achievable goals for social only. Post about the progress. Check out

Grist's power hour campaign on Twitter

for inspiration.
DESSERT
Indulge in some new and untested tactics. Go ahead—we won't tell if you have dessert before you finish your dinner.
Postre-action Donations
If you struggle to get responses to direct fundraising asks on social, try a new approach: Making donations the second step. We've seen some groups raise more by having an advocacy or engagement ask that lands on a donation page (post-action donation) than linking directly to a donation page. It seems counter-intuitive to put a barrier between your supporters and donating, but the post will get more interaction (and as a result, better news feed placement) if it's easier and fun to do. And, taking your action or even just answering a survey question will remind your audience WHY they care about your organization or issue before you make the ask.
Celèb Brûlée
If your organization has access to celebrity ambassadors, make sure your Social Media team is thinking about how best to leverage them. Celebrities often want to be public about the good work they're doing for your organization, and nothing is more public than social media. Create a toolkit for your celebs full of sample posts and images to share. Maybe even ask them to start a Facebook Fundraiser for you! Whatever is happening, make sure your social team knows about it so they can share and thank the celebrity publicly.
Cultivation Cake
So far we've been talking about social media for getting conversions, but don't forget that it's a perfect tool for donor cultivation! Ask your donors to share a specific hashtag or an image from your Facebook photos and you'll be able to easily find them online. You can then make them feel appreciated by commenting thanks, liking/hearting their posts, or even reposting their generous comments for social proof ("You like us, you really like us!"). On Twitter, you can also add these donors to lists so you can keep an eye on them and engage with them later down the line, after your campaign ends.
Got a hankering for something you didn't see on the menu? Flag us down @mrcampaigns and we'll let the chef know.
NEW! The M+R Tasting Menu for Social Media Fundraising: https://t.co/m6UgRKVvbH #nptech #sm4np

— M+R (@MRCampaigns) November 10, 2016