Read time: 3 minutes
Apple recently made an announcement about upcoming privacy changes to their products that could have a major effect on how nonprofits do email work. 
What's happening?
From Apple's official announcement: "In the Mail app, Mail Privacy Protection stops senders from using invisible pixels to collect information about the user. The new feature helps users prevent senders from knowing when they open an email." In other words, it will block senders (that's you!) from getting information about whether and when subscribers open emails.
A quick reminder: email opens are tracked by tiny image pixels embedded in the content. When a user downloads that image, we know they've opened the email. 
From screenshots that've been shared, it looks like the "Protect Mail activity" option loads ALL content. That means we'd actually see open rates go up for those who choose this option (probably most people), because pixels would be loaded for every email—but we won't know if those people are actually opening emails or not.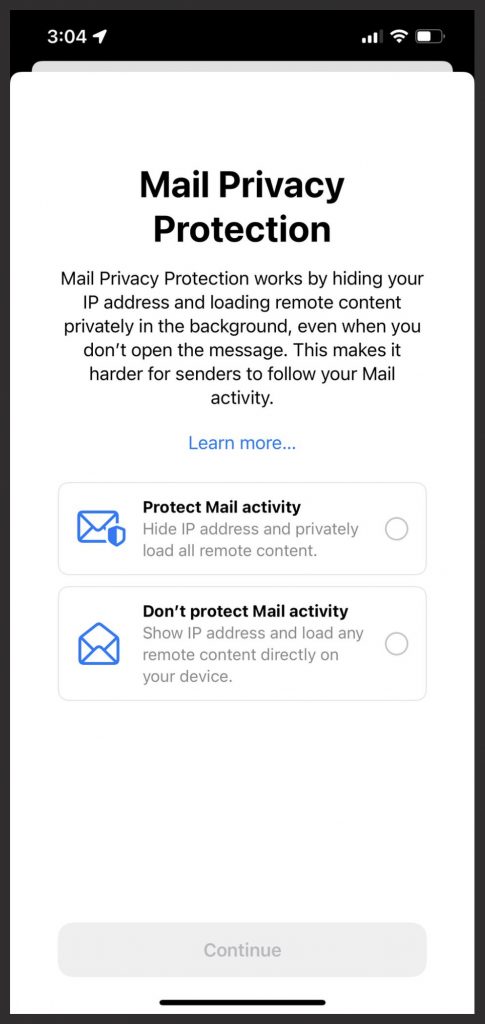 When will this change go into place?
Sometime this fall, whenever iOS15 is rolled out.
Who does it affect?
Anyone using Apple's Mail app—that means, pretty much anyone opening mail on an iPhone or using the Apple Mail desktop client on a Mac computer, even if they've got a non-Apple email address. In SparkPost's 2021 Benchmark report, almost 40% of all opens and clicks came from an Apple Mail app client (25.7% on iPhone, 9.6% on desktop, and 2.8% on iPad).
To put it simply: it's going to affect a big percentage of email lists, and it'll be hard to tell who it affects just by looking at their email addresses.
What will this change?
If open rates from a significant portion of email list subscribers are unreliable, then that data point is unreliable. It'll affect our ability to run subject line tests, to monitor deliverability health, to identify active subscribers and keep them on the list or identify inactive email addresses and scrub them. Open rates will be a much less accurate gauge of whether our content is engaging or how successful a recruitment effort was at bringing on new subscribers who care about what we're sending them.
What happens next?
The short answer is: we're not sure, yet, but we'll figure it out!
The long answer: open rate has always been just one of many metrics we track, and the reliance on image downloads has made this number a little squishy. So even if open rate becomes an (even more) unreliable metric, we can look at other metrics to measure performance and assess user engagement—clicks, actions, donations, unsubscribes.
Email marketers in the nonprofit and for-profit sectors will continue to experiment and innovate. We'll work with our colleagues in ads, who are adjusting to similar privacy changes that block pixel and cookie tracking, and develop solutions together. We'll keep reaching out to supporters and potential supporters over email—but also using ads, social media, web content, and through all the other channels we have available to us.
This information is all brand-new, and we're curious what you all are discussing about the implications of these changes! Let us know on social @mrcampaigns!
————
When Anne's not nerding out over deliverability or the newest email tool functionality, she's doing her best to keep her knitting yarn out of her cats' claws. You can find her at APaschkopic@mrss.com.
Related Links: