Read time: 3 minutes
Are you ready for our first "hindsight is 2020" pun of this wonderfully named year? Let's take a look back at the end-of-year that just ended (call it everything from two days before Giving Tuesday to the FINAL LAST CHANCE TIME IS RUNNING OUT DEADLINE LAST CHANCE at the stroke of midnight, December 31). 
Whether you shattered all expectations or struggled woefully to meet your goals, you've no doubt collected a LOT of data to sift through and analyze. Us too. We'll be back with more in-depth analysis in a few weeks, but for now, we have collected some quick observations and anecdotes from our clients and friends to help set some context. 
Year-over-year EOY growth is common, but not universal. About half of our clients saw overall gains in their online end-of-year fundraising from 2018 levels. About a third saw year-over-year decrease in online revenue, while the rest were about flat. No matter what your results, you have plenty of company.

The nonprofit fundraising landscape is evolving. Lots of groups saw strong performance from channels that haven't traditionally had a big impact (like peer-to-peer texting). Some saw reliable channels become not so reliable. Donor behaviors are changing, new channels are emerging, and tools and technology are catching up. This year many groups were feeling the urgency (and seeing the benefits) of a program that uses all possible ways to communicate with supporters in sophisticated ways.

Deliverability is a big deal (mostly in a bad way). Lower deliverability means lower response rates means lower email revenue, and many nonprofits struggled to land EOY appeals in inboxes this December. Those who spotted deliverability issues last year and took steps to improve their outlook (Microsoft Outlook pun extremely intended) saw increases in their email revenue. If deliverability problems dented your EOY revenue, now is the time to start cleaning this up. Here are some tips to get you started.

Giving Tuesday keeps getting bigger. More and more nonprofits are expanding Giving Tuesday to a campaign that stretches over three or four days, with special offers, celebrity promotions, premiums, and matching gifts. Giving Tuesday revenue grew for most of our clients, even those that don't promote it much.
Nonprofits who've invested in growing their mobile lists over the last few years are starting to see major returns. Text messages—at least so far—are less likely to get lost in a crowded inbox, so it's a great way to get supporters' attention. The numbers say it all—our 2019 Benchmarks Study found fundraising SMS messages average a 13% clickthrough rate—compared to 0.44% for fundraising emails! On fundraising-focused days like Giving Tuesday and that all-important December 31 deadline, text messages can have a big impact. (We're talking six figures for some of the groups we work with!) 
Peer-to-peer text fundraising is coming. For many nonprofits, it's already here. Some of our clients used peer-to-peer text messaging to secure donations from page abandoners, thank donors, and connect with prospects. Not sure what this is? You're not alone. Start your education here. We'll take our thanks in gif form, thank you! 
Mobile optimization matters. If you're a loyal reader of our annual Benchmarks Study (and if you are not, then what are you doing reading this, and more importantly what are you even doing with your life?), you know that mobile devices make up an increasingly large portion of nonprofit web traffic. One group saw mobile visits to their website in December increase 40% YOY. Serving up a smooth, compelling mobile experience will help convert those visits to revenue. 
That's it for now — but you can look forward to a more detailed look back in just a couple weeks when we finish processing EOY data. Until then, we'd welcome your anecdotes, trends, and questions right here. Comment below or tweet us @MRCampaigns.
Happy New Year, and congrats on getting through another end-of-year season!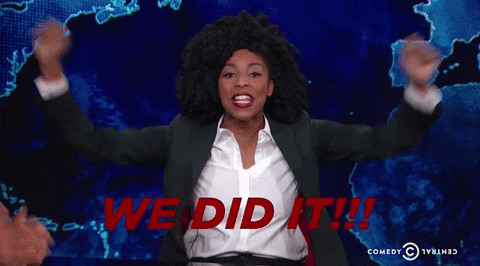 Related Posts